The first haircut. The last day of preschool. The first loose tooth. Moments when we sigh to ourselves and say, "Our babies aren't babies anymore."
And while I have grieved the passage of time and the fact that it truly does go by too fast, I have also allowed myself to enjoy this new stage of life. A stage where I can tell my kids to go take a shower, everyone is sleeping through the night, and we can have actual conversations about interesting subjects.
I don't mind telling you that family movie night has also become more enjoyable in the past couple years. No longer are we watching the same cartoons over and over again. These days we get to watch movies everyone enjoys—movies that make us laugh and cry and have more of those good conversations.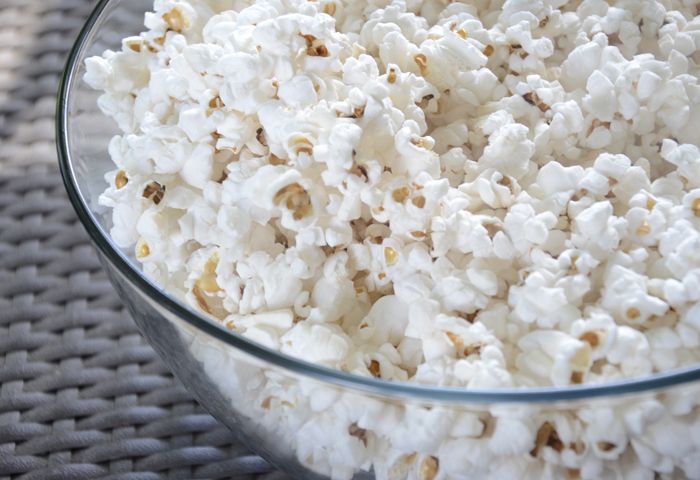 Maybe you're entering this stage soon? If so, here are 21 movies to get you started.
1. Flight of the Navigator – In 1978, a boy travels 8 years into the future and has an adventure with an intelligent, wisecracking alien ship.
2. E.T. – A troubled child summons the courage to help a friendly alien escape Earth and return to his home world.
3. The Parent Trap – Teenage twin sisters swap places and scheme to reunite their divorced parents.
4. Back to the Future – Marty McFly, a 17-year-old high school student, is accidentally sent thirty years into the past in a time-traveling DeLorean invented by his close friend, the maverick scientist Doc Brown.
5. The Princess Bride – While home sick in bed, a young boy's grandfather reads him a story called The Princess Bride. As the grandfather reads the story, the action comes alive.
6. Hook – When Captain Hook kidnaps his children, an adult Peter Pan must return to Neverland and reclaim his youthful spirit in order to challenge his old enemy.
7. Night at the Museum – A newly recruited night security guard at the Museum of Natural History discovers that an ancient curse causes the animals and exhibits on display to come to life and wreak havoc.
8. Enchanted – A young maiden in a land called Andalasia, who is prepared to be wed, is sent away to New York City by an evil queen, where she falls in love with a lawyer.
9. Yours, Mine & Ours – A widowed Coast Guard Admiral and a widow handbag designer fall in love and marry, much to the dismay of her 10 and his 8 children.
10. The Sandlot – In the summer of 1962, a new kid in town is taken under the wing of a young baseball prodigy and his rowdy team, resulting in many adventures.
11. Jumanji – When two kids find and play a magical board game, they release a man trapped for decades in it and a host of dangers that can only be stopped by finishing the game.
12. Dolphin Tale – A story centered on the friendship between a boy and a dolphin whose tail was lost in a crab trap.
13. Holes – A wrongfully convicted boy is sent to a brutal desert detention camp where he joins the job of digging holes for some mysterious reason.
14. Freaky Friday – An overworked mother and her daughter do not get along. When they switch bodies, each is forced to adapt to the other's life for one freaky Friday.
15. Homeward Bound – Three pets escape from a California ranch to find their owners in San Francisco.
16. Hidden Figures – The story of a team of female African-American mathematicians who served a vital role in NASA during the early years of the U.S. space program.
17. Wonder – The incredibly inspiring and heartwarming story of August Pullman, a boy with facial differences who enters fifth grade, attending a mainstream elementary school for the first time.
18. Pete's Dragon – The adventures of an orphaned boy named Pete and his best friend Elliot, who just so happens to be a dragon.
19. Alexander and the Terrible, Horrible, No Good, Very Bad Day – Alexander's day begins with gum stuck in his hair, followed by more calamities. However, he finds little sympathy from his family and begins to wonder if bad things only happen to him, his mom, dad, brother and sister – who all find themselves living through their own terrible, horrible, no good, very bad day.
20. Harry Potter and the Sorcerer's Stone – Rescued from the outrageous neglect of his aunt and uncle, a young boy with a great destiny proves his worth while attending Hogwarts School of Witchcraft and Wizardry.
21. Goonies – In order to save their home from foreclosure, a group of misfits set out to find a pirate's ancient valuable treasure.
As with all things parenting, use your own judgement based on the specifics of your family. One tool that can help is the Common Sense Media website which breaks down movies by recommended age, positive messages, language, etc. The movie synopses above are from IMDB.com which is another great resource.
Happy movie watching!