I have fond memories from my childhood of playing games involving license plates and staring out the car window on long cross-country road trips.
I have no memories of whining and complaining or uttering the dreaded "are we there yet?" but my mom confirms it happened of course.
Now that I go on long road trips with my own family, I understand how much work it takes to put your kids in a car and endeavor to cross state lines and keep everyone alive.
To be honest, I'm really good at the strategic packing and planning part of these trips, but the part that is hardest for me is staying patient when my energy is low from managing the kids' needs in the car and we've all been cooped up a while.
Last time we went on a road trip to a camping destination, I had extra trouble being the parent I'd like the be in the car because of new-baby sleep-deprivation.
When we got home I made a list of things I wanted to remember to remind myself and my kids for the next trip.
My personal reminders for our next road trip:
We are all learning to be flexible and patient.
It's okay to be bored.
Have a plan but always be willing to deviate from the plan.
Lower your expectations. Be prepared to lower them again if needed.
Expect grumpiness. (From kids and yourself!) Have a plan to help lighten the mood with a silly song or google some knock-knock jokes.
Make sure both parents get a little bit of alone time every day to recharge (even if it's only 15 minutes).
There's no reason to rush. Even setting up the tent is a part of the experience.
The goal of the trip is to enjoy each other, connect, learn, and experience new things – not to just see or do as many things as humanly possible in one day.
Save sugary snacks for when you arrive at the campsite and kids can run around. Sugar and being strapped in the car do not mix well.
Managing your own emotional and physical energy as a parent is extremely important and something I too often overlook during family trips.
Each trip we take, I get a little bit better each time at remembering to drink enough water and that I need to make sure I get some alone time to recharge just like I need at home.
Another thing that helps everyone avoid grumpiness in the car is being prepared.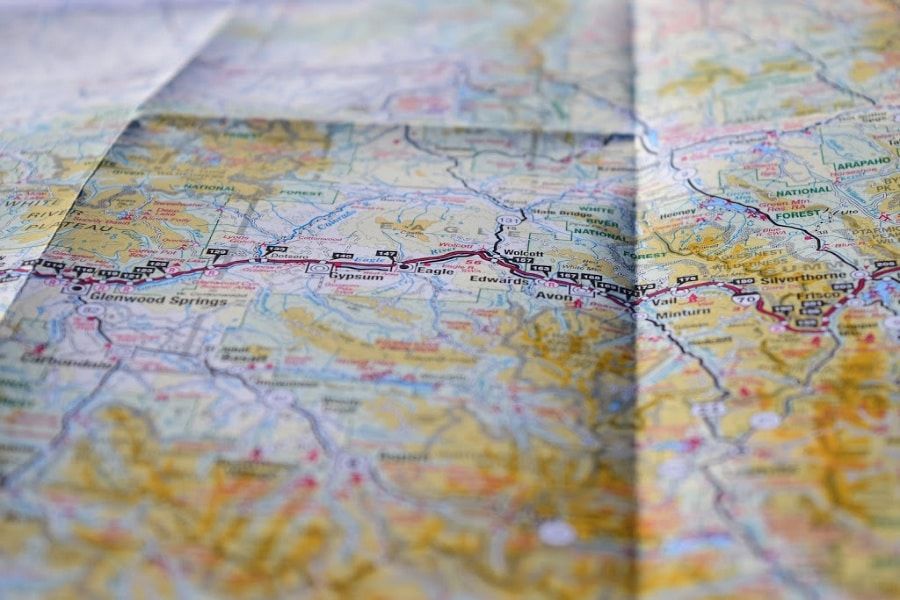 Here are best practical suggestions for people going on road trips with kids:
Remember to drink lots of water. Even in the car, even if it results in more bathroom breaks. This is especially important if you're driving to a location with higher elevation than where you live.
If possible, try a short trip of a similar kind a few months before a longer trip so you can see how your kids do in their current stage and what practical items you might be missing. Maybe you need a better solution to bring shade to the backseat. Maybe you need a different type of gear for hiking or camping.
Bring small trash bags to collect trash so you can easily throw it away whenever you make a stop
Bring a paper map for your kids to follow along. For my toddler, I've printed out a map she can color, for my older son, I'll bring a big Rand McNally map so he can get used to non GPS navigation.
If there is opportunity for kids to be involved in any of the route-planning or pit-stop choices, try to do this ahead of time together to get them involved and feeling like they can take some ownership of the trip.
Download audiobooks, podcasts, music, and movies, to your smartphone or iPad before you leave when you still have WIFI.
Plan your screen time guidelines ahead of time and set clear expectations with kids.
Never bring crayons. They melt in hot cars! Markers or colored pencils are the best art supplies to bring for all ages.
Remember that even adults can benefit from some sunshine and physical activity breaks.
What are your best tips for road trips with kids?
• Listen to the podcast episode about this post.