Recently my husband and I caught up with dear college friends, who are currently living a lifestyle very different from ours. After years of enjoying their suburban California life—with three kids and a pup in a darling house, tending chickens and a garden, and attending soccer practices and back-to-school nights—the Scotts embarked on a totally new adventure.
Since the fall of 2016, Chris, Annie, their three boys (ages 9-13), and dog Opal all live on their sailboat, S.V. Secret Water, almost full-time.
Readers of The Art of Simple are known for their appreciation of unique lifestyles and their interest in travel, adventure, and following crazy (amazing) dreams. With that in mind, I thought it would be fun to interview Annie for a snapshot of what life on the water is like.
Tell us a little about your family and what your life is like right now.
Life right now is a big transition. We have just spent the last three months living out of our backpacks in the U.S. while running STEM-gaming Minecrafter camps for our non-profit Woven Learning & Technology.
Now that we are back "home" on Secret Water in southern Mexico, we are fumbling through the motions of getting our rhythm back with boat-school, finding a place to store new items, assessing the boat's condition and determining what needs to be done before we can safely set off for Central America.
Thankfully each time we return to her, the "get to know each other again" phase gets shorter and shorter as we become more seasoned live-aboard sailors.
Living aboard a boat is like have a relationship—you have to know it well and serve it daily, otherwise it falls apart.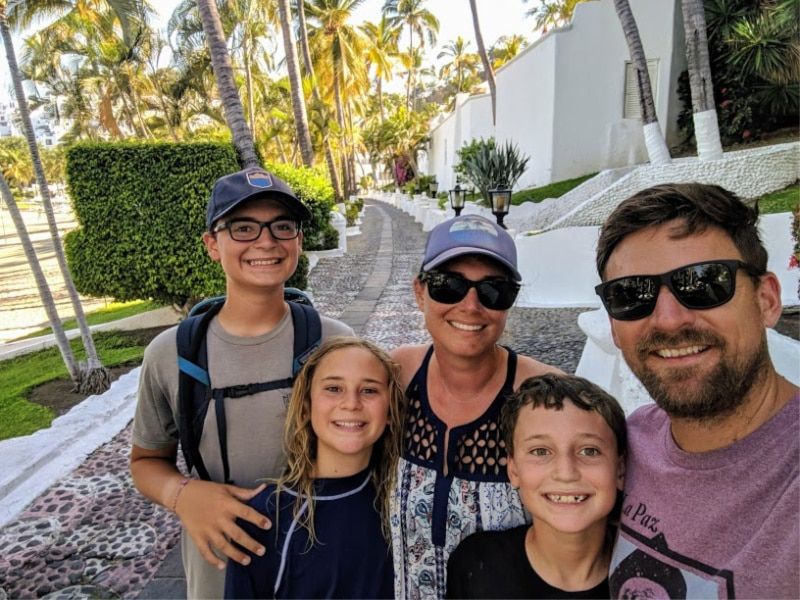 How have your kids adapted to this lifestyle and grown in the process?
We all feel stretched in new ways on a continual basis. It's important for safety that we are all knowledgeable about the boat in case something goes wrong.
We are working hard to help our kids discover who they are and what their strengths are, and giving them responsibilities that help them grow. For example, Josiah loves order, so he's become responsible for keeping our lazarettes (storage holds) and the deck tidy and everything stowed correctly (which is actually a huge deal for safety). Eli is adventurous and loves a thrill, so if we need work done at the top of the 60-foot mast, he's our guy. As for Finn, he loves to cook, so he makes breakfast and lunch for the family a lot.
Empowering our boys to work hard, live their best life, and make it their own when the time comes is one of the greatest gifts or lessons we can give them.
I love that we've been to out-of-the-way places and met people who've never had all the conveniences we have. Our boys have seen that those people are happier and more generous than many people we know back home. It's so good for them to see that convenience and "stuff" don't make a happy life.
What community have you found with other sailing families?
The cruising community is a fun community to be a part of. Even though it spans the entire globe, it feels like a tight circle of friends. We connect with other families through a closed Facebook group and have monthly check-ins to let everyone know where we're at and to find out information about places we're headed to.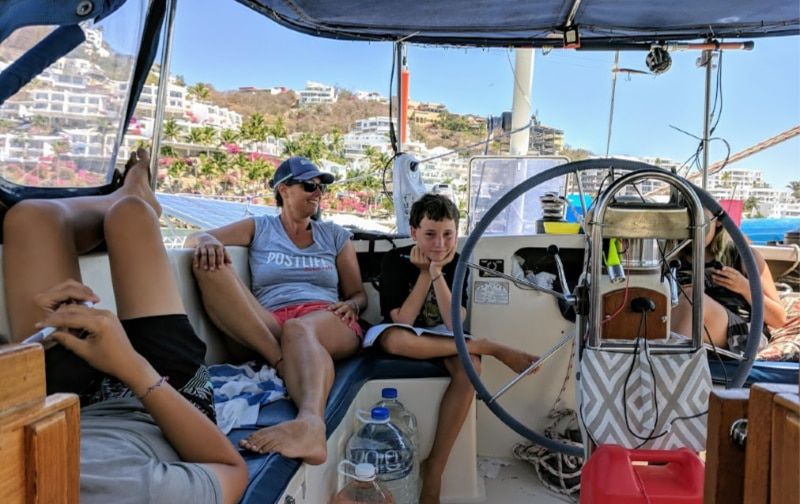 How are the dynamics of being together as a family all of the time?
It's been a big blessing for us: learning how to communicate needs and coexist in a small space has made us more aware of who we are and more respectful of each other. While the boys love their friends back home, they are really content with having each other as friends. I couldn't ask for anything more.
How do you [a landscape architect by trade] engage your passion for design while aboard?
Design is a fancy word for creative problem-solving. I get lots of opportunities to stretch that part of my brain with making Secret Water feel like our home while finding new ways to use spaces onboard. I have also continued to feed my creativity by making body products from scratch, and by collecting meaningful items and keeping an eye out for future project ideas that will reflect our life on Secret Water when we are back on land.
What do you miss and not miss about your regular pre-boat life?
We all miss our family and community of friends. I occasionally miss reliable high-speed internet, although I don't miss being "plugged in" all the time.
I don't miss the busyness that can come from life on land, or all the stuff you can accumulate. We've all learned what truly are our priorities and about needs versus wants.
There's beauty in simplicity. Making our own solar energy and water, and being unavailable to everything else except my sweet floating family, helps make time stand still just a little longer. And I love that because time is one thing we can't make or get back.
If you'd like to follow along with the Scott family's adventures, you can do so via Instagram and their blog, SecretWaterAdventure.com.