Don't know if you've noticed around the Internet lately, but bloggers are clamoring for a bit of quiet. Everywhere I turn, I read that another blogging friend is taking a break from the loud cacophony of the competing voices on social media, vying for two seconds of our attention.
I love this. I take a lengthy break every summer, and it's nice to have some good company.
Lately I've been rereading my friend Bonnie's words in her new (releases today!) book, Finding Spiritual Whitespace. I don't think this book's birth to the world could have come at a better time. I'm ravenously inhaling all the whitespace I can find. There's something about this time of year that just calls for it, don't you think?
Whitespace, put simply, is a graphic design term describing areas intentionally left blank. To complete the whole look, whitespace acts as a sort of art in itself; without it, we couldn't see as well what remains.
Finding Spiritual Whitespace is a book about leaving things blank in your life so that you can better see what remains. It's about Bonnie's story with Post-Traumatic Stress Disorder, overcoming her obstacles, and finding rest through God-intimate whitespace.
With words mimicking poetry, Bonnie explores the many places we can find spiritual whitespace: in nature, in friendships, in beauty and mystery, at the table. In quiet. In spite of the clutter and chaos.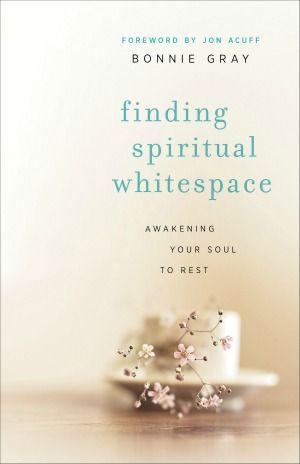 I'm thrilled that Bonnie's giving five Art of Simple readers a copy of Finding Spiritual Whitespace: Awakening Your Soul to Rest, because I can't think of a better book to kickstart a slow summer.
To enter to win, simply leave any comment on this post. (If you're reading this via email, click over to the post to comment.)
This giveaway will end on Friday, June 5, and we'll announce the winners soon after. I hope you win!