We knew we had our work cut out for us when we moved into our 1935 fixer-upper cottage a little over two years ago. But after living in gorgeous Bend, Oregon for several years before backpacking around the world for a school year, we knew that if we wanted to relocate back to Central Texas (where I grew up), we'd only want to live in one specific, small town in one specific, small neighborhood.
I'd always loved Georgetown growing up. Anytime we'd come back to the area to visit family and friends, we'd drive through the area and dream: I could see us living here one day — wouldn't that be ideal?
So I continue to pinch myself that, after all this time living all over the place, here we are. And we don't plan on living elsewhere anytime soon. This is a trendy area, and the only way we could afford to live in this historic district is if we bought small, and if we bought rundown. We did both those things in spades.
Kyle is a former licensed contractor, and has been involved in every part of house-building stages, starting from nothing and finishing from handing over the keys. He's also been part of all sorts of renovation projects. He's also detail-oriented, picky, and values doing things right and time-period appropriate. The guy knows what he's doing.
He's not only the GC (general contractor) for our renovation project, he's also the day labor — we want to cash-flow this thing as much as possible, so we're saving a ton of money by doing 99% of it ourselves. The benefit is just that: renovating an old home for much cheaper than the going rate.

The downside is time: it. is. SLOW.
We've been living in a "during" project for over two years, and while we're over halfway there, there's still quite a bit to do: a second bathroom, a backyard fence, the ceiling, the roof, the windows (the windows! All our windows are original and are in desperate need of repair). When you live in the midst of it all, you can't turn your head without seeing something that needs doing, and it's all too easy to focus on what you still haven't completed, forgetting to notice what you've already done.
I'm showing you some "before" and "during" photos for that very reason: for me to recognize and celebrate what we've done so far. I'm also showing you because many of you have asked for an update, and I've barely talked about our house here.
To be honest, I haven't shared much because it's going so slow. I'd like to be farther along than we are, and when we not only live here, but we also work here (and do school here two days a week), it all feels overwhelming.
Kyle has also spent a ton of time upgrading and renovating the unsexy parts of the house, the stuff that just doesn't make for good photos: plumbing, electrical, insulation, heating, and the like. Most of it was original, and in serious need of updating, for both comfort and safety. He has spent the equivalent of several months under the house replacing original galvanized pipes, in the walls replacing hot knob-and-tube electrical wiring (which largely went out of use by the early 1940s), and adding insulation in the walls and attic where there was none (most of the house).
This cottage is small, which is our preference; because we'd rather put our money towards things like travel, this house serves us by not being too much house. We get to be in the historic walking neighborhood we value, we love our neighbors, and we're enjoying the pride of renovating something that's been here a long time instead of building new.
So, here's some "before" and "during" photos to show you our progress. I'm not showing you every part of our house here; this is just the main shared living space (I'll give you an update on bedrooms and other nooks sometime soon).
From the Outside: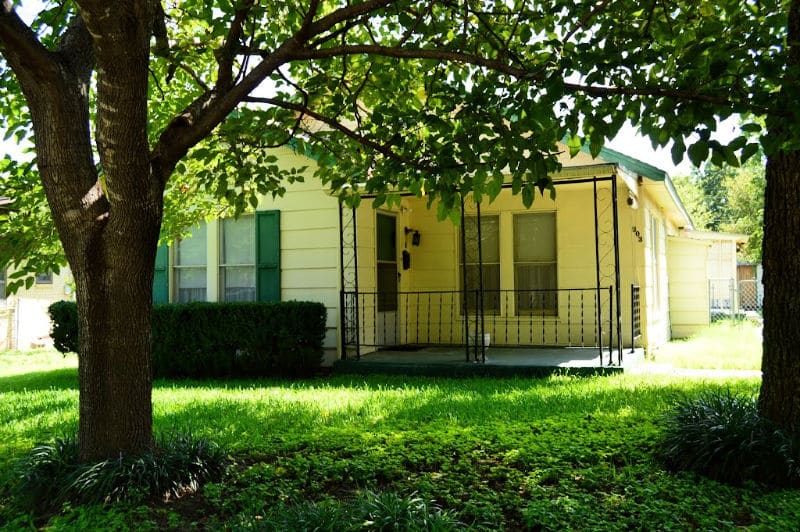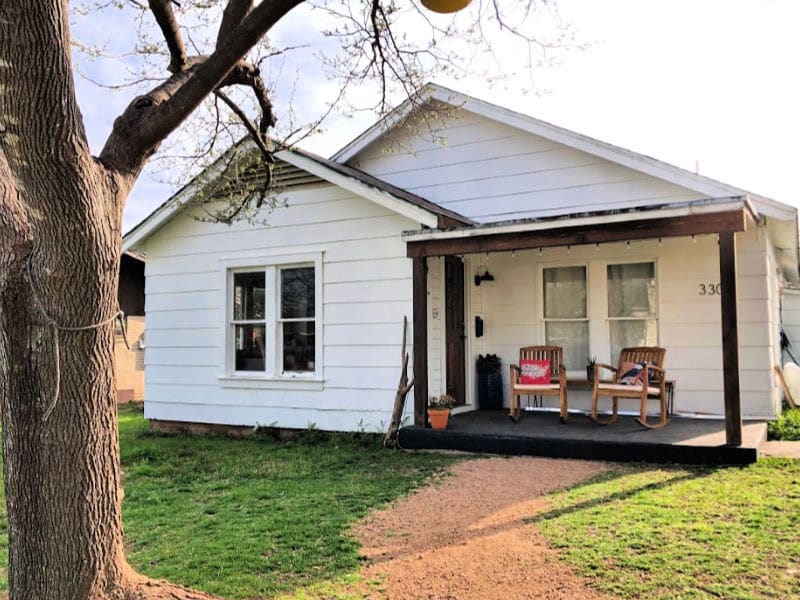 We honestly haven't touched this much, beyond removing what we didn't like (hedges and shutters), adding a simple crushed granite walkway, and giving the old exterior a paint refresher. Kyle did, however, do a stellar job with simple cedar porch posts (very Texas) and giving the porch a pick-me-up. Landscaping will come eventually.
Entrance: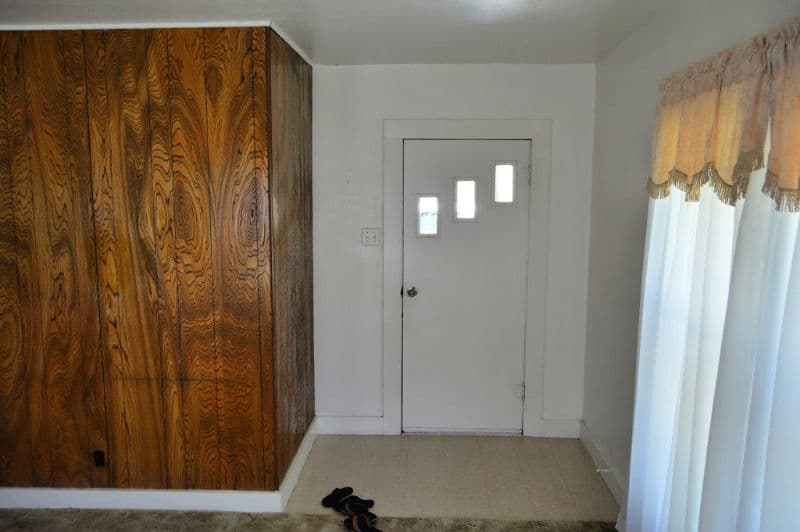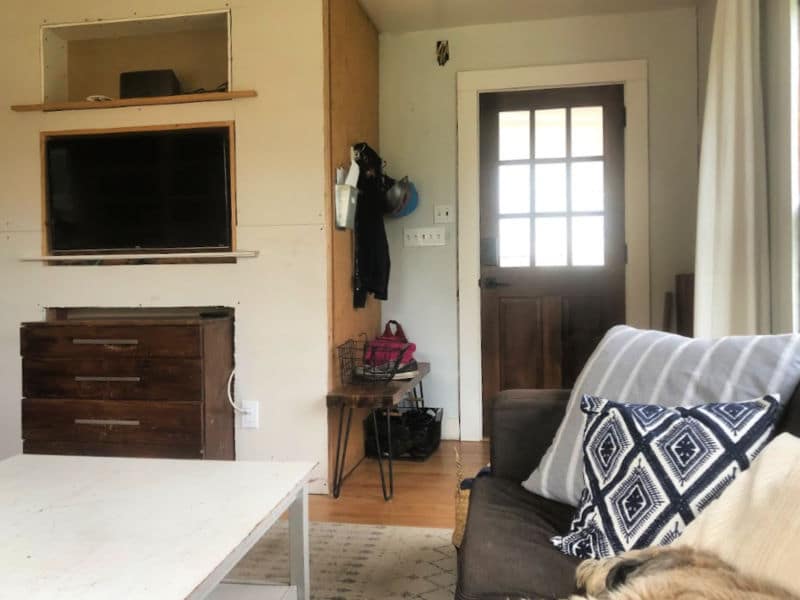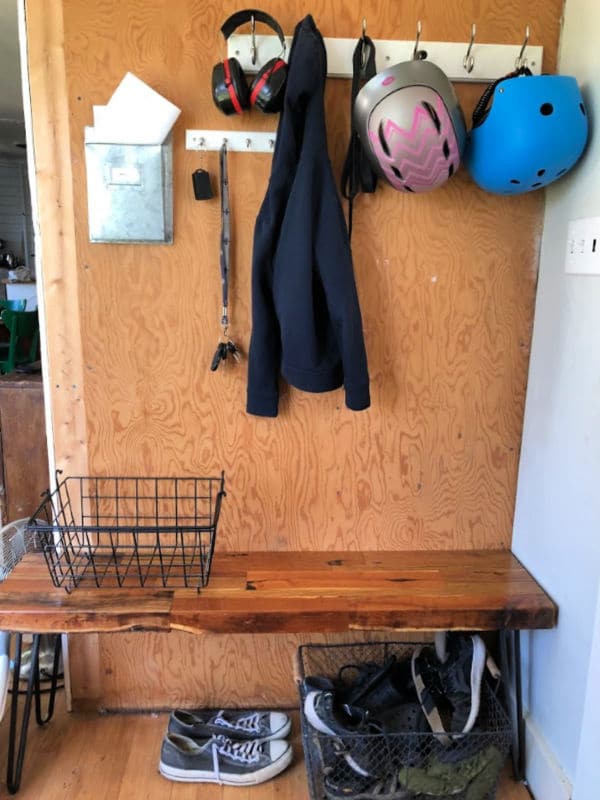 Unlike our Bend house, we don't have much of an entrance to speak of. The plan eventually is to repurpose shiplap on the (now plywood) entry wall and really customize some organization, but at least we've tossed the fake wood paneling. There was a lot of it. Also, new front door made of solid-fir wood. The original door was actually made for interior and in horrible shape.
Living Room: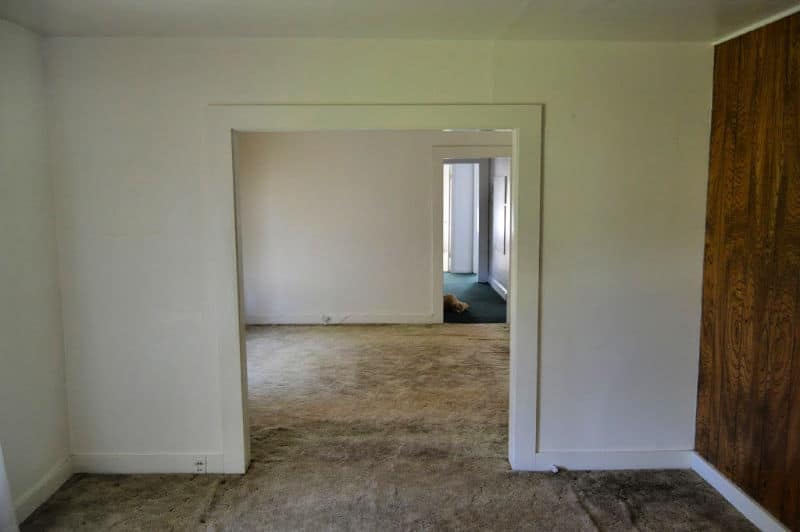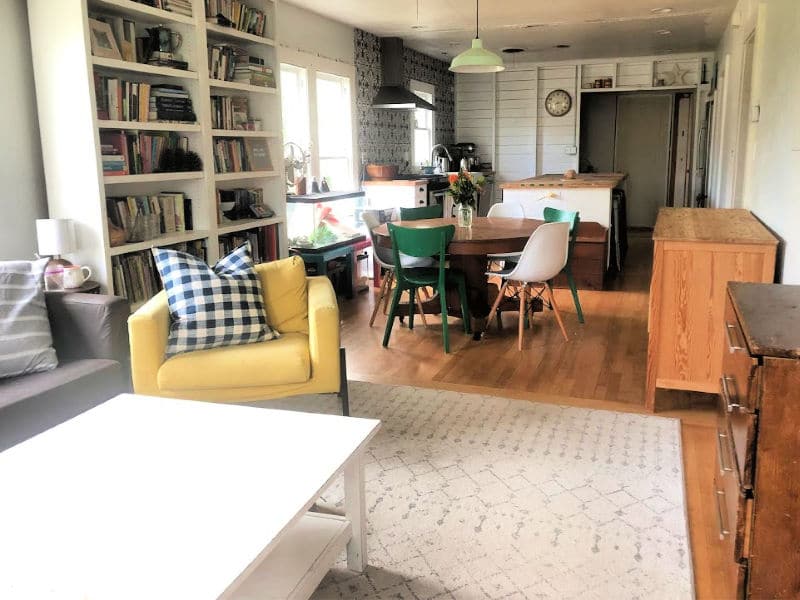 Being an old house, the (now) main great room was a tiny living room, dining, and kitchen, all in a row. You could barely move in the front room; our couch would have touched both edges. So, Kyle removed the dividing walls.

Also, below the dingy carpet? Original oak flooring that Kyle sanded and refinished. Hallelujah.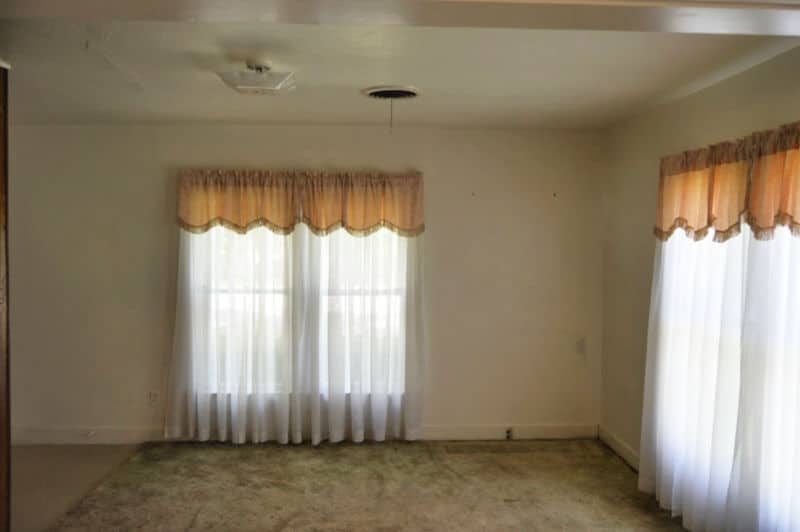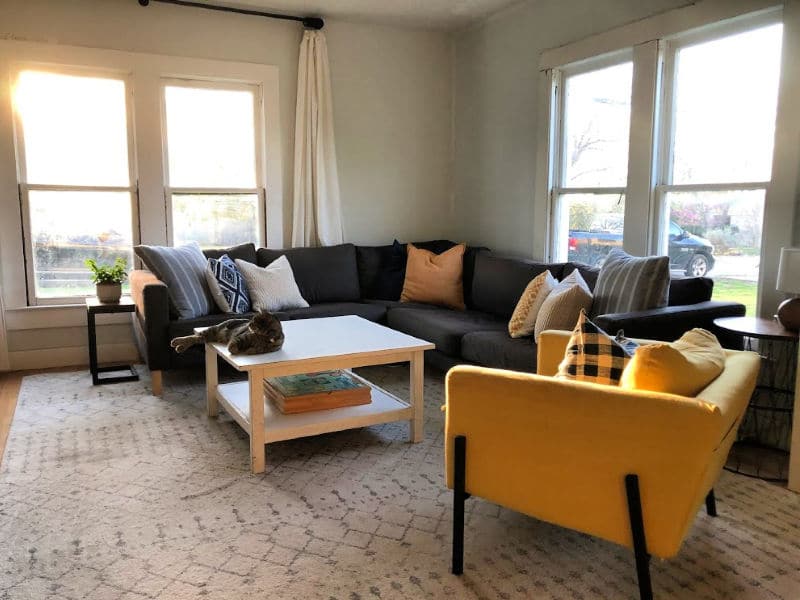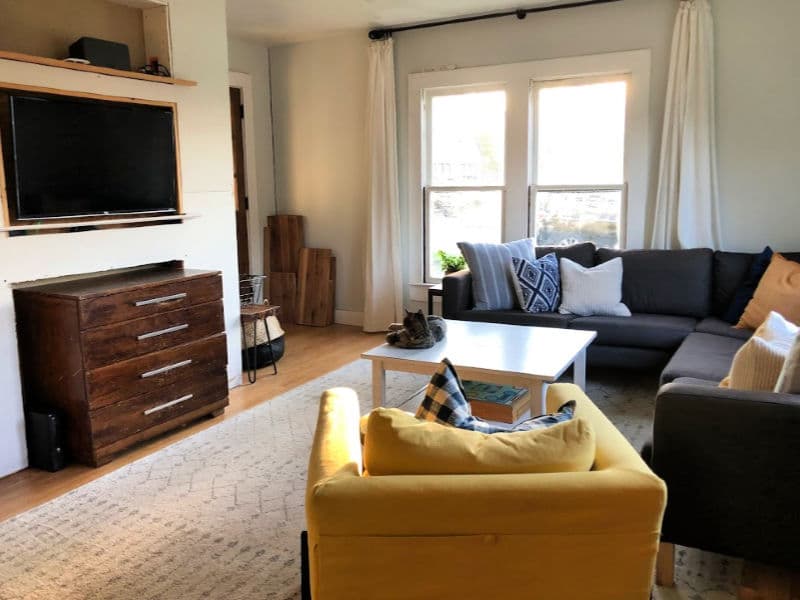 I've gone back and forth on curtains, which is why I still don't have anything on those second set of windows. Right now, these are repurposed Ikea bedspreads, which work beautifully (we also did this in Turkey). But they bunch up behind the sectional, so I'm leaning towards Roman-style bamboo shades, but boy howdy, are they pricey. (Also, these windows are falling apart… they're high priority to replace soon.)

Eventually we'll have doors over the TV, which is recessed into the wall on a swivel mount. And in the corner by the front door? Those are floating shelves Kyle built from the wall studs he removed; they'll go on the tiled wall in the kitchen.
Dining Room: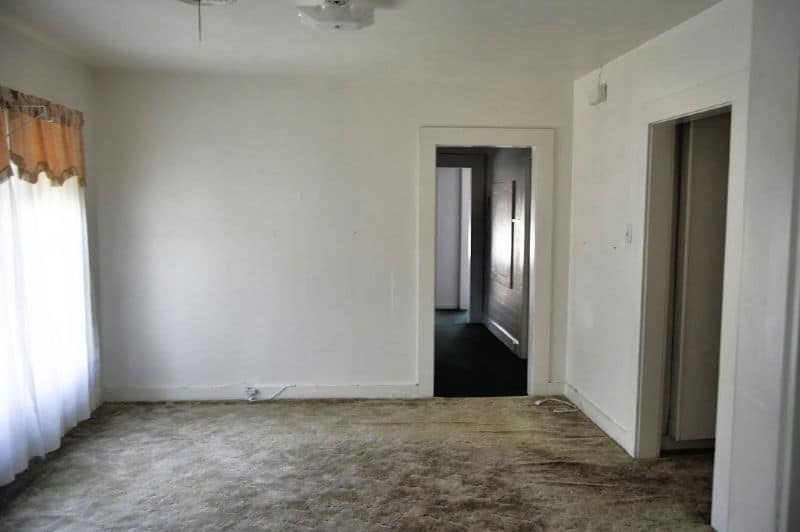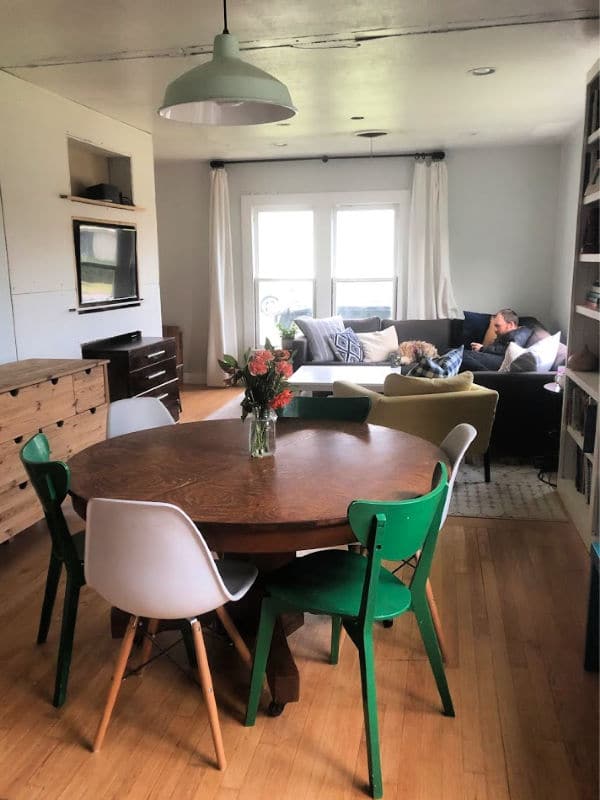 The dining room was a decent size, actually, but because the kitchen was so miniscule, Kyle removed that back wall so that the dining area blends in seamlessly, almost as a little buffer between the living room and kitchen. The pendant lamp was a $5 find from the Habitat ReStore, which I painted milk glass green, but eventually we plan to install a glass pendant. Chairs and table are Craigslist finds.
Kitchen: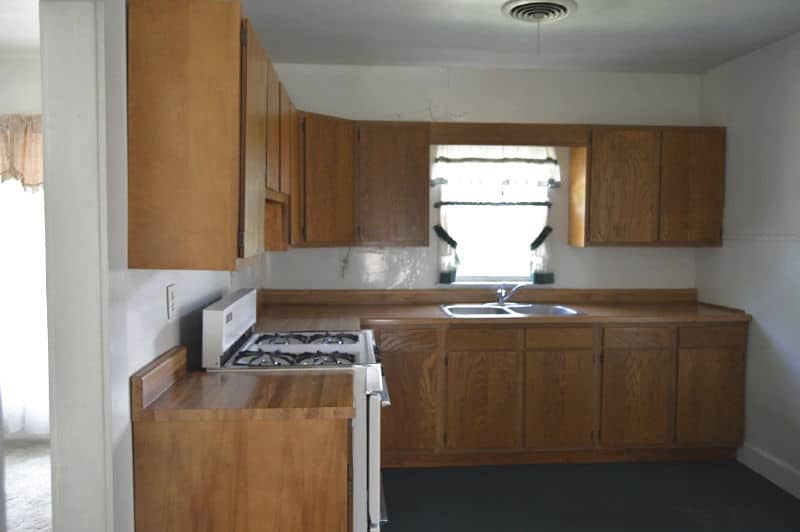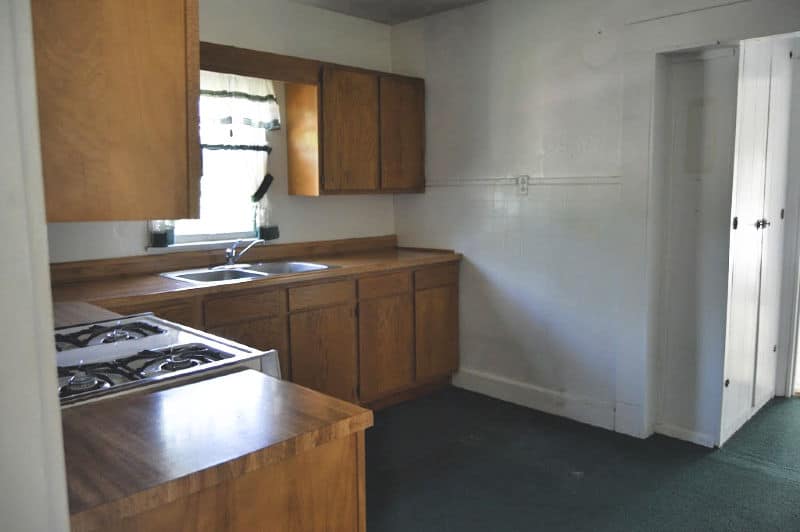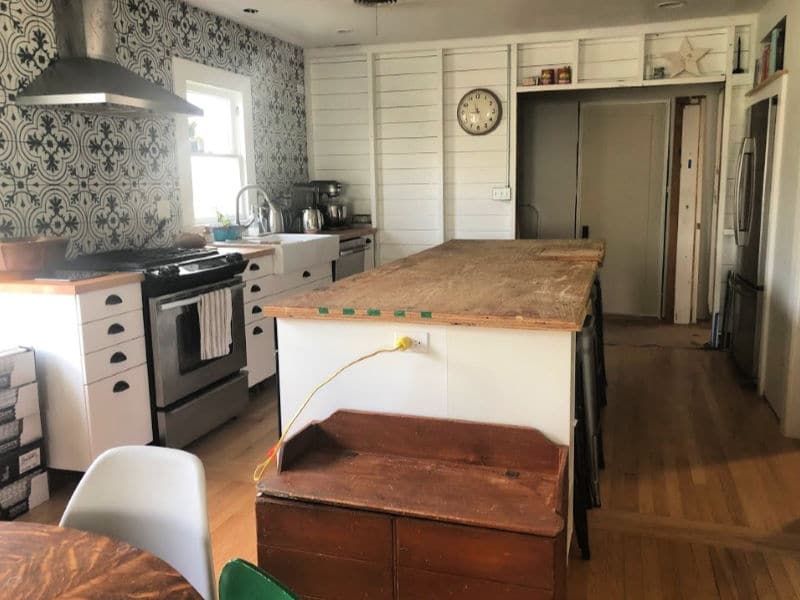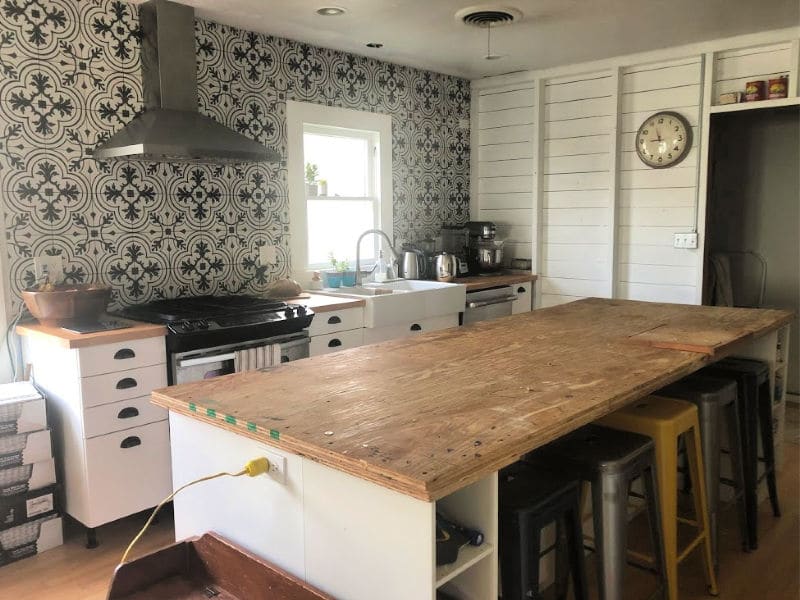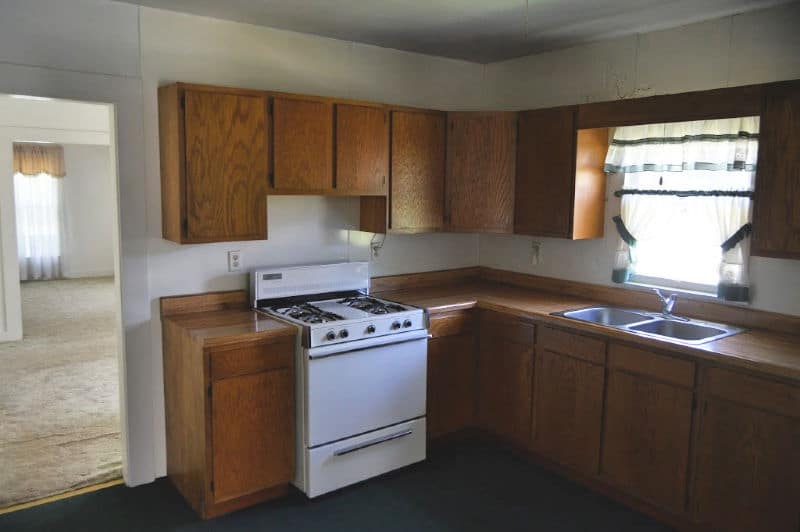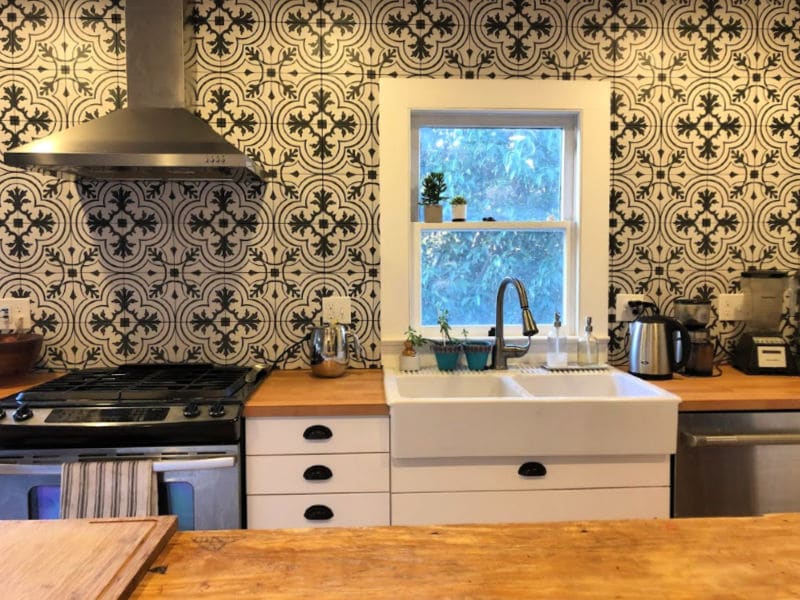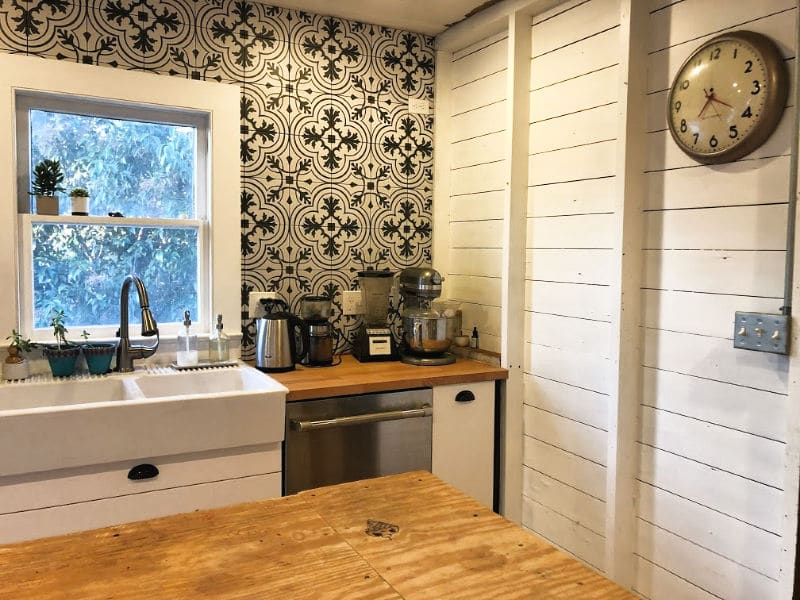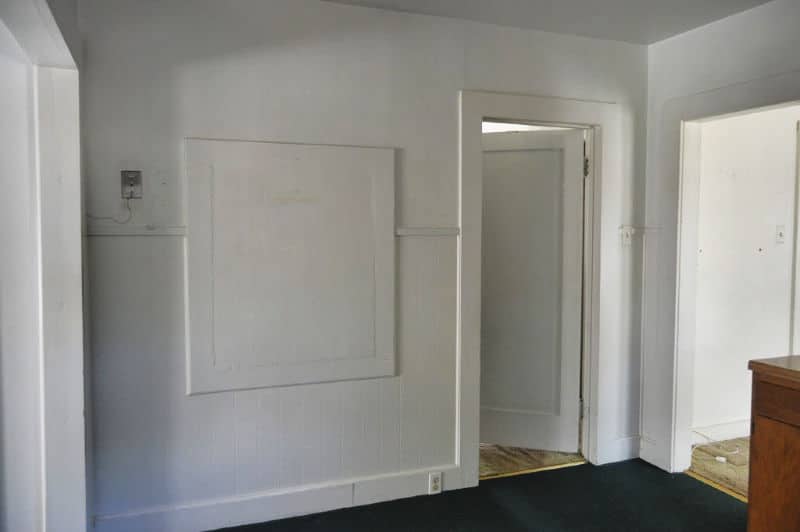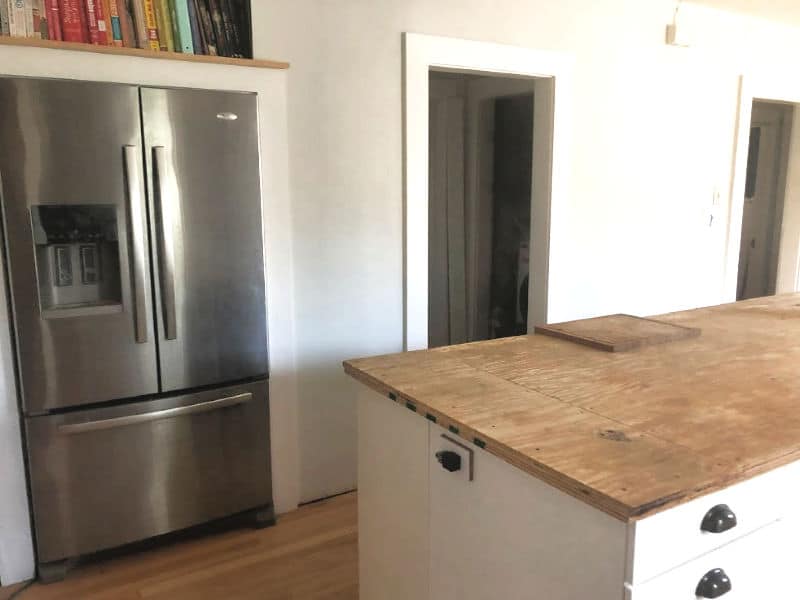 So far the kitchen is the biggest change, and we're not done yet, but it's officially functional (for a short while we were using our camping stove on a folding table). When we got the keys, the kitchen was a cheap '80s install, poorly done, and insanely dark. There was also no logical spot for a fridge.

We'll add Kyle's custom floating shelves to the tile, and near the end of the renovation, he'll create a butcher block island top (right now, he likes having the plywood where he can toss tools and work on projects without damage worry).

The back wall was originally the back of the house (two extra bedrooms were added probably in the '50s), which meant ripping off the old drywall revealed original shiplap.

He also inset the fridge into what is now the pantry (pics below).
Pantry: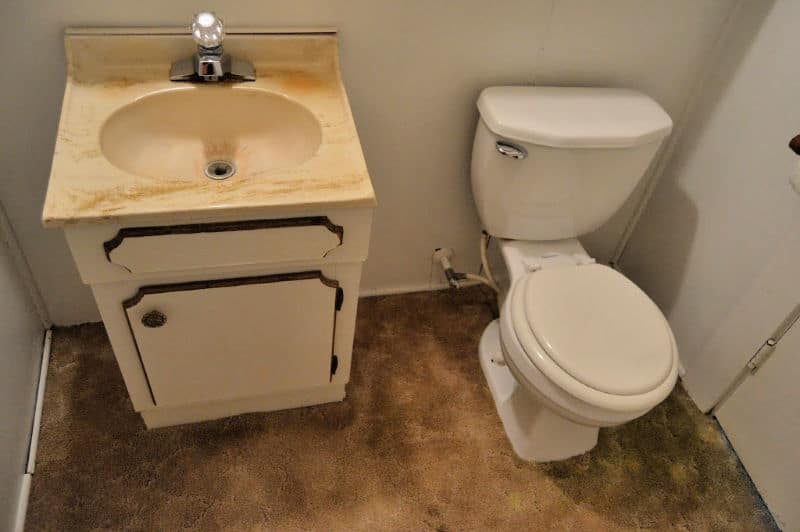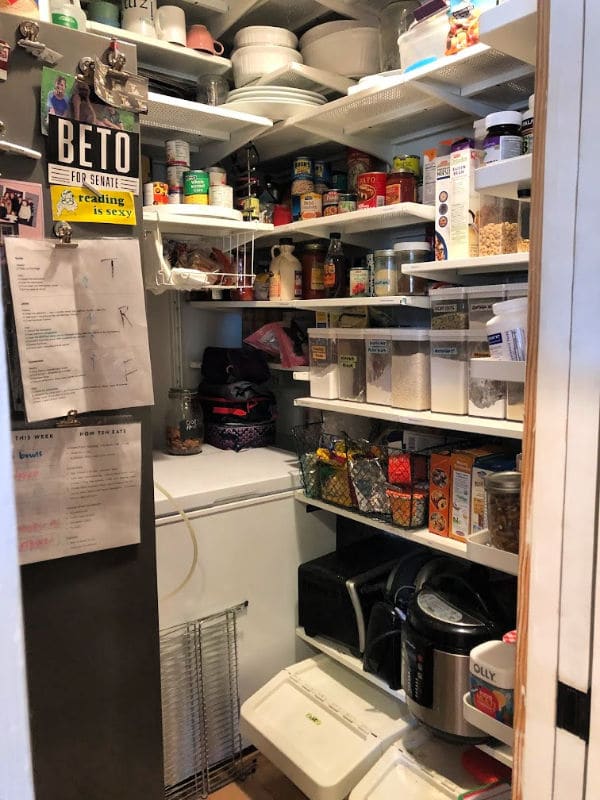 The pantry was formerly this strange half bath in one of the bedrooms. Kyle moved the door to the bedroom back to create a small hallway, then transformed the bathroom into a small walk-in pantry (back of the fridge is on the left).

It meant going down to one bathroom for the five of us until he adds a master bathroom, but it was worth it — old houses have almost no storage space, and we needed some.
Bathroom: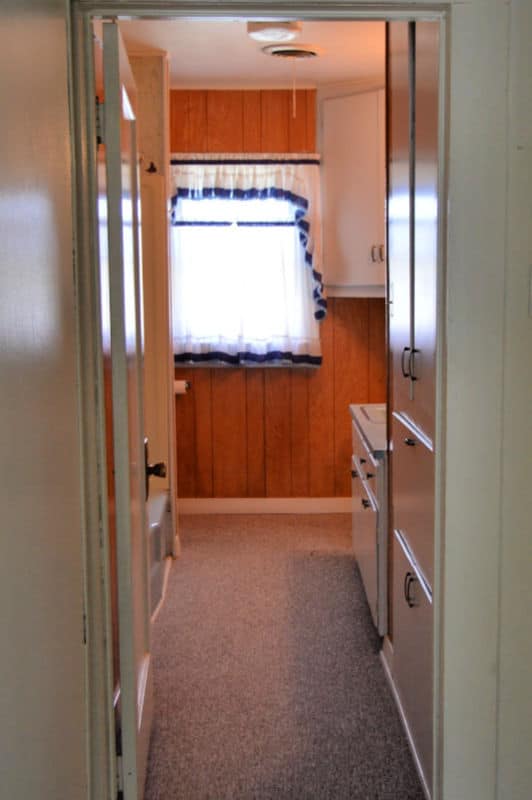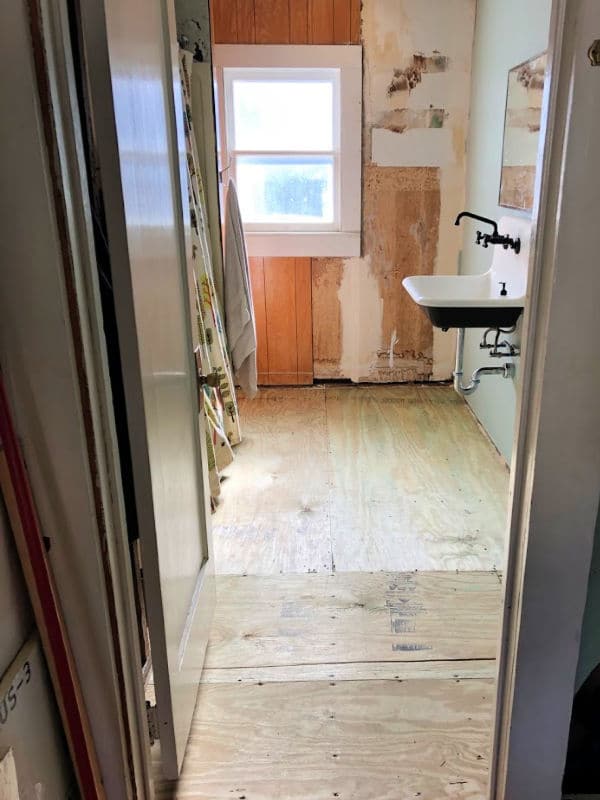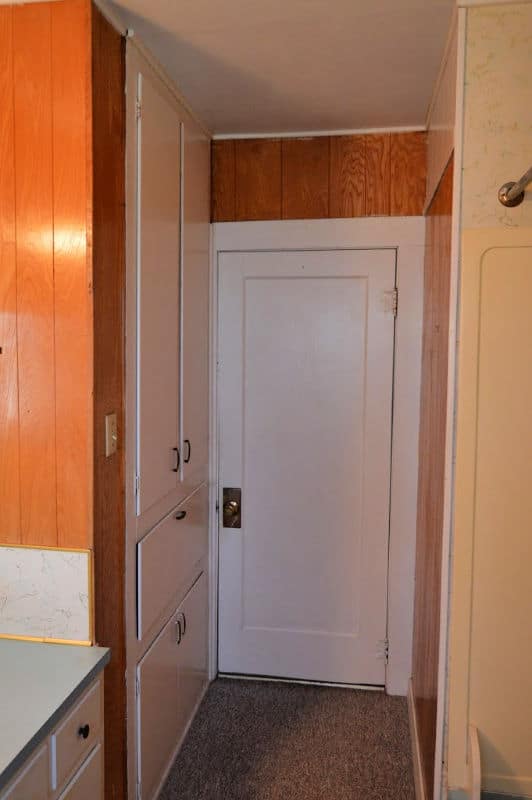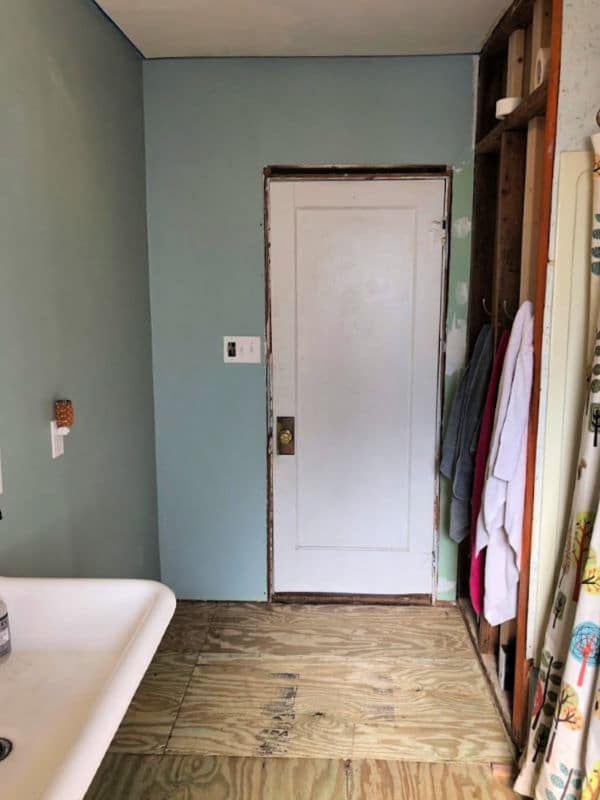 The bathroom is one of our current projects, and it's actually farther progressed than this "during" photo. There was carpet in the bathroom. (Actually, there was carpet throughout the entire house, including the kitchen.)

The general layout works, so we've gutted the bathroom and are in process of tiling it and adding built-in shelving storage on either side of the sink. We'll finish removing the fake wood paneling, then eventually retile the bathtub area (and possibly install the cast-iron clawfoot tub our neighbors gave us during their renovation).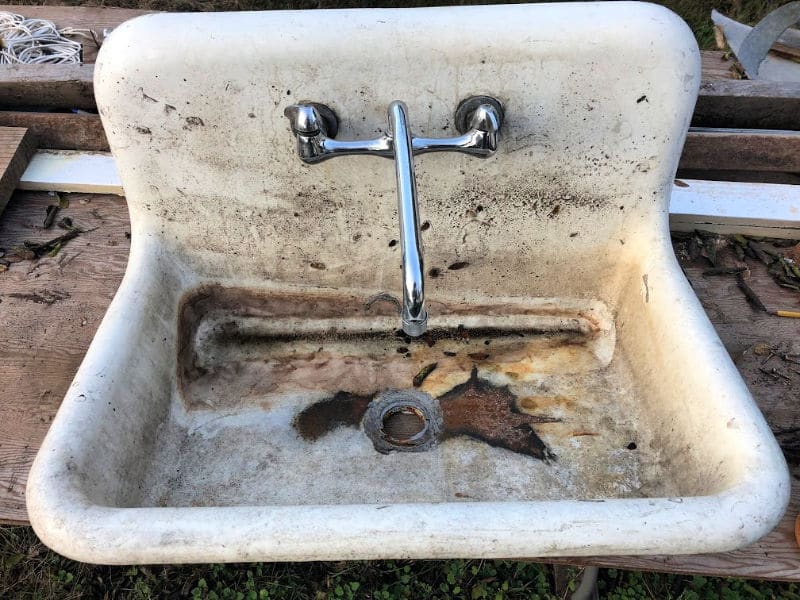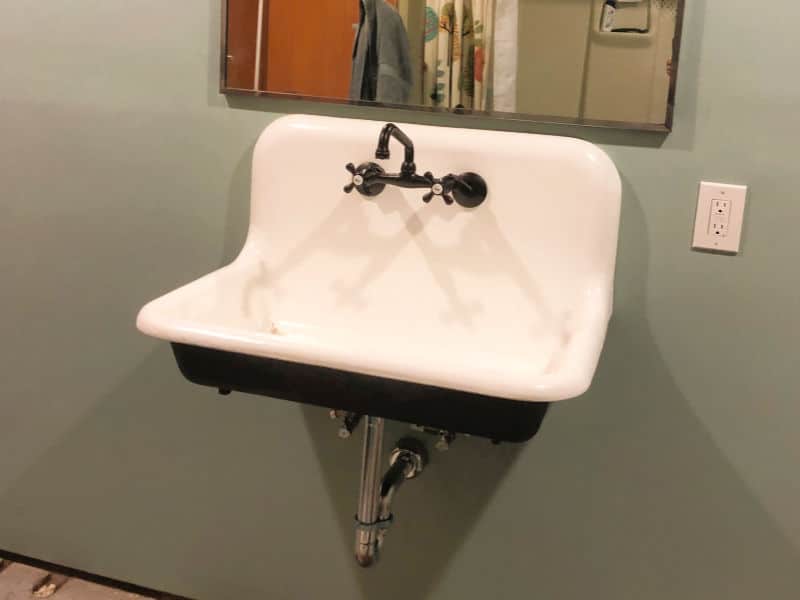 The (super-heavy, cast-iron) sink was from my grandfather's ranch in Arkansas, unused. Kyle and his parents completely restored it while they visited us for the holidays.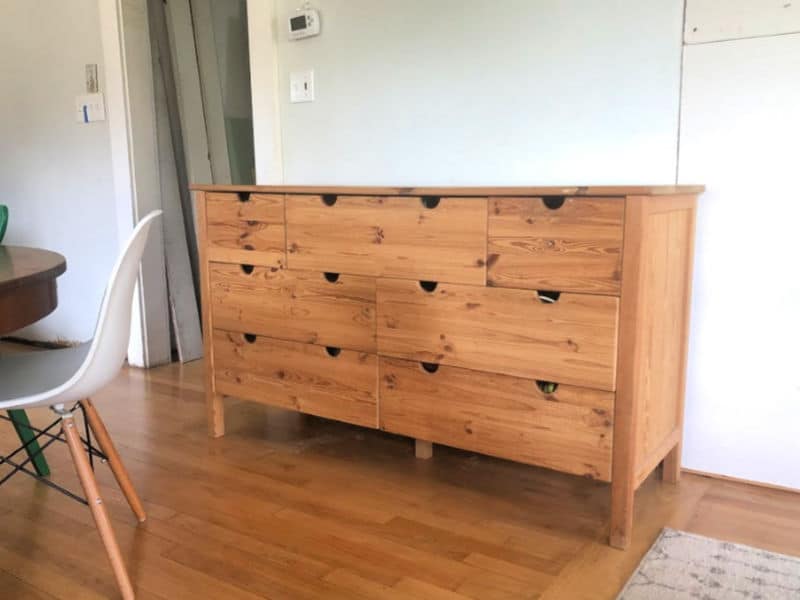 We found this cabinet on the side of the road, free, and in fantastic shape (it's solid wood). It's become our Cabinet of Requirement, and we use it in the renovation for whatever we need at the time. Right now, while we finish the bathroom, all our toiletries are in these drawers, along with a few drawers for Kyle's tools and one for sewing supplies.

Eventually, we may make this our master bathroom vanity, or it may go in Kyle's workshop. Or we'll weather-proof it and it'll go on the back deck as a buffet. Not sure yet.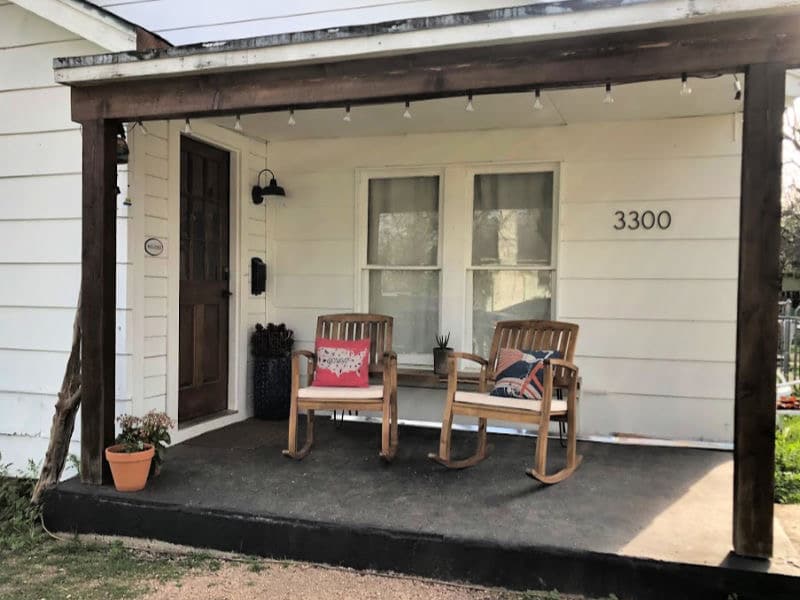 Here's my honest-to-goodness favorite current room of the house — our simple front porch, where Kyle and I have 15-minute Front Porch Dates almost daily when the weather's nice. It's not done yet — just like every single corner of the rest of our house — but from here we watch our kids run around with the neighbor kids, we hear live music from the town square a few blocks away, and we can see the porch lights from the coffee shop a block in front of us. It reminds us why we live here and why we choose to tackle this old cottage and make it our home: the location.

I see all these photos, and my main reaction? I'm really, really proud of Kyle. He does such quality work, and ohmygoodness has he saved us so much money.
This Friday on the podcast, I'm talking about life in a fixer-upper: how I've learned to adjust my mindset, practicals that keep me sane, our priorities (because they're not typical; read: travel), and why we'd still do it this way all over again.
Ever lived in a fixer-upper? What's been your experience?