When we lived in Arizona, winter was by far our favorite season. The time of year when it was finally cool enough to open the windows and wear jeans, even if only in the morning. We loved spending time outdoors, breathing in the fresh crisp(ish) December air.
Then a few years ago, we moved to North Texas.
Here we have fickle winter weather, hot one day, freezing cold the next.
We love watching the leaves change (I almost forgot they did that!), and experiencing a touch more of true winter.
But still, it's Texas. It doesn't get that cold, and it definitely doesn't snow.
Until one beautifully magical day last year.
The weather forecasters had said snow was a possibility, but we were trying not to get our hopes up (except they totally were).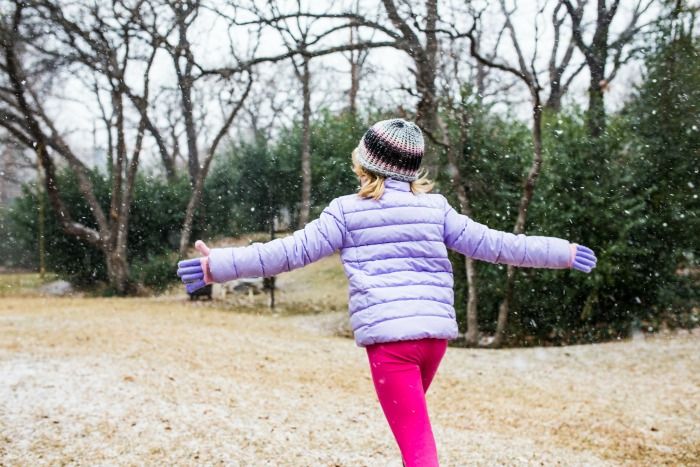 The first thing we did when we woke up that morning was look out the window. No snow. But wait, there's a flurry! One single flake, looping through the air.
We all ran outside in wonder, "Look there's one! Over there, another one!" Texas snow, it had finally happened. We went inside with smiles on our faces.
Thirty minutes later there were multiple snowflakes falling. We ran outside again, giddy with excitement.
Every time we thought it must be over, more snow would start coming down. The kids caught snowflakes on their tongue, the dog tried to bite them out of the air, I snapped photos until my fingers went numb.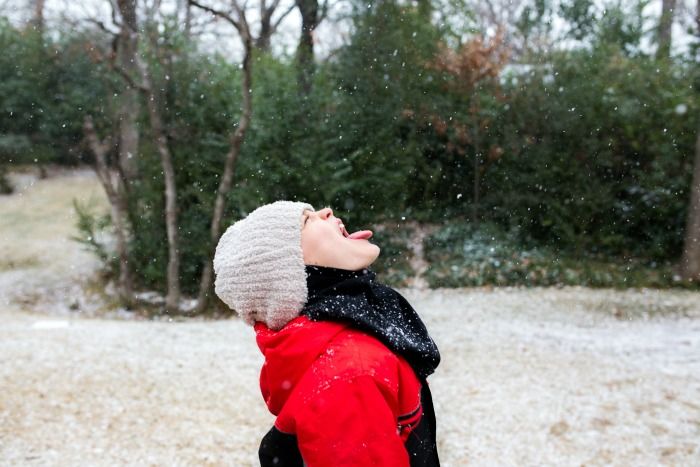 My neighbor called and asked if she could send her kids down so I could snap a few photos of them too. "This never happens! I need proof!"
We ran around until we couldn't stand it anymore, and then we came inside and warmed up with hot cocoa and tea. That was always my favorite part of playing in the snow as a kid, the hot chocolate with marshmallows when you came back inside.
I don't know if it will snow this year, probably not. But I know I will enjoy the cold days that come, cozying up with a hot drink, thinking about that magical day when the snow came down in Texas.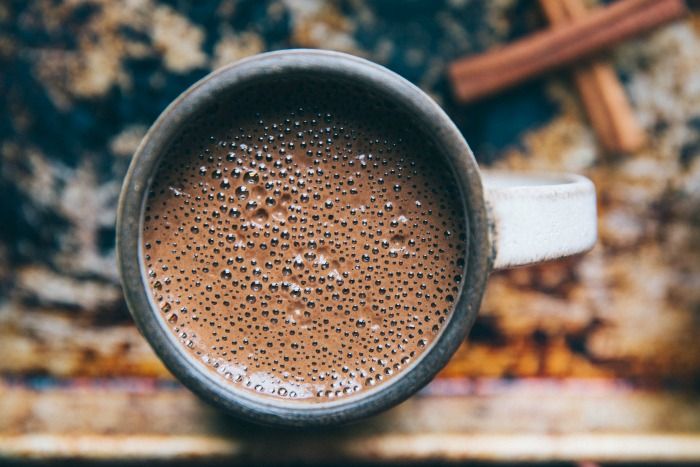 Here are 10 hot drinks to cozy up with wherever you might be:
Turmeric Milk: I make this one all the time in the winter, it's so easy and comforting, plus you get all the health benefits of turmeric.
Perfect Chai Tea: The spiciness of Chai is perfect for a cold winter night.
Pumpkin Spice Latte: This pumpkin spice latte is made with real pumpkin and comes together as quick as a drive to the coffee shop.
Almond Chai Hot Chocolate: Dairy-free and full of warming spices, I can't wait to try this one.
Ginger Root Tea with Lemon and Mint: This is great for those sore-throat days or for when you've gone a little overboard with the holiday sweets.
Hot Spiced Apple Cider: In 15 minutes you can have a pot of hot apple cider read for the whole family.
Cinnamon Pear Cider: This interesting twist on hot cider has no added sugar and plenty of cinnamon spice.
Hot Butterbeer: Have you ever read Harry Potter and not wanted to taste butterbeer? This one is a decadent treat, especially if you add the whipped topping.
London Fog: I thought London Fog was only a coat company. Turns out it's also a popular hot drink! Think a vanilla latte made with earl grey tea.
Lemongrass Tea: If you've never tried using lemongrass, this is a great way to get familiar with it. This tea would be pretty for a holiday party too.