Back in January, we had the kids try on backpacks at REI. You know, where you can add weights to the pack to mimic a more realistic travel experience. Our middle guy, age 6, was hilarious—he looked drunk walking the aisles, nearly knocking over displays and weaving back and forth due to the weight on his back.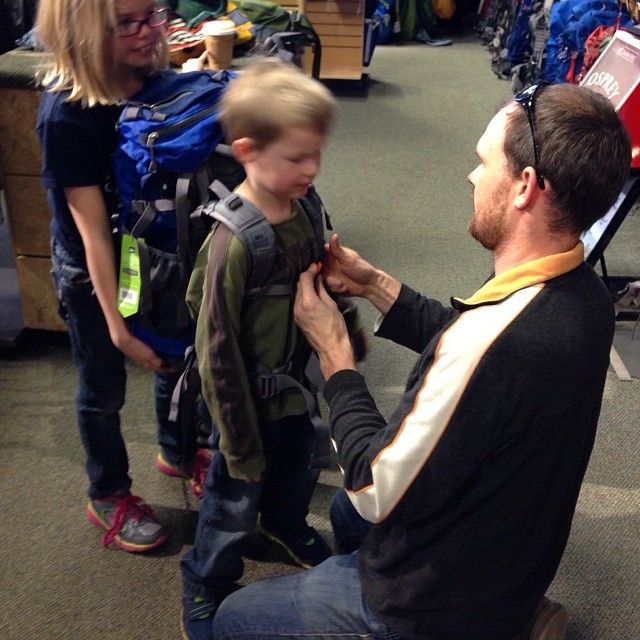 Needless to say, we decided the kid couldn't take that much.
I'm happy to report he's gotten stronger, but we still don't want to burden our kids with more than they need. But it's important to us that each kid carries his or her own stuff—I mean, we'll carry a few things if it's essential, but for the most part, our kids can handle their own (another reason we waited a few years to do this trip, when our youngest was 4 and out of the toddler phase).
A few thoughts about packing light for kids for extended travel:
1. Kids grow like weeds. There's no reason to pack very much, nor anything terribly nice or expensive, because they'll just grow out of it. Since we'll be gone almost a full year, we expect to replace almost everything as we go. Our kids grow like weeds.
2. Kids' clothes are small. Sounds obvious, but it's helpful to remember should you feel a twinge of guilt about making them haul their own stuff. It's all in proportion to their body size.
3. Kids get dirty, but the younger ones don't get as sweaty. Therefore, they can wear clothes again and again…and again before washing. Just a few of each item is plenty.
Here are our official lists.
Tatum, age 9.5 (girl)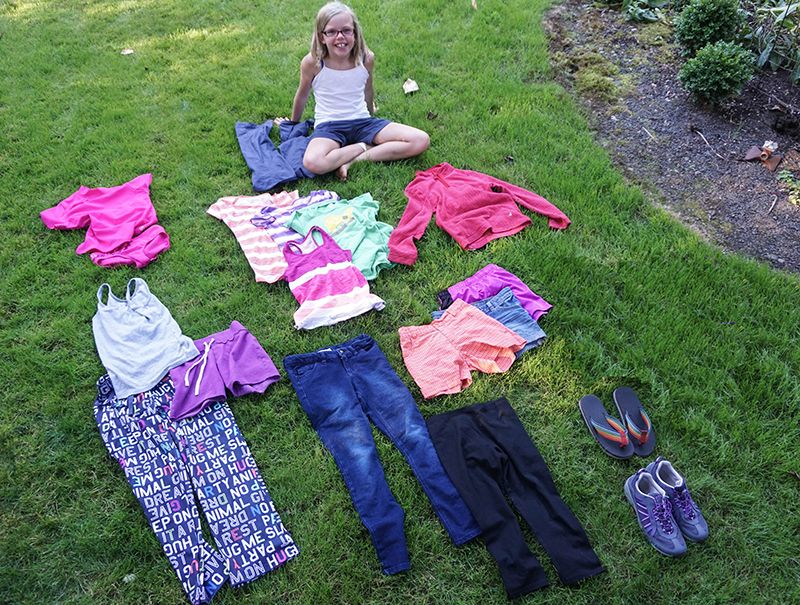 not pictured: jacket, Longhorn t-shirt
jeans
convertible pants
shorts
skirt
swimsuit & rash guard
short-sleeved t-shirts, 4
tank top
pullover
jacket (we'll buy any other warm gear on the road if we need it)
jammies (1 pair shorts, 1 pair pants, one shirt)
underwear, 5
socks, 2 pair
leggings
tennies
flip flops
toothbrush & toothpaste
deodorant
brush
journal & pen
sketchbook & pencils
Kindle
camera
Pokemon cards
deck of cards
Uno
dice
small toy
colored pencils
markers
spiral notebook as her Commonplace Journal
sketchbook
She'll carry all this in a 40-liter bag.
The boys have identical packing lists…
Reed, age 6.5 and Finn, age 4 (boys)
Not pictured: jammies, Longhorn t-shirt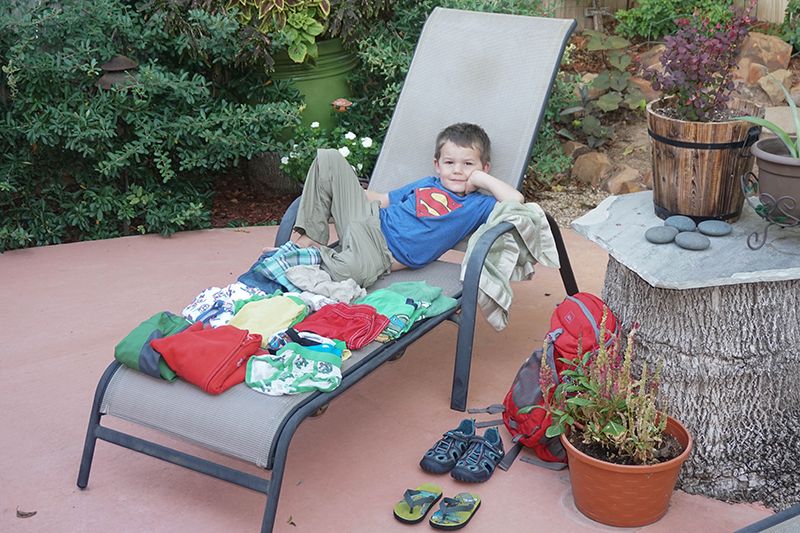 not pictured: Longhorn shirt
jeans
convertible pants
shorts
swimsuit (plain-colored, so they'll double as shorts)
rashguard
t-shirts, 4
pullover
jacket (we'll buy any other warm gear on the road if we need it)
jammies (1 pair shorts, 1 pair pants, one shirt)
underwear, 5
socks, 2 pair
tennies
flip flops/sandals
toothbrush & toothpaste
journal/sketchbook, pencils
Kindle
Pokemon cards
toy, 1
blanket
Finn will carry an 18-liter backpack and Reed will carry a 40-liter, not completely filled. In fact, none of the kids' bags will be entirely filled, somewhat to give them space if we see something lightweight that'd make their journey more special, but mostly because these are the bags that fit their shoulders and waist best. Smaller bags are simply too small for their frame, and we wanted to invest in something they could use longer than just this year.
Honestly, the kids are easy. They don't need much, they're happy with whatever once it's in their bags, and if they need something? We'll just get it en route.
Other packing posts: