For some time, I thought that having half the garbage and twice the recycling as most of our neighbors meant we were somehow gentler on the planet.
I've since come to find that having a full recycling bin actually meant our family was sending almost 2500 gallons of waste out of our home each year.
Not to mention the time we were wasting, managing 2500 gallons of paper, plastic, and cardboard.
I took an inventory of our bin and found that a majority of our recycling came into our house in one of two ways:
mail – catalogs, magazines, medical bills, ads, coupons, and solicitations
packaging – food, personal care, gifts, and cardboard boxes
Then I got busy figuring out how to reduce that by at least 50%. Refusing to bring waste into our homes is a lot better use of our time than trying to reuse or recycle it.
Less Mail
For several weeks, I went through the mail and stacked anything I would normally recycle in a pile. At the end of each week, I would grab my computer and take 15 minutes to email every company something simple like, "Please remove me from your mailing list. My address is…."
I logged in to each retirement account and set the mailing schedule to quarterly only. All of the bills and bank statements were set to paperless. I unsubscribed myself from coupon and catalog mailings because most of it is available online anyway.
I registered at DMAchoice, Catalogchoice.org, and OptOutPrescreen.com to cancel catalogs, credit cards, and insurance offers. Through YellowPagesOptOut.com, I canceled the 4 yellow pages directories I was receiving.
I suspect this will reduce our unneeded mail by over 50% and I hope to keep hacking away at it over time.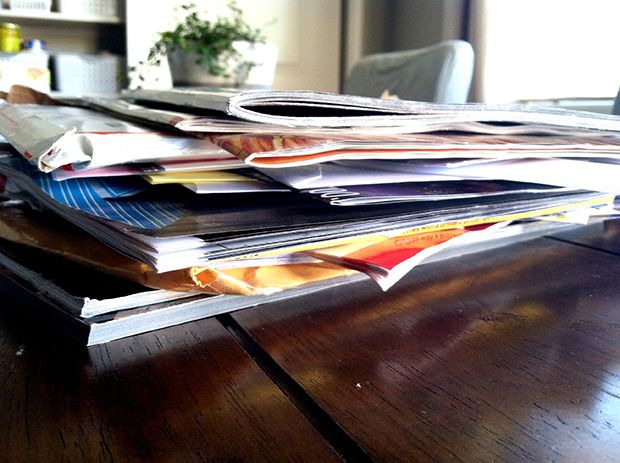 Less Food Packaging
Although canned and prepackaged foods are not a big part of our diet, most of the food we buy still has some form of packaging. The grains, meat, dairy, and even the produce is occasionally packaged. The best way to get around that is to buy in bulk.
The natural grocery store where I regularly shop doesn't carry any items in bulk, so I visited a nearby Whole Foods, a store I know to have a wide bulk selection.  I live in a town of only 80,000 people, so my bulk grocery shopping options are limited to just two or three stores.
I was really surprised at the items I can buy in addition to the typical flour, sugar, nuts and beans I had expected to find.  Maple syrup, vanilla, honey, sea salt, tea, olives and coconut oil are all items I would typically buy in a package that would later be recycled – many at prices comparable to what I am already paying, and in some cases, cheaper!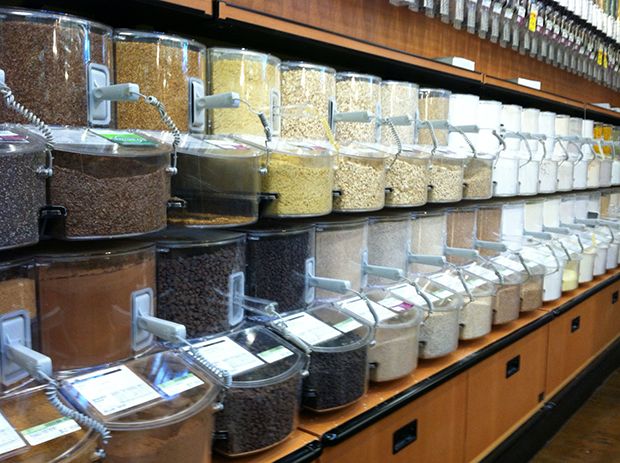 I have a stockpile of mason jars for preserving food so I'm using them for bulk food storage, and the grocer was happy to weigh my jars before filling them (I leave the weight labeled on each jar so I don't have to do this on every trip).  I also have several reusable bags on hand that I use for hauling produce and fresh bread home.
I haven't found a replacement for every item we use but I really like the simplicity of buying high-quality, fresh ingredients in just the amount we need, minus the packaging.
Fewer Cardboard Boxes
My husband, Joe, likes to joke that FedEx knows me personally. Between having two kids and limited options in a smaller city, I've found online shopping to be the most efficient use of my time and money. Unfortunately, that has come with a large amount of cardboard and packaging materials.
In the past, I've typically purchased groceries, personal care, household, gifts, and clothing from online retailers. I've recently found conditioner, castile soap, and lotion in bulk locally.  I'm switching my feminine care routine over to a reusable option and I already use a few homemade products such as eye makeup remover and oil cleansing.
Each month for the past year, we have received a box of toilet paper at our front door. I found a similarly priced option locally and stocked up with a few coupons. It's not perfect – toilet paper has a lot of packaging – but it's a step forward.
Although I don't see us eliminating online shopping completely, we've already started to reduce our dependence on this source of goods. I expect gifts and clothing to be the last to go because my favorite stores aren't local, but you have to start somewhere, right? And I believe we have.