Garlic is what I have to grow more than anything else in my garden because it provides a desperately needed, ever present, year-round lesson that I can't find anywhere else.
This fall I embraced the pure chaos of gardening with my small children in order to put the garlic in. The one-year-old chewed on the stems from the seed garlic and tried to shove clumps of dirt into his mouth. The three-year-old was assigned a section of the garden to demolish with a spade as he saw fit, and he wasn't lacking in enthusiasm.
I managed to shove the garlic into something close to rows, but the days of carefully turning over the soil, smoothing it out, placing guides for each row, and measuring in between each clove are over. I dumped compost over the cloves as my boys shrieked and fought over shovels at the sand table. I just needed ten more seconds to smooth the dirt out—never mind.
"Just last 10… more… seconds…" is one of my daily mantras for my kids.
This week we're cooking with the garlic that I planted last fall. In Ohio, we can plant garlic around early October and harvest it in July. That's nine months of waiting from planting to harvest, and often a year before you can eat most of it.
There is no life hack, fast lane, or secret to doubling your output with garlic. It is unrelentingly slow and fair beyond all reason. Garlic reaps precisely what you sow.
With garlic, you do the work, you wait, and then you harvest when it's fully ready.
I grew garlic long before I realized it had anything to teach me. In those days I used to work long hours, taking the advice of business gurus that you could push your limits, work faster, and rise to new heights if you worked longer hours than anyone else. I implemented smarter systems, improved my speed in everything, and let my work spill into just about every evening since there's always one more thing to do.
After about a year of pushing myself at this pace, I hit a wall.
I had two big problems in my work: I lacked focus, and I neglected boundaries that would have helped me work at a sustainable pace.
It's true that some business and productivity experts have crushed the competition and achieved GLOBAL DOMINATION, or whatever they want to call "work." They have worked harder, faster, and smarter than the rest of us. I learned after a year of anxiety and misery that I needed boundaries, limits, and a more sustainable pace that means I won't be the best in anything, ever.
I made the mistake of setting up the over-achievers as my ideal. Perhaps they have something that drives them to work without limits no matter what the cost may be. Perhaps they need to smash records and see their names on the top of every list.
I need garlic.
I need to be completely unplugged from everything with my hands in the dirt. I need something to throw myself into that isn't work. I need a place where my kids and I can play without pings, rings, and bleeps from my phone. I need something that slowly rises from the ground and takes its sweet old time to fully develop.
When I practice the Examen each evening, I've noticed that gardening is often one of the most restorative things I do throughout the spring, summer, and fall. In the winter it's often reading a book—preferably something on soul care or spirituality.
These aren't the sorts of things you necessarily do to dominate the world and to become number one.
After a season of treating my work as my most important investment, I've learned that caring for my soul is actually tops on that list. If I can set some boundaries around my work, family, and personal time, I'll gradually cultivate health in my soul and my family.
My work as a writer used to crush my soul because I tied my personal identity to my career success, and so I sacrificed everything to save "myself." I suppose we're all just trying to save ourselves most days. Perhaps we're distracting ourselves from the fact that we're losing ourselves.
I need space to pray, read, build, grow, create, and love. I need to take small steps every single day to remind myself that I'm running this race to win it, but the race is to experience a love that is deeper than I could imagine, to use my talents well, and to become a healthier person for the benefit of those around me.
That brings us back to garlic.
This is slow, steady work. It's nourishing and fulfilling in its own right, but it's not flashy and it's not going to help us dominate the world. That last point is perhaps the most important reason why most of us need to grow garlic.
This post was adapted from Write Without Crushing Your Soul: Sustainable Publishing and Freelancing, which is on a limited time sale for $1.99. Find it here: Kindle  |  Nook  |  iBooks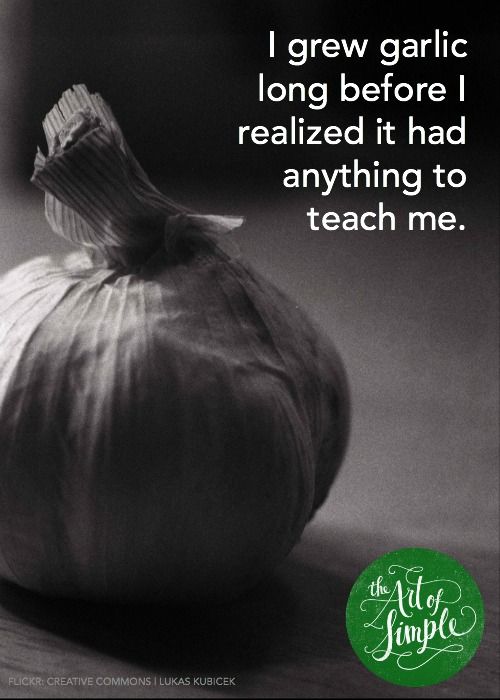 Photo by Lukas Kubicek