Last week, my daughter, Tate, and I finally checked something off our list: we went on a mother-daughter trip together.
We've told the kids for several years now we wanted to take them on solo trips when they turned 13, as a sort of rite of passage into teen/young adulthood. We'd explore a place together, have uninterrupted conversations, and make memories.
Tate's actually closer to 14 by this point, but we still managed to squeeze in her trip during the year she called herself thirteen. We did it.
I was open to us planning a trip together, but she wanted to be surprised. All she knew was that sometime this year, I'd whisk her away, just the two of us.
When I picked her up on the last day of school before fall break, I handed her a tiny envelope — inside was this: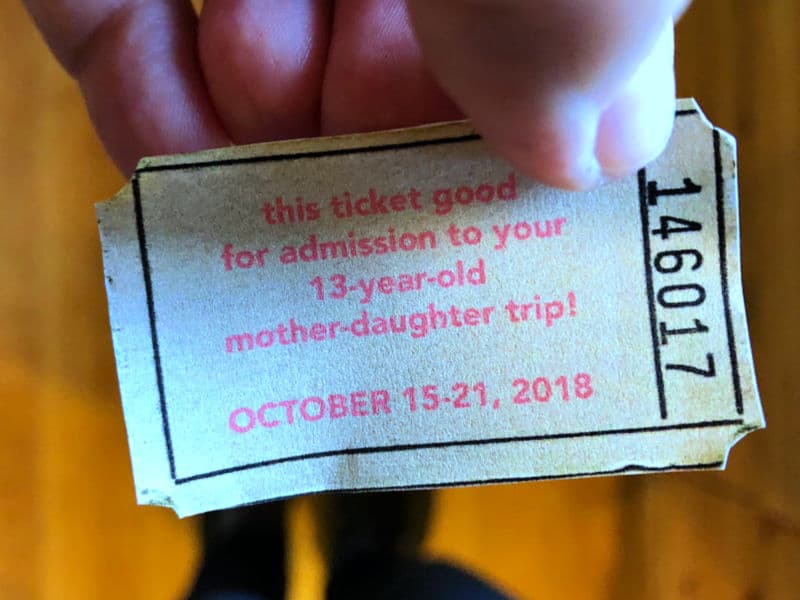 I told her she'd need to pack layers, bringing at least one sweater and her coat. I also added 'swimsuit' to her packing list, which accomplished my mission: it completely threw her off. She said, "I thought we might go to New York City, but since I need a swimsuit, I'm pretty confused now." (The swimsuit would hardly take up space in her bag.)
Tate impressively managed to not know where we were going well until we were already on the plane — she purposely ignored the signs at the airport gate and plugged her ears when the airline staff made announcements both at the gate and on the plane.
She was thrilled when she found out our destination — we've been to the city before, but only for long weekend stints. We'd be there Monday through Friday!
Day 1
Our plane left the Austin airport at 6 am (ouch) and we landed around 10 am, which meant we basically had a whole day right away. But because we got only a few hours' sleep (we had to arrive at the airport by 4!), both of us were fairly exhausted.
We took it easy our first day.
After we checked in to our guest house on the Upper West Side of Manhattan (we qualified to stay there because of other work we do), we grabbed lunch at Shake Shack. We have the burger joint in Austin, but we hardly go there. True to NYC form, we had to share a booth with total strangers… C'est la vie.
We then strolled through Central Park, only a block away from where we stayed. It was a perfect fall day, which, of course, made me say this multiple times.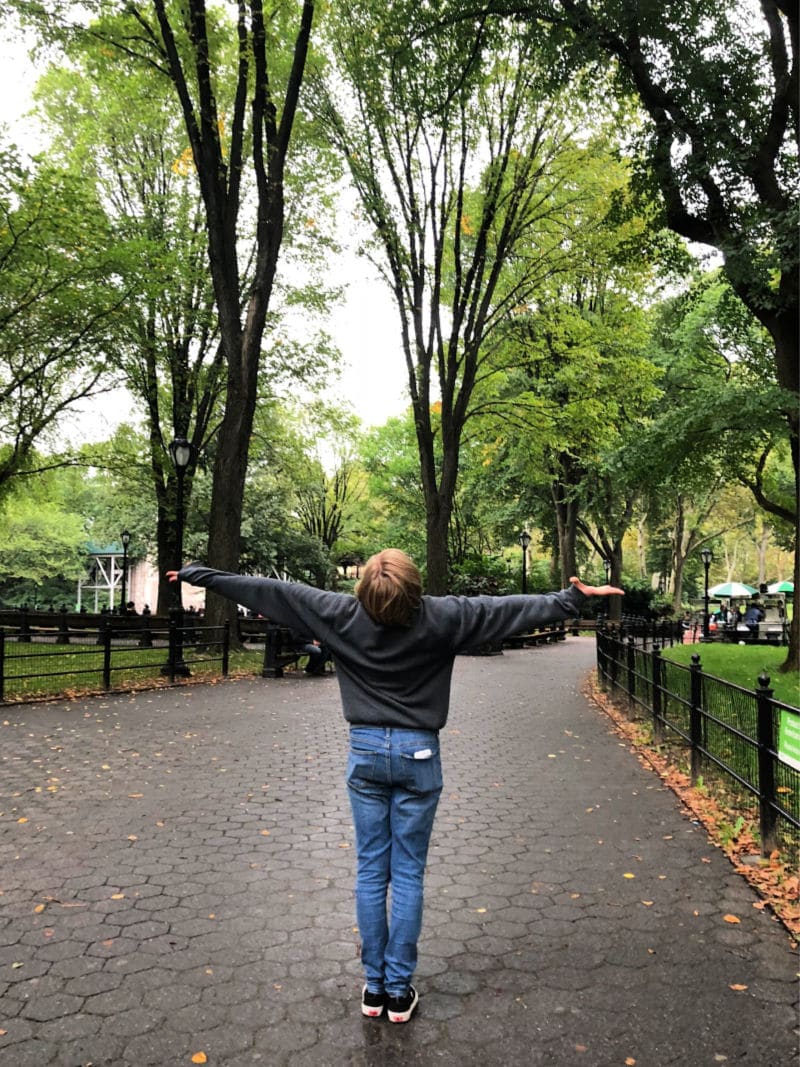 Afterwards we explored the Museum of Natural History, on my to-do list for awhile. It was interesting, but admittedly a little outdated, and even out of the high tourist season, it was crowded.
(Hot tip: Buy your tickets in advance. I bought tickets on their website via my phone while we snaked through the eternal line, and got to jump out and go straight in.)
We then grabbed some coffee at Parliament, next door, then strolled through Central Park again because the weather was just too fantastic to ignore.
By this time, our feet were aching, but Tate said, "Will we get to see Times Square this week?"
"Yep, I said."
"Oh good. But I want to make sure and see it at night at least once."
So, I led us down there, leaving Central Park from the southwest exit and ambling down to Times Square by way of Rockefeller Center.
We stopped for about half an hour to watch ice skaters; Tate said she'd be cool with leaving once we saw three people fall down. (It actually took awhile.)
Finally, we made it to Times Square with the lights lit, and it made her happy which made me happy (I'm actually not a superfan of the lights and crowds there, but I like her).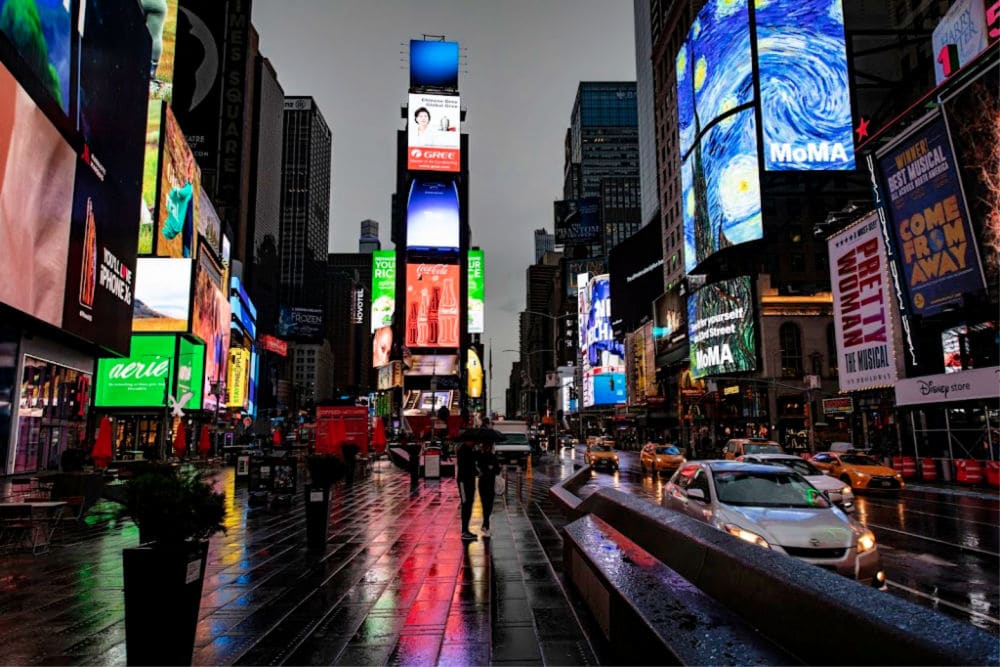 We were famished by then, so we popped into Melt Shop and got a cheap (greasy, delicious) dinner.
Then we climbed the five flights of stairs to our guest house and crashed, hard.
Day 2
I let Tate sleep in every day; she's a growing teen who needs a lot of sleep, and it was her fall break. Plus, we stayed out late every night, true to vacation in a city.
We walked two blocks to Le Pain Quotidien, one of my favorite chains in the world. I went for the avocado toast (gluten-free) like the grownup I am; Tate opted for the Belgian waffle with chocolate and hot chocolate to drink. Of course she did.
Next on the agenda was a bit practical: I'd lost my beloved Allbirds in London a few months ago (long story) and I knew there was a brick-and-mortar store in Soho, and Amazon had a store across the street (I needed to replace my portable phone charger).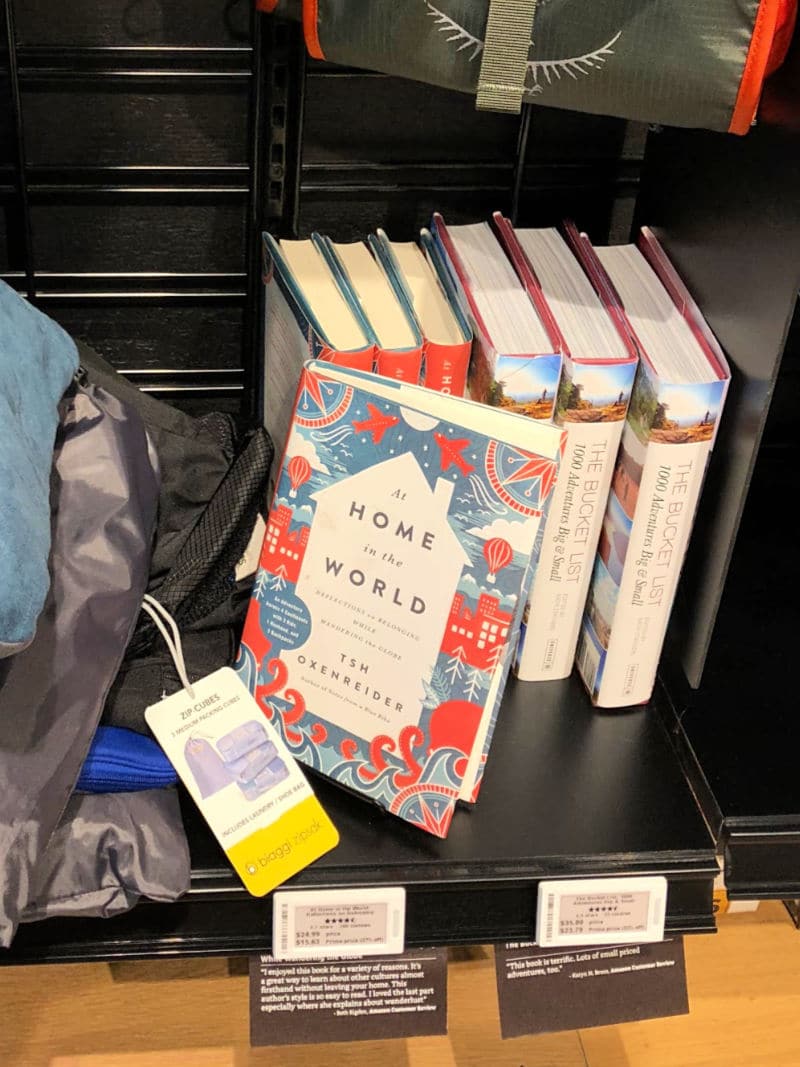 Bonus: I saw At Home in the travel section! Super fun — they don't carry many books, so I take it as a compliment.
We wandered Soho the rest of the afternoon, popping in and out of shops (side note: it's so entirely fun when kids are finally at an age where they actually prefer this!), then we window shopped through Chinatown.
Thanks to a heads-up from a Twitter follower, I booked a tour through the Tenement Museum, and I am so glad we did. It was one of the highlights of my time in the city.
Located in real apartments, this museum tells the stories of immigrants who started their lives in Manhattan's Lower East Side. These historic tenement buildings housed over 15,000 working class immigrants from over 20 countries.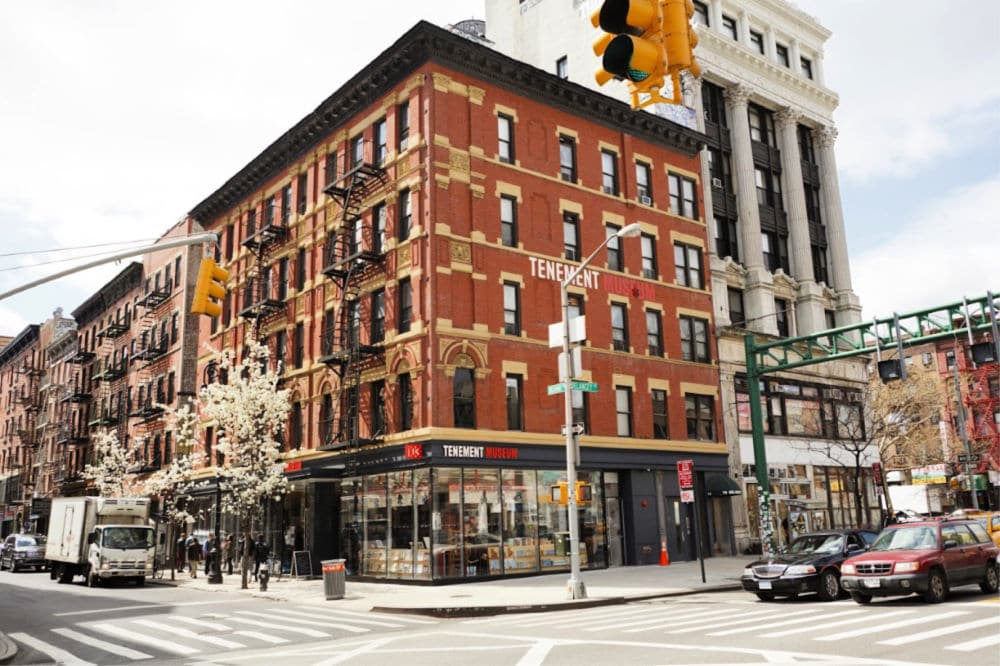 We took their newest tour, called Under One Roof, about three different families who lived in the Orchard Street building: the Epsteins from Poland, right after World War II; the Saez family from Puerto Rico during the 60s; and the Wong family from China during the 70s and 80s.
It was so good, and our tour guide, Kirk (from Austin!), was even better. They've got a virtual tour online, if you're curious.
Thanks to another Twitter follower's suggestion, we then had blueberry pancakes for dinner at Clinton St. Baking Company for dinner, then walked through Chelsea Market and the High Line before taking the subway back to the Upper West Side for the night.
Day 3
By now we had walked approximately 18,374 miles, so it was time to take it a bit slower. Touristy as it was, we had brunch at Ellen's Stardust Diner, and Tate was absolutely enamored. Singing waitstaff! While they refill your drink! (She's in a youth theater company this fall, so she's into this stuff right now.)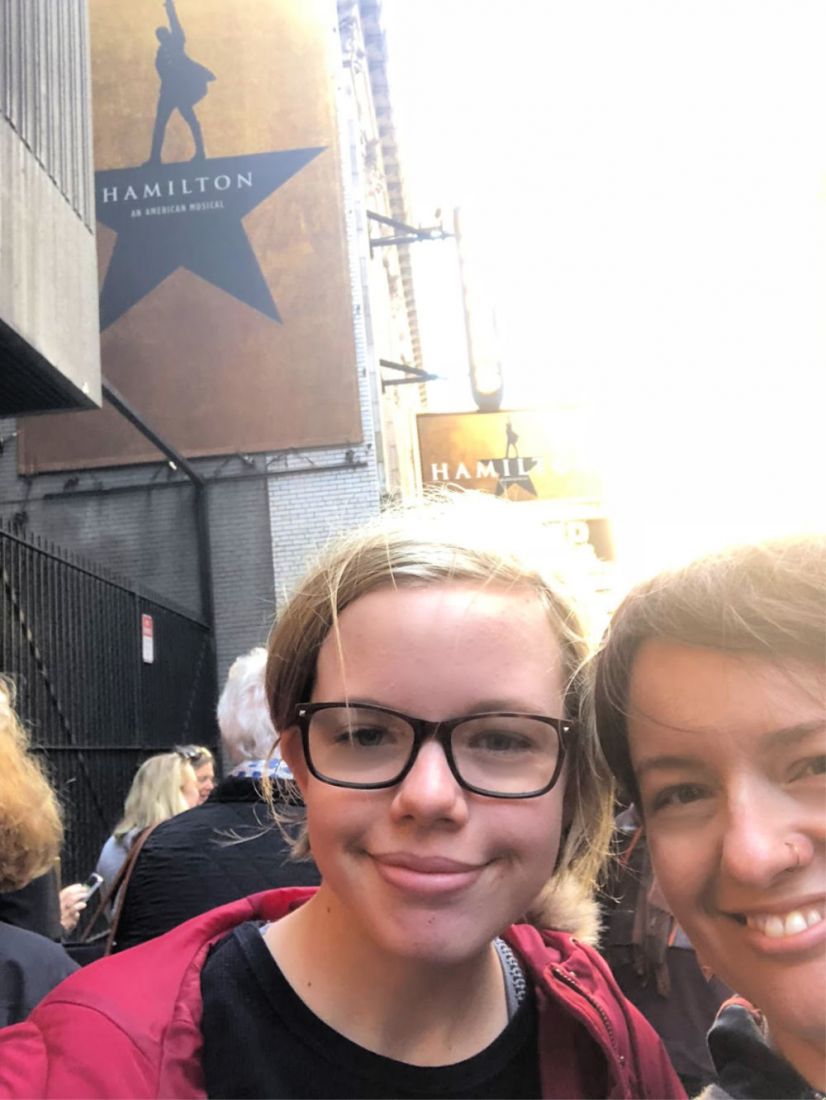 Then came the moment I'd been giddy about for months: I surprised her with Hamilton tickets! Kyle and I went the last time we were in the city, I was eager to see it again as soon as we left. Tate, like many teens (and adults! who are we kidding) has been obsessed with Hamilton, so she was squirming in her seat the whole time we were in the Room Where It Happened.
We left with a Broadway high, so even though I was thinking of doing this the next day, I asked Tate if she'd like to see something else. "YES!" she said, before I finished the sentence. So we got in line at TKTS.
Thanks to Twitter yet again, we snagged half-off day-of tickets for Puffs. I hadn't heard of this off-Broadway musical, but was bummed to miss out on Harry Potter & the Cursed Child (holy $$$, Batman), so I hoped this was a good partial solution.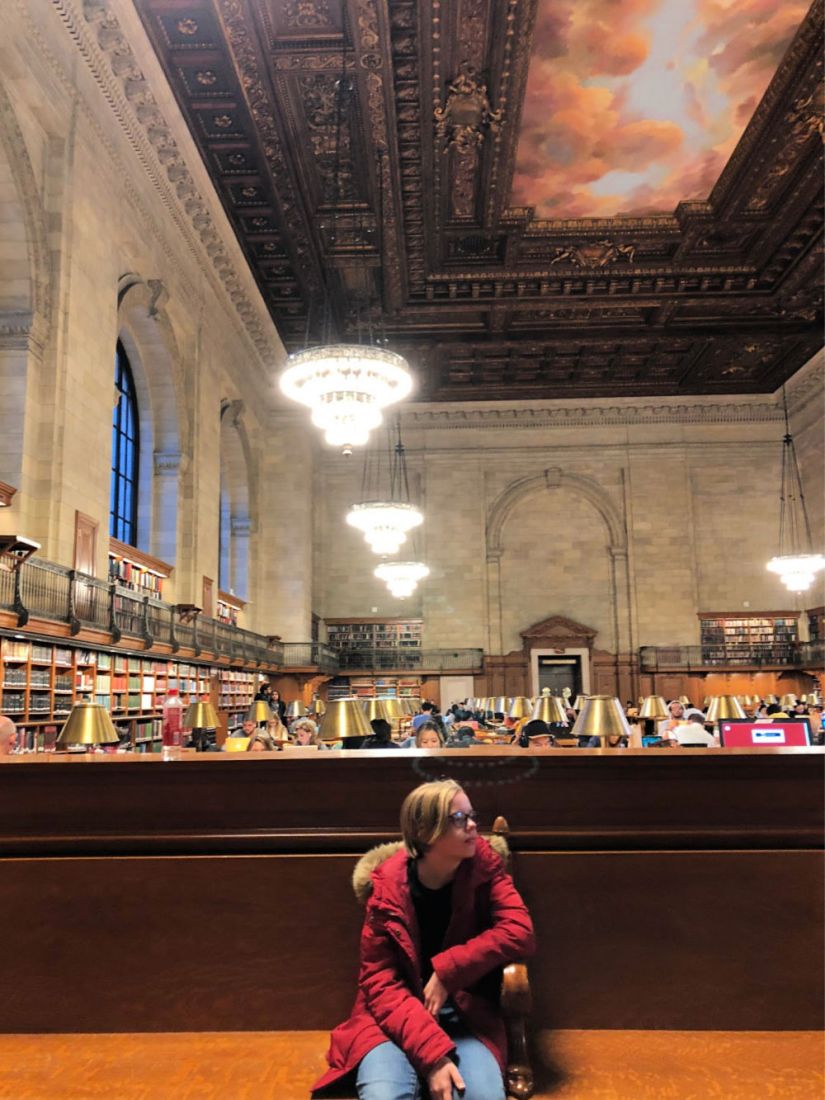 While we waited for showtime, we wandered the famous NYC Public Library (At Home is still in the system!), Grand Central Station, then hopped back on the subway to grab cheap bowls of Ramen at a tiny Japanese place near the theater.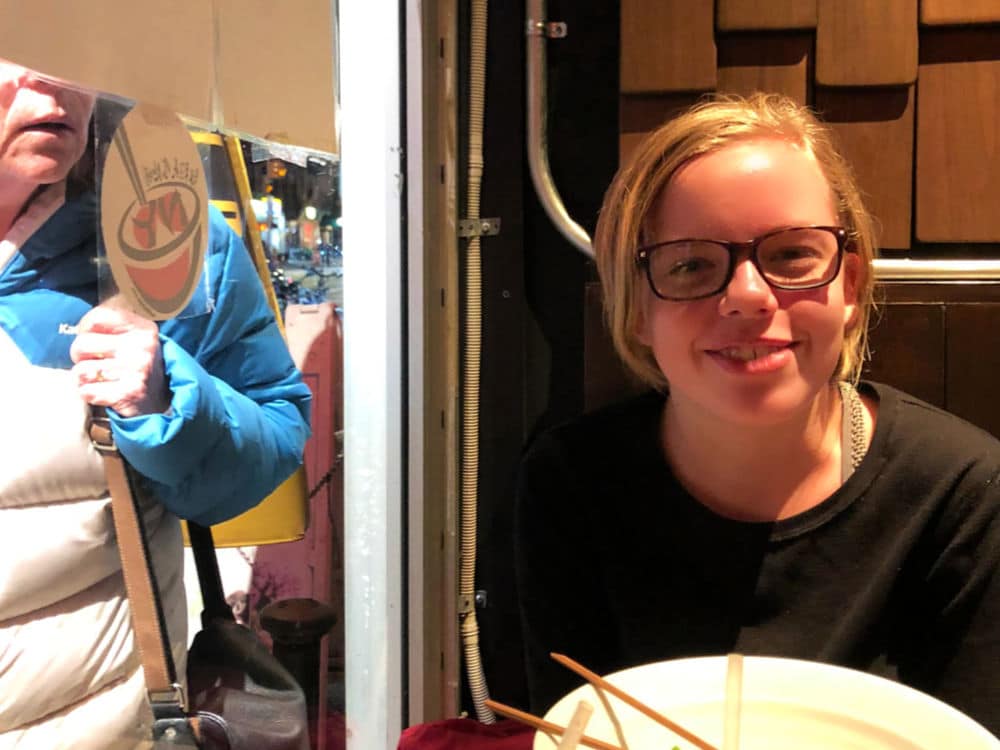 This gave us the giggles — we sat right by the menu posted outside and this one woman read it studiously.
Turns out, Puffs is a complete delight. We loved it! Now, it's not little kid-friendly — there's quite a bit of swearing and sexual innuendo, which I'd have appreciated a heads up about, seeing as Potterheads span all ages. I felt badly for the parents in front of us who took their boy who looked about 8.
But it really was hilarious. We appreciated seeing a polished, phenomenally successful Broadway play, followed soon after by an off-Broadway play in its infancy, still getting its feet wet. All the props to hardworking actors and production teams who make these shows the magic they are, day after day.
Day 4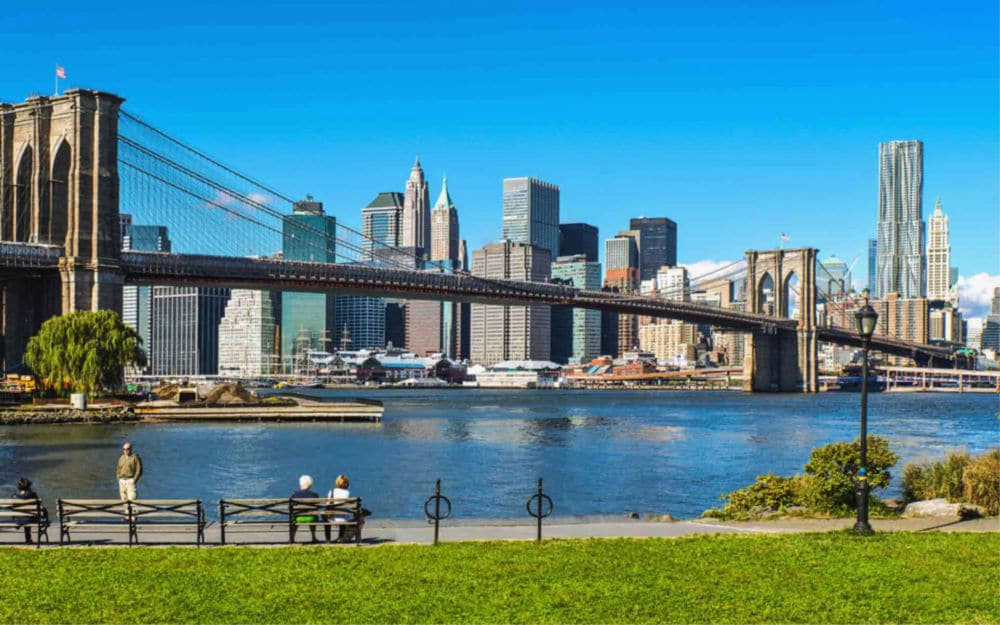 This was our coldest weather forecast — high of 45 degrees Fahrenheit! — but I knew we needed to spend it in Brooklyn. So, we grabbed quick bagels at the Zucker's near our guesthouse, then took the subway to Brooklyn, where we spent a glorious late morning at DUMBO.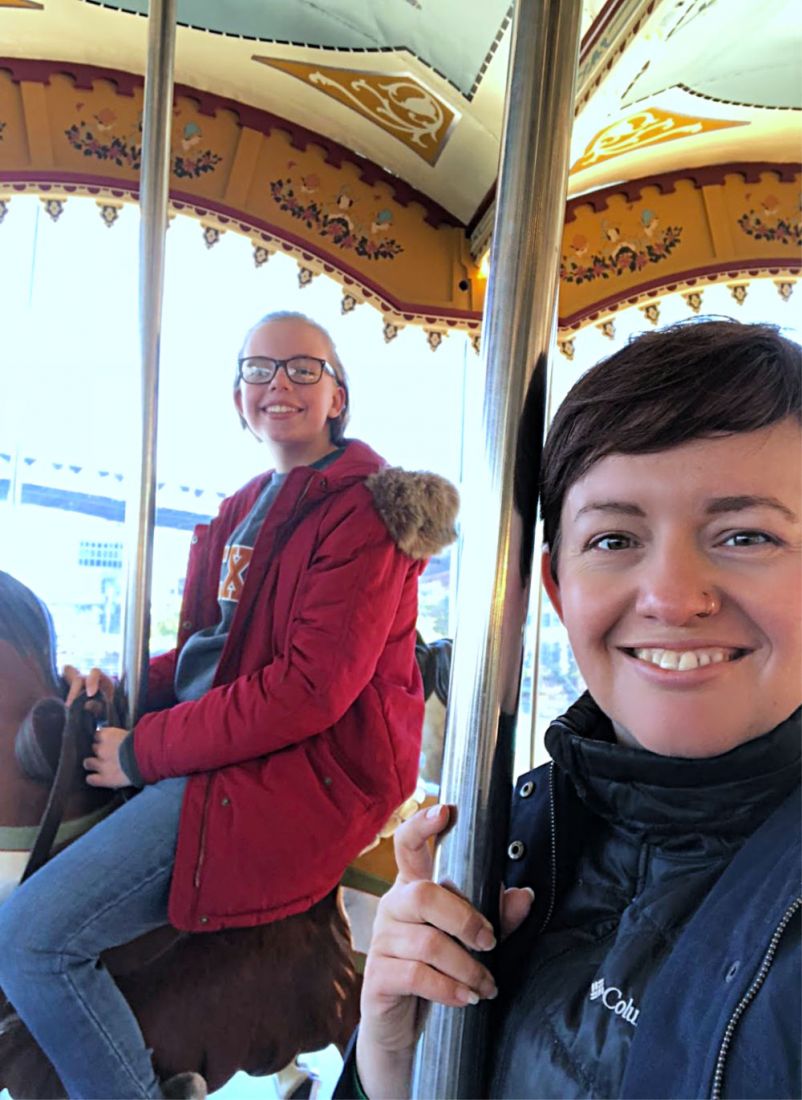 We wandered around the waterfront, strolled the ubiquitous charming brownstone neighborhood streets, and yep, rode Jane's Carousel, because who says we're too old for that?
We also happened upon a filming of Broad City at Brooklyn Ice Cream Factory!
Then we got in line to wait about 30 minutes in the chilly air to dine at the famous Juliana's Pizza, and it was worth every second of the wait. Read up on the history, but in short: it's rated #1 for pizza on Yelp (as in, for all pizza), and Zagats currently rates Juliana's as the best pizza in all of NYC.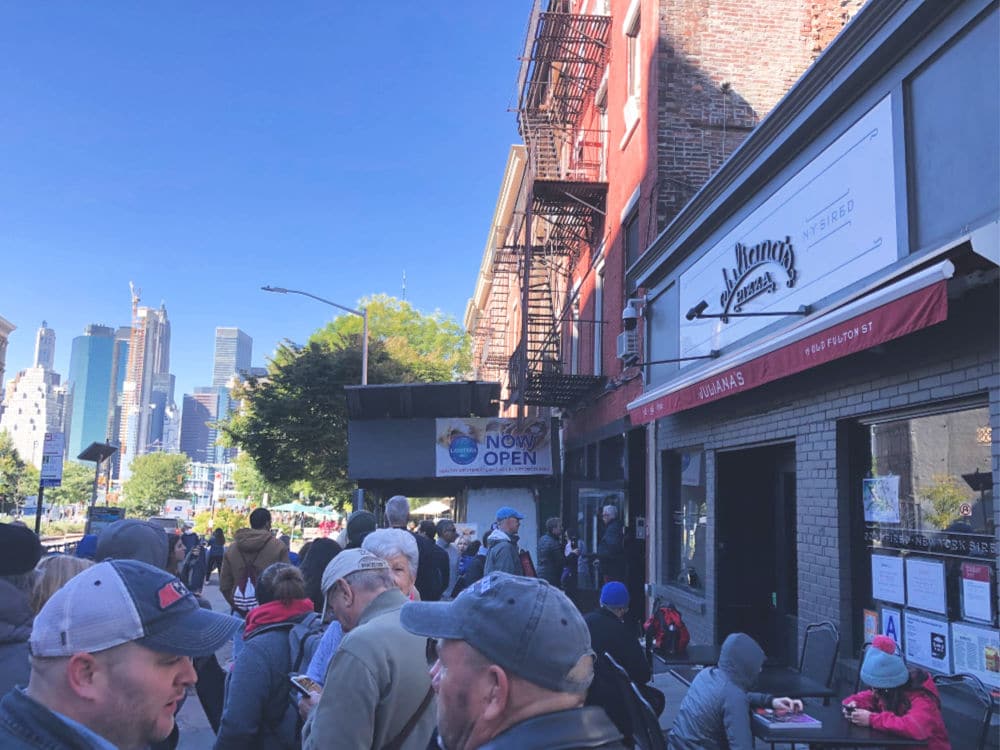 (You can bet we said this in line repeatedly.)
We were stuffed post-lunch, so we walked if off by exploring classic Brooklyn neighborhoods, hitting up a few thrift shops, then walking along the promenade back to DUMBO.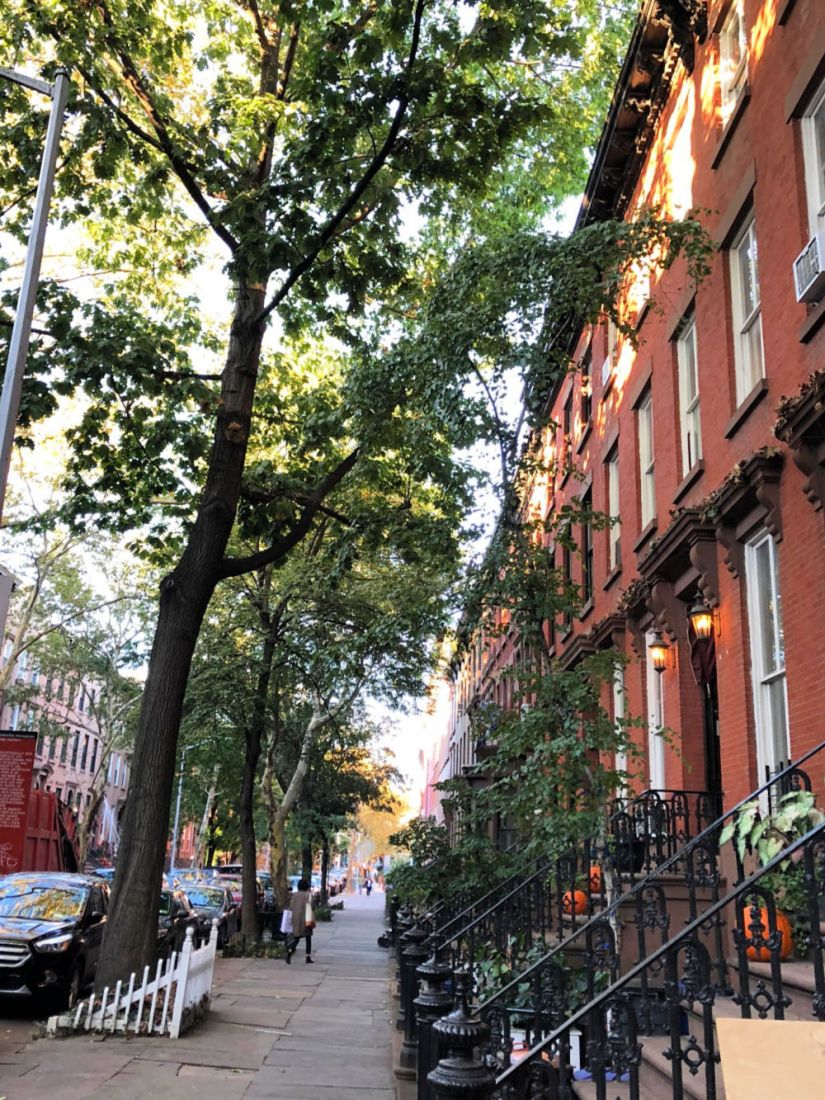 We'd planned to walk across the Brooklyn Bridge for sunset, but by now, we were exhausted. So. much. walking (which, for the record, I love!). Instead, we stood for a bit to watch the fading sun from the waterfront (views of Lady Liberty!), then took the subway back to Manhattan.
(Side note: I seriously want to go back to Brooklyn during the weekend, to hit up both Smorgasburg and the Brooklyn Flea. Next time…)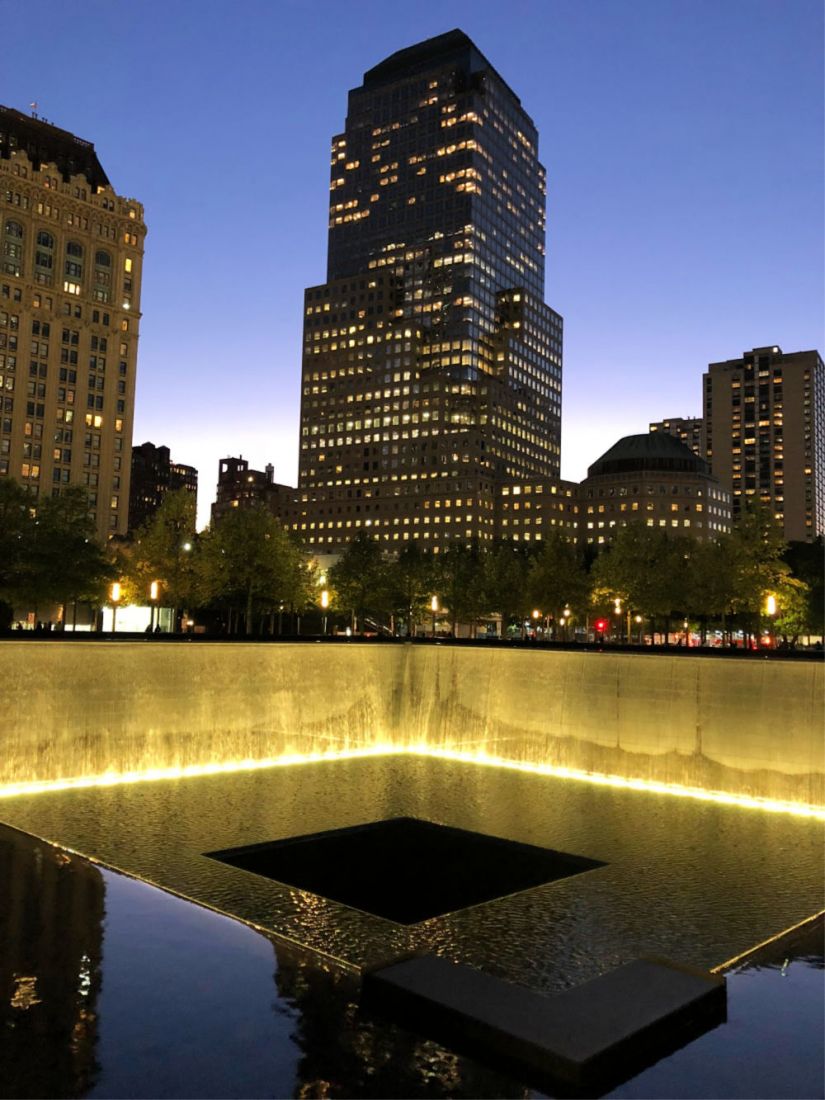 I wanted her to see the 9/11 Memorial, so we walked a bit through the financial district before heading to the Oculus and grabbing juices for dinner. We both felt the need after our heavy lunch.
The next morning, we grabbed a quick breakfast at Lenwich before heading to the airport, where we flew to Charlotte for Nest Fest and the Popcast Live (where I was on their death panel).
We were both sad to leave this city we've grown to love… After a week of dreaming and scheming ways to afford living there, we felt like we left a piece of our heart there. Tate says she'd like to move there after school, but then again, she's also said that about Hawaii, London, Paris, Italy, Australia, and New Zealand, so who knows… She's her mother's daughter.
A few final thoughts:
I adore and am completely dependent on the CityMapper app, for all cities with a great public transportation system. I used it both in London and NYC, and it's magical.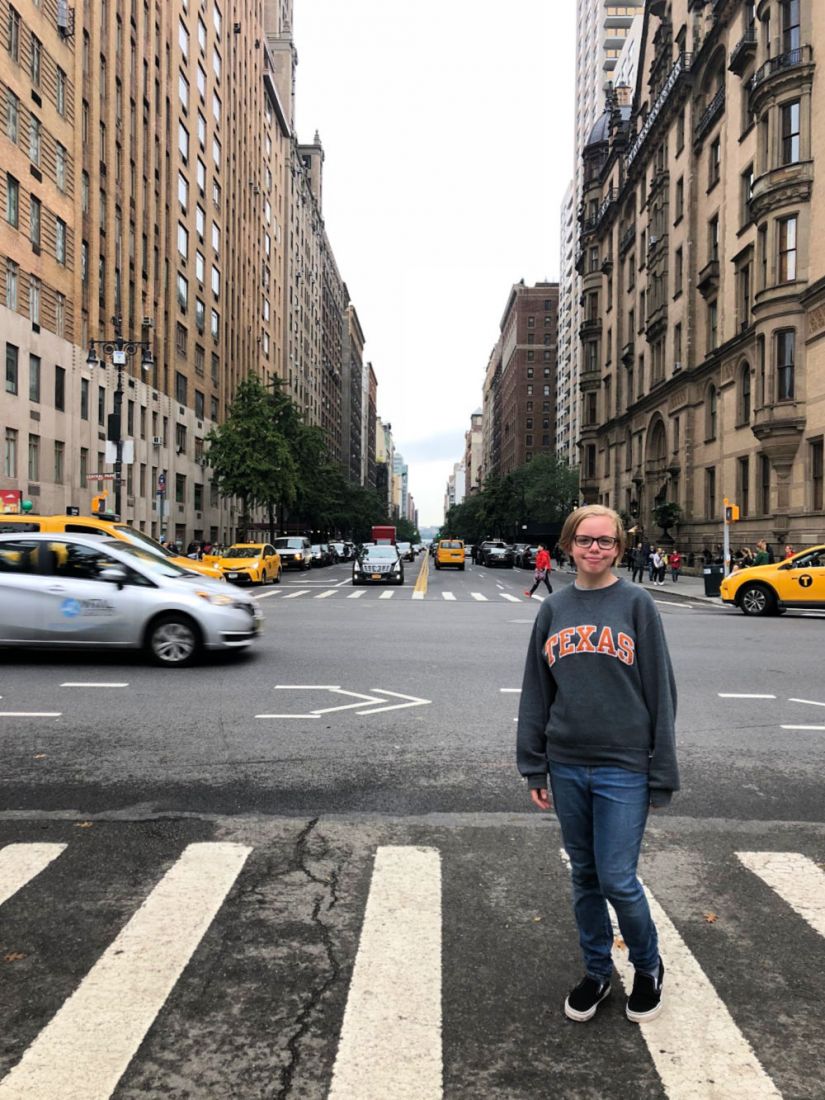 The subway really is easy-peasy. Not quite as clean as the Tube in London, but we had zero issues getting around.
I used Lyft for getting to and from the airports (in Austin as well). Great service, good employee reviews.
Wear good shoes. (I'm such a fangirl of Allbirds.)
Dress in layers — you'll be freezing as the wind hits just so, then you'll want to melt as you head down to the subway station with zero air circulation.
How about you — what's your favorite thing to do in NYC? Or have you ever taken one of your kids on a one-on-one trip?