As Nina said a few days ago, we're currently headed to Tuscany for a writer's retreat. My agent-friend extraordinaire, Jenni Burke, has taken it upon herself to lead groups of writers and artists through one of my top three favorite places in the whole world.
Who am I to not partake in this awesome call on her life?
In all seriousness, though, Tuscany (and all of Italy, really) has played an important part of my life this past decade, and has been a place of healing for me. I write about its significance in my forthcoming book, which I'm so eager to share with you all.
These rolling hills, the scent of jasmine wafting through the air, the way the people cultivate the land and embrace slowness as an art form—it is a balm to me. If we could afford it, we would live here.
(Who knows, maybe we will one day.)
In the meantime, I'm enormously gratified to visit it. And after several forays to this magical place, I've learned how to pack for it. Nina's priorities mimic mine to a T, and so, I thought I'd share the practicals of what I take with me when I travel to a place like Europe for a week.
I have a standard packing list and typically stick to this. The main difference with a place like Tuscany, however, is style. There's a reason Italians are known for their ability to look put together at all times—because it's true—and I like to blend in when I travel.
Packing items that all work together does the trick, plus a few must-have sundries (thanks for everyone's help here) and some basic gadgets.
Here's what I'm taking in my carry-on:
1. Clothes & Accessories
(I mentioned recently my realization that black is not my color. Navy is my best neutral, and while I'm no longer actively buying black clothes, I'm not just going to toss out what I already own. So, there's black here. Most of it is on my bottom half, so, farther away from my face….)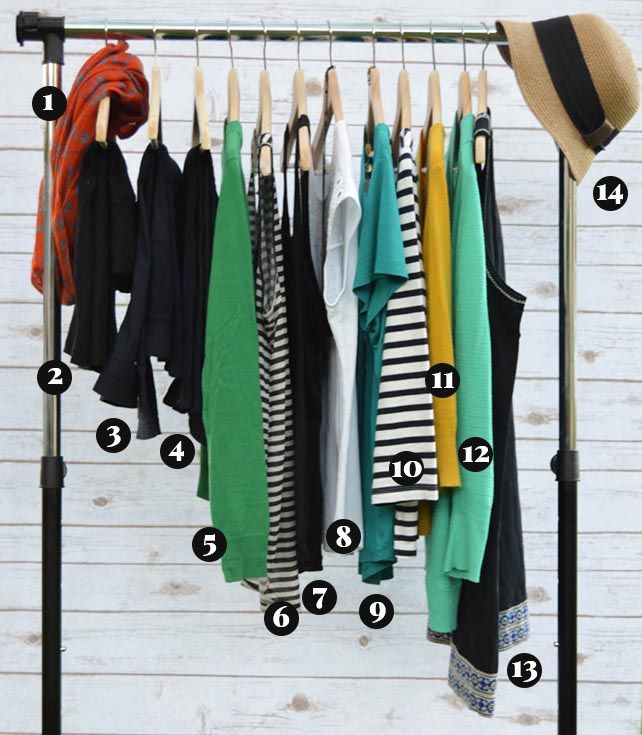 1 – scarf (similar) | 2 – travel yoga skirt | 3 – ankle-cut jeans (similar) | 4 – travel cropped yoga pants | 5 – lightweight cotton sweater (J.Crew*) | 6 – striped tank (Gap*) | 7 – black tank | 8 – white eyelet tee (LOFT, currently unavailable) | 9 – turquoise tee | 10 – 3/4 sleeve striped shirt (Lands End*) | 11 – mustard yellow cardigan (ModCloth, currently unavailable) | 12 – aqua cocoon cardigan (Merona*) | 13 – dress (Madewell*) | 14 – hat (similar) | not pictured: underwear and pajamas (simple tank and shorts)
*Until these brands show an effort to move away from fast fashion, I like to buy these items second-hand as much as possible. My favorite online spot is ThredUp.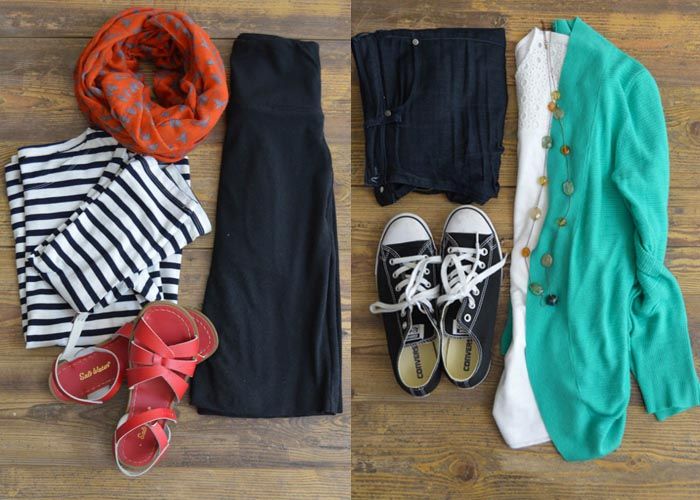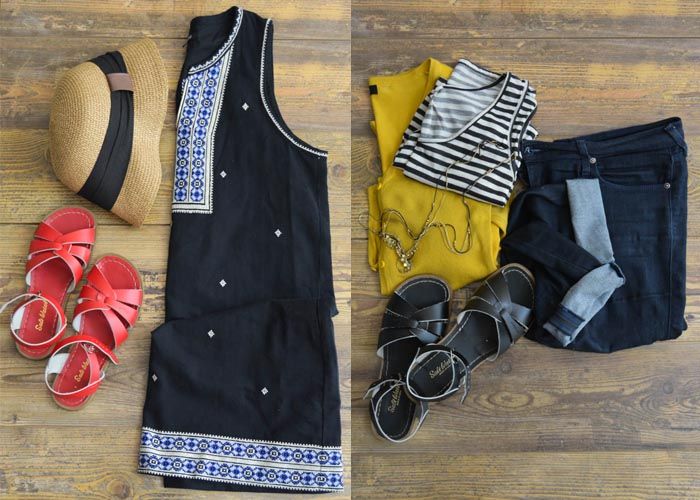 I like keeping it simple with jewelry—one Noonday necklace and another vintage one from my mom.  I've been living in Saltwater Sandals this summer, so I'm going to bring both my red pair and black (and forego my Tieks this time) and my Chucks.
2. Sundries
Carrying on means being careful with the size of my products (there are a few exceptions), but if I'm only gone for 1-2 weeks, I don't really want full-size bottles anyway.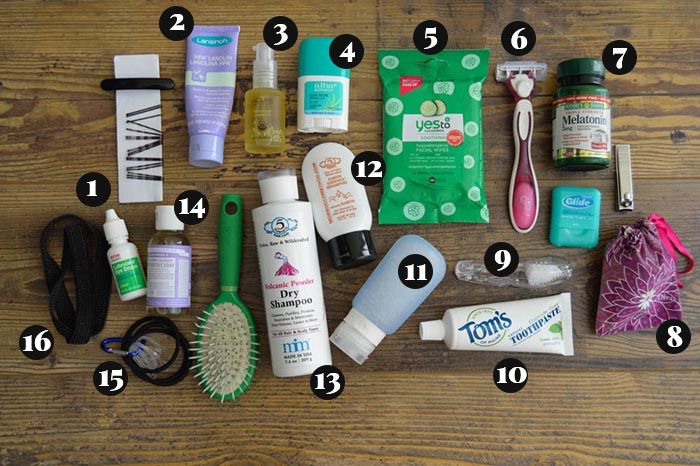 bobby pins and a barrette | 1 – eyedrops | 2 – lanonin (my favorite lipgloss/chapstick) | 3 – Moroccan Argan oil | 4 – deodorant | 5 – facial wipes | 6 – razor | 7 – melatonin (my choice for powering through jetlag) | 8 – Diva Cup | 9 – travel toothbrush | 10 – toothpaste | 11 – coconut oil in a GoToob (I love these) | 12 – Morrocco Method's Earth Essence shampoo | 13 – Morrocco Method's Volcanic Powder dry shampoo | 14 – castile soap | 15 – hair bands | 16 – elastic headband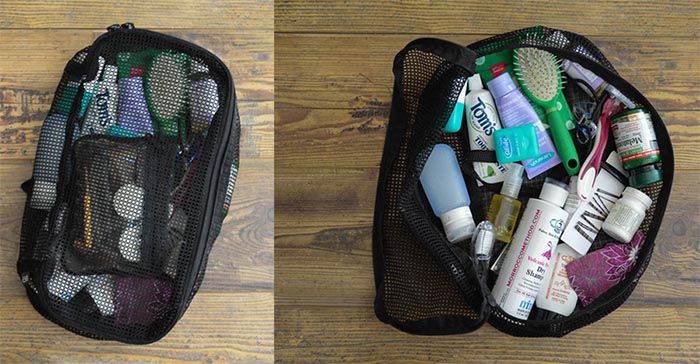 I love using a Tom Bihn halcyon packing cube as my dopp kit. I also toss my bit of makeup in one of these. (I might write a post about my current favorite makeup, because at almost forty, I think I've finally found stuff I like.)
I grab travel-sized products and don't sweat it. If I need something else, I can always buy it at my destination (there's toothpaste in Italy).
Recently in a podcast I mentioned that I don't do my usual baking soda hair routine when I travel. For whatever reason, it's easier for me to just pack shampoo and not sweat the loose parts I typically use at home.
I packed Morrocco Method's Earth Essence Shampoo that came in my trial travel set of their five shampoos. It works the best on my hair (mostly normal, a twinge on the oily side) from their collection.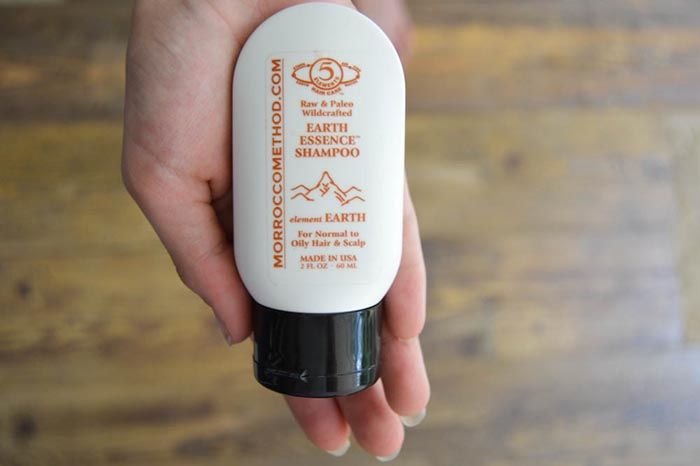 All their shampoos are 100% natural, so the lack of colorants or foaming agents can throw off a new user, but that's actually one of my favorite perks.
I also packed my favorite product of theirs—Volcanic Powder Dry Shampoo. Made of stuff like bentonite clay, aloe vera powder, prickly pear powder, arrowroot, charcoal, and cardamom, I've never used a dry shampoo that woks as well.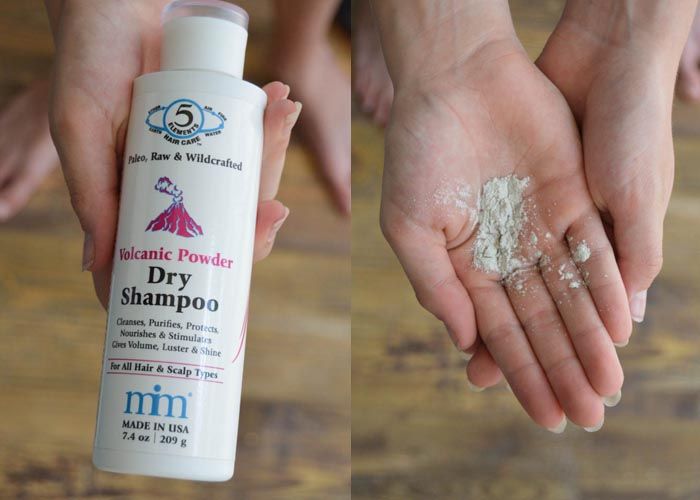 These combined ingredients deliver essential vitamins and anti-oxidants to seal in my hair's moisture and balance pH levels, which keeps it healthy.
Morrocco Method products contain only beneficial ingredients—no fillers. I didn't even know this was possible, but their entire collection is gluten-free, sulfate-free, paraben-free, cruelty-free and paleo-friendly. Total win.
3. Gadgets
I don't plan to work much on this trip, but the right surroundings inspire me—and Tuscany is the right place. I prefer the journaling type of writing on a trip like this, but I also hate it when I want my laptop and don't have it.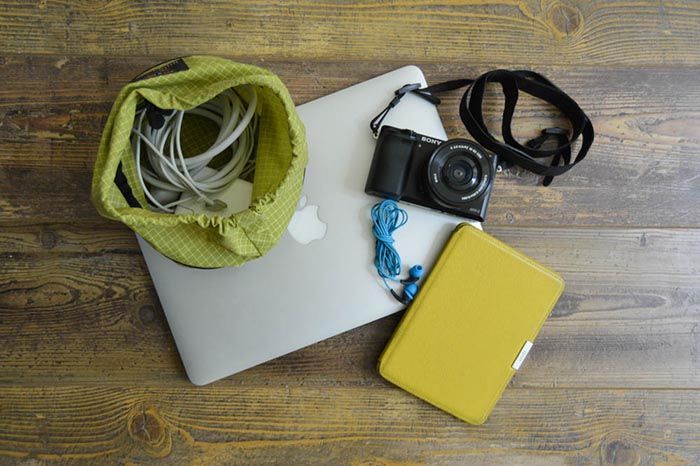 So, I'm bringing my laptop. I'm also bringing my Kindle Paperwhite (of course), my non-fancy iPhone 5 (it works perfectly overseas with T-Mobile; Verizon – not so much), simple earbuds, corralling my cords with Tom Bihn's travel tray, and I'm bringing my Sony a6000, a compact DSLR.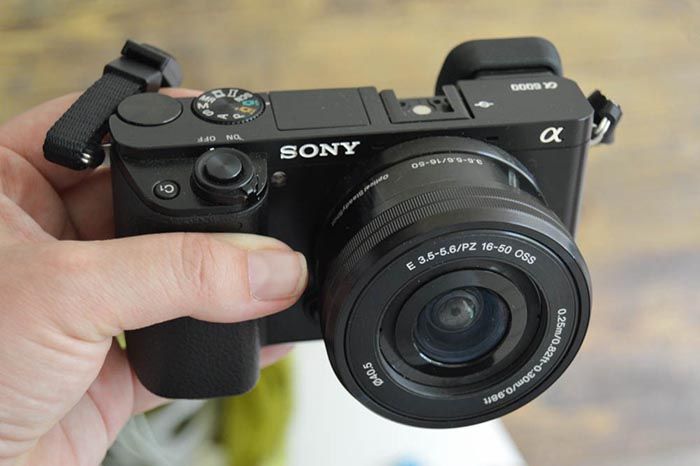 It's a great mid-size camera—a grade up from a point-and-shoot, but not a full-scale DSLR with all the bells and whistles. We had this camera on our round-the-world trip.
4. Everything Else
My journal, a pen…. and that's about it. I'm putting this book on my Kindle. It's been on my to-read list forever, and I love reading books set wherever I am.
What else would you recommend I read in Tuscany?
And what are your go-to must haves when you travel for a week?
p.s. Follow the Instagram feed of Tuscany Writer's Retreat—I'll save you a cup of grapefruit gelato (my personal favorite).
---
This essay is written by me in partnership with Morrocco Method, makers of handcrafted hair care products specially formulated to detoxify and nourish the hair and scalp. The opinions and text are all mine.
A few affiliate links are used here, which means at no extra cost to you, making a purchase by clicking these links helps support this site. Thanks!