In the past six weeks, I've traveled to Denver, northwest Arkansas, Portland, and Italy, all in varying lengths of time, yet on each trip, I've heard the same statement over and over: "Wow—is that all you've packed?"
I've found that barring a few degrees' separations of weather and season, I tend to pack the same clothes for just about anywhere (in fact, for some of these trips I never even bothered unpacking in between). A few basic separates, all matching, and I call it good. And everything fits in a carry-on backpack.
Everyone wants to know what and how we're packing for our round-the-world trip, and I'll show you soon—but in the meantime, I thought I'd share what I like to pack for a basic trip, whether it's a weekend in the next city over or for a week in Italy.
First, a few packing rules.
1. No one cares what you wear as much as you do.
When you believe this, packing becomes insanely easier. Remember that time you were on that one trip and that one person wore that one outfit? Yeah, I didn't think so. Not only do other people not really care what you wear, so long as it's appropriate, but people flat-out don't even remember.
Don't be afraid to dress simply, dress repeatedly, and dress in what you like best, because that's what you'll enjoy wearing most. Dress for the occasion and the location, yes. But beyond that, don't sweat what other people think.
2. Quality over quantity.
Back in my younger days, I'd prefer five almost-nice shirts over one perfectly-fitting one. My, how times have changed. Pack the stuff you love, what fits you best, and what you'd wear in your normal life.
People often fear underpacking, sure they'll need that one extra shirt, but nine times out of ten, the opposite holds true. Stick with your tried-and-true, love-how-you-look-and-feel favorites, and bring some laundry soap. Rinse and repeat.
3. Go capsule.
Pack shirts, tops, and accessories that all work together. Yes, this takes practice and a bit of trial and error, but after a while, you'll get the hang of it. Called a "capsule wardrobe," when you stick to basics in your favorite colors, you'll be surprised how many different outfits you can create.
4. Look decent.
You don't always have to pack a little black dress and heels, but err on the side of overdressed over underdressed, because there's not much more uncomfortable than wishing you looked more put together than you are. Americans are known for looking casual, too, so this holds especially true if you're traveling internationally.
This doesn't mean fancy, mind you. I'm not fancy. But I make sure my clothes are relatively wrinkle-free and up-to-trend, decently-accessorized, and generally thoughtful.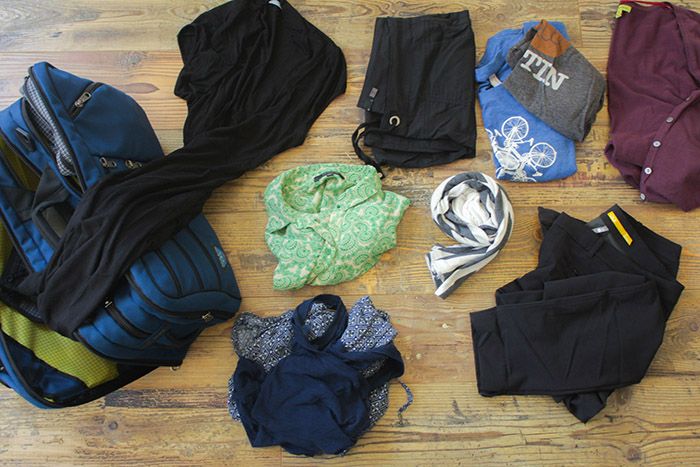 My basic packing list
This is more or less what I packed for all four trips I've taken this summer, from four days in Denver to twelve days in Italy—everything wrinkle-free, all easily packable:
• basic black pull-on dress
• black pull-on travel skirt (love the hidden pocket)
• patterned pull-on maxi skirt
• thin shorts to wear under the dress or skirt, or for sleeping
• pull-on Bermuda shorts (these are the best; super-fast drying)
• black travel pants
• skinny jeans
• dolman shirt (much more comfortable during travel than a regular shirt)
• regular t-shirts (about three)
• button-down blouse
• cardigan
• form-fitting camisole
• wire-free bras (two)
• travel underwear (four)
• one pair of socks (mostly for cold airplanes and hotel rooms)
• swimsuit
• pajama pants and tank top, for sleeping
• various slip-on shoes (about three, except for the weekend trips—then I only took two)
• simple, inexpensive necklaces in varying lengths (about three)
• one gold and one silver pair of earrings
• sunglasses
• lightweight scarf
Along with my simple toiletries, laundry soap, foldable travel purse, laptop, phone, Kindle, earbuds, and cords, this is about it. And so far, this list hasn't let me down.
(Look for a post soon with more details about the why behind some of these items.)
My favorite travel bag in the world
Tom Bihn recently sent us some gear, and I've absolutely fallen in love with their Tri-Star bag (along with all the other little organizing bags that fit inside). I've never had a bag so well made—I seriously think this bag will keep up with me the rest of my life.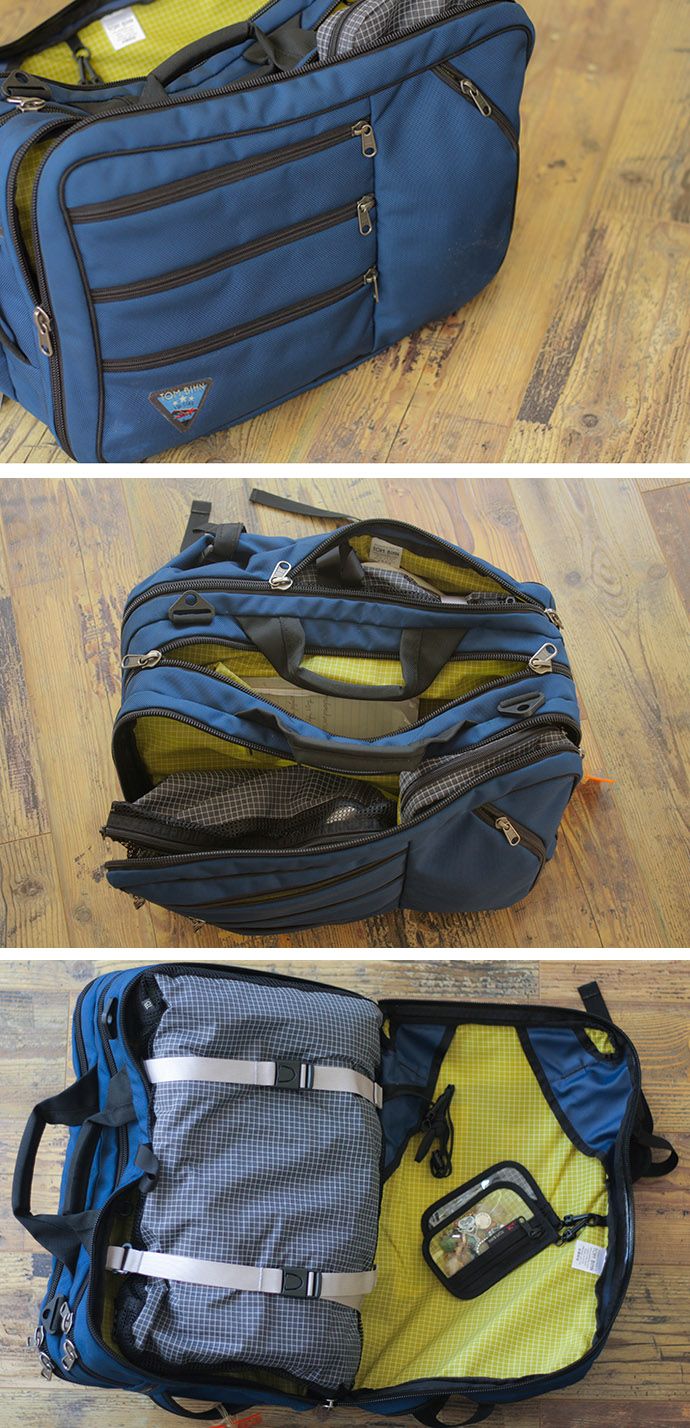 This video shows how the bag works:
I especially dig their Travel Tray for holding my cords; because it stands upright, I can keep my cords in one place while using them. It's hard to explain, so trust me here—all my cords stay coiled inside while I pull out the end to plug and go. Super helpful in crowded spaces like airports. Brilliant.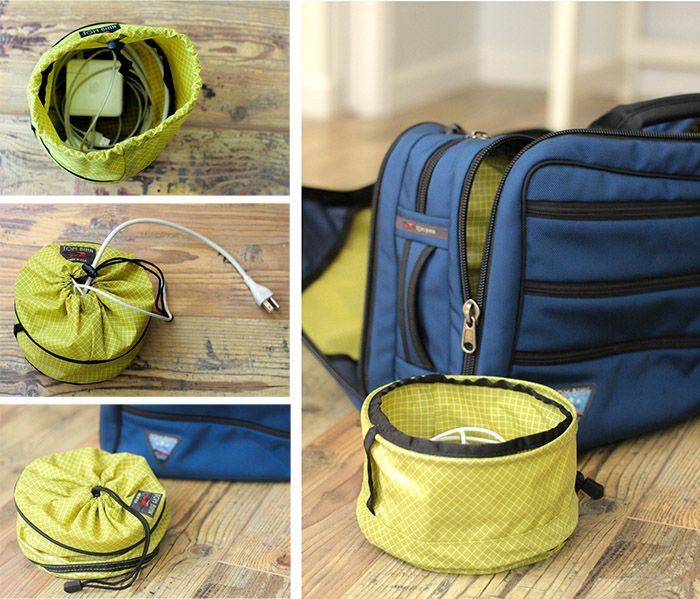 Kyle and I might take a set of Aeronaut bags from Tom Bihn on our round-the-world trip (depending on if they're big enough). Hooray for ethically-made, beautifully made travel gear!
The packing list above also includes my core essentials for this next year, adding just a few more items. But really, there's not much more.
Keep packing simple, I say. Travel is so much more fun that way.