This past week has been a push and pull of moving things around the house, feeling productive as the spring air peeks through the still-wintery clouds—and having to stop and rest my knee even though the rest of me is eager to move forward. I've been looking forward to this week's hot spot with Project Simplify all month, but my body just wasn't as cooperative as I liked.
(In case you didn't know, I tore my ACL a few months ago, had surgery a little over a month ago, and am in full-on recovery mode, with physical therapy twice a week.)
But I did what I could, because our biggest clutter culprit since moving to our fixer-upper last summer is piles. Piles of cardboard, piles of linens on top of the dryer until we build a linen closet, piles of clothes lining the hallway to sort through, piles of old house parts from our remodeling work… You name it, there's been piles of stuff in almost every part of our home.
Just keeping it real here.
I know it takes at least a year to fully move in somewhere new; even longer when that "somewhere new" is a partially-done remodel that still requires your elbow grease. So I wasn't feeling like we were behind—I've just been ready to have it done.
I'm all about less being more and having plenty of space. Most of you well know one of my favorite quotes from 19th century architect William Morris: "Have nothing in your home that you do not know to be useful or believe to be beautiful." Well, it was time to purge some of the non-useful and non-beautiful.
So here's what we accomplished this weekend in the piles department.

As part of our remodel, we turned this random slice of the house between the garage and the dining room into a mudroom. Kyle removed a tiny pantry and filled in a wall, then added hooks, a shelf, and drawers for storage.
It's awesome—except that since we've moved in, it's more or less served as our catch-all for the clutter waiting for us: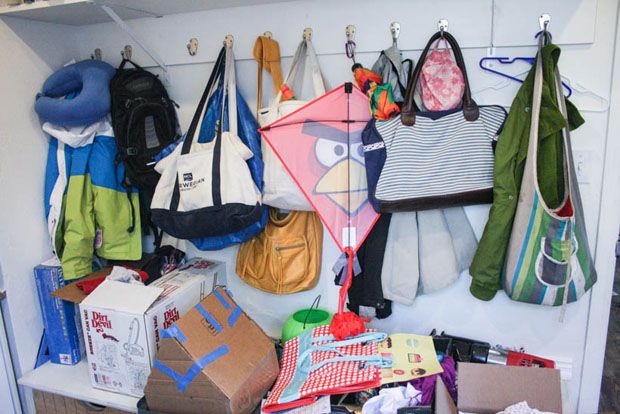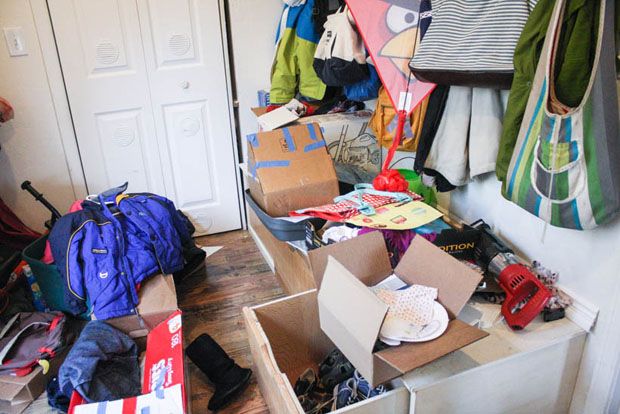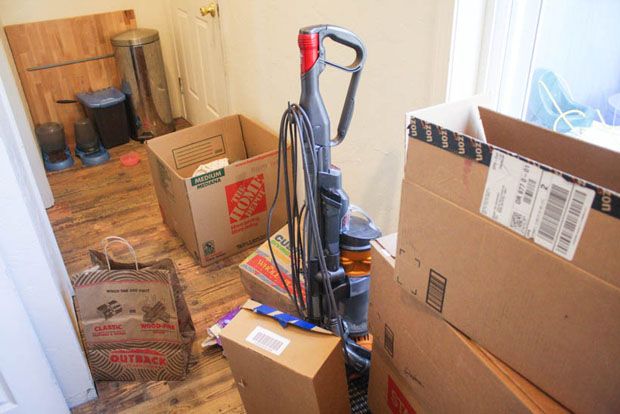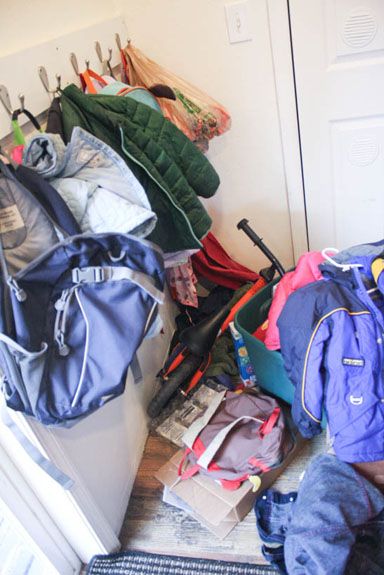 I finally went through this mudroom-turned-pile, and I couldn't be happier: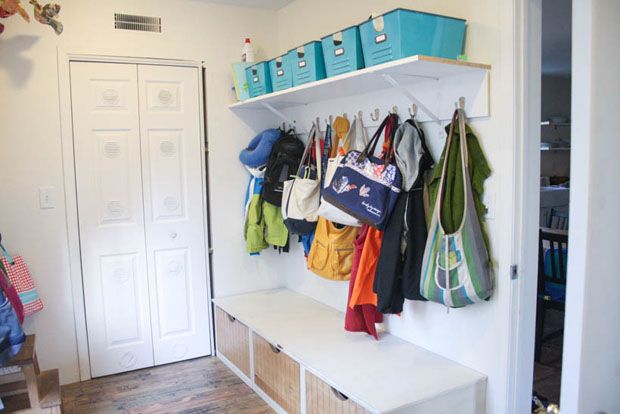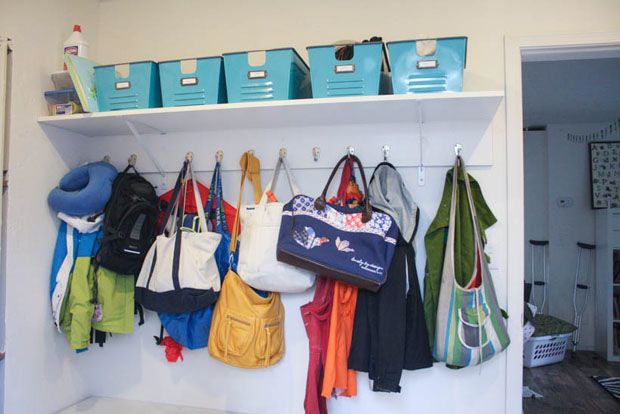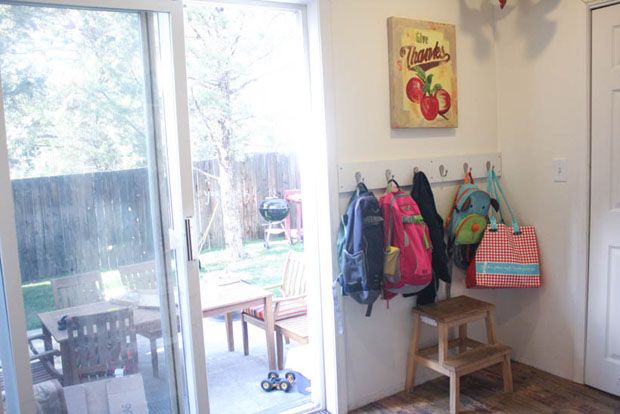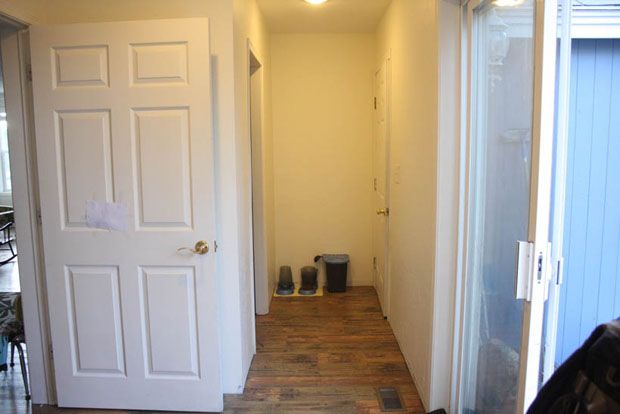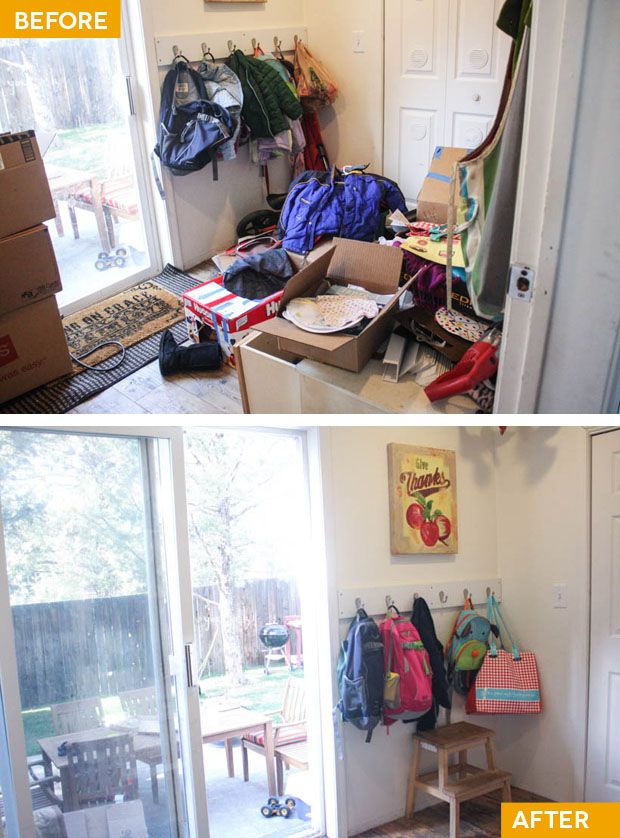 Those drawers used to serve as one half of the platform for Tate's bed (built by my mother-in-law, no less). But they now work perfectly as drawers for shoes—kids toss their shoes in one drawer, parents in the other, and the third works for boots.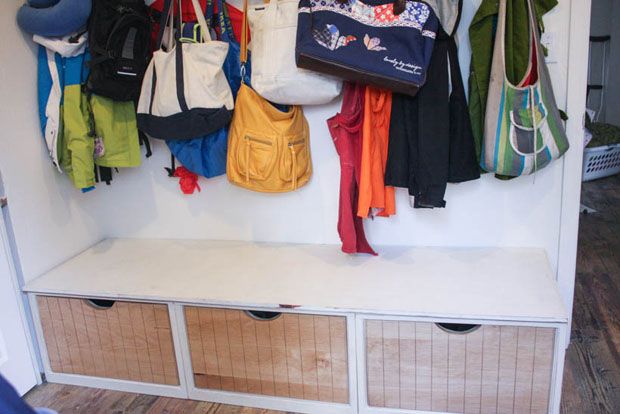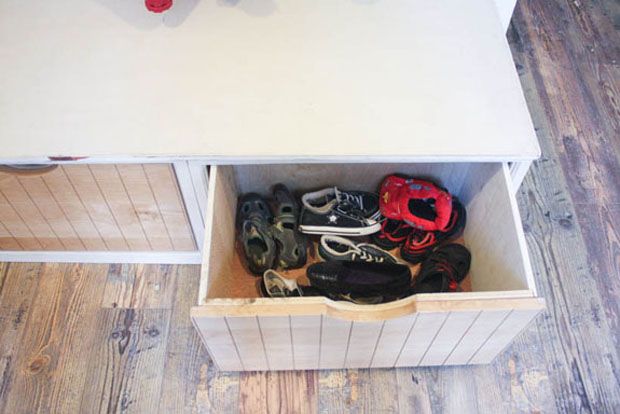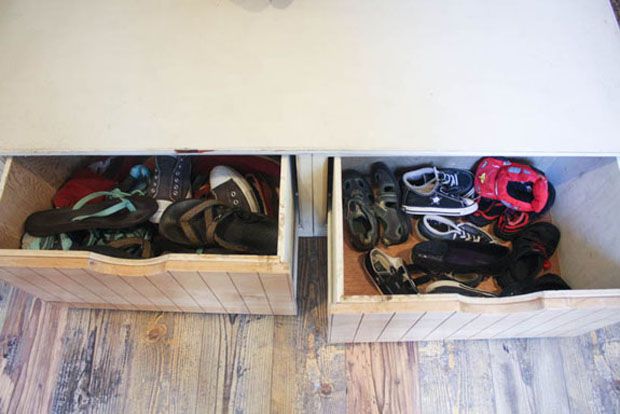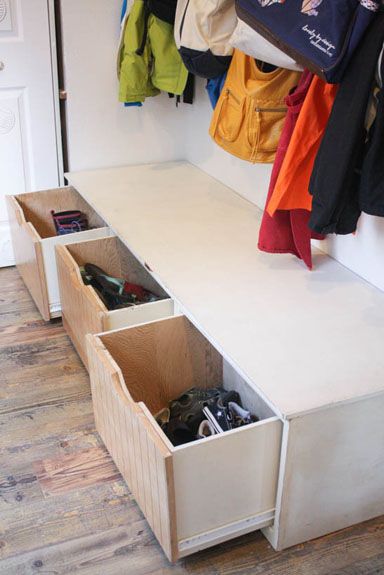 I eventually plan to paint them, but that's down the road.
We also cleared out quite a bit of cardboard and house supplies clutter—but my sweet husband forgot to take a lot of the "before" pics. (Why did he not think to take a picture of the pile of junk we were hauling off? Isn't that normal?)
Just picture about three piles that look similar to this: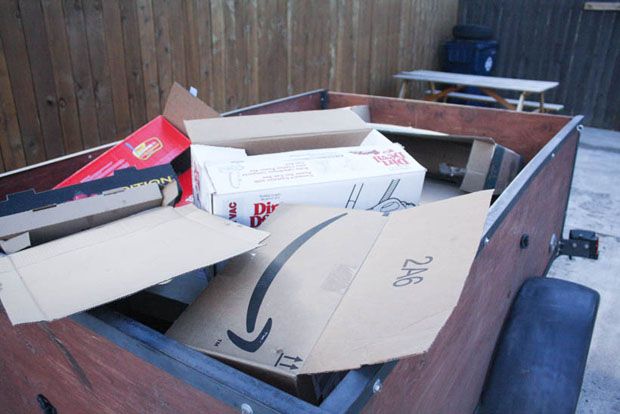 This was the delightful home of a number of those boxes and old house parts. Now it's empty, and the new home for our old picnic table.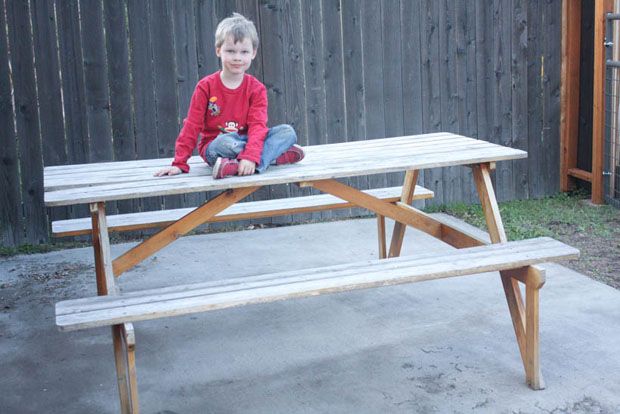 We have another newer patio dining table out back, but we have a really long driveway, with this area at the top that leads in to the backyard. Eventually we plan to pressure wash (and maybe stain?) the concrete, and then paint the table in a high-gloss, fun color to create an outdoor table space for the kids. Possibly also Christmas lights overhead.
Picture a happy, festive place, in other words.
And finally, here's some of our thrift store haul—just some, because we had several more boxes that jumped out of the photo just in time.
It's easy for me to focus on the stuff still left on the to-do list, but looking at these photos reminds me to focus on the stuff crossed off. It's a habit I'm working on at the end of each of my workday—to list the things I did do, instead of the things I didn't.
We're still not done, but we got a lot accomplished—hurt knee and all.
Your turn
Roll up your sleeves, because it's time to tackle your piles! Like last week, all you have to do is take a "before" pic of your piles, then deal with them—and then take an "after" pic. The photos don't have to be super fancy—use your high-end DSLR, or your camera phone. Whatever you want.
Also? They can be whatever piles you want. I left this week's hot spot vague on purpose—we've all got 'em, and they can look like anything from papers to books to clothes to dirt. Or in my case, cardboard and house parts. And you can do as many or as few piles as you want—whatever helps your home the most.
[statigram_widget]
Tag your Instagrams with the hashtag #projectsimplify, and they'll show up above.
I can't wait to see your photos! You'll be able to add them to this linky above, or via Instagram all week, so don't panic—you've got plenty of time.
I'll be back with more photos next Tuesday, for our last hot spot—That Put-Off Project. We've got a fun one for our home, and we think our kids will be excited. Stay tuned.
Where are your piles?