This summer, my family did something kind of unexpected. Over the course of two weeks, we packed up the house and moved.
Now, moving is already something that's stressful and expensive. Even if you plan well, the costs can sneak up on you and shock you. Doing a move in two weeks amps that up a ton.
I talked to a few friends before we moved, to see how we could save money. And then, when we STILL spent more than we had intended, I talked to some more friends, to see what advice they had that I should have taken. Here's their distilled wisdom:

It's never too early to start getting rid of stuff
We moved from a 4 bedroom house, with plenty of room for books, toys, art projects, and everything else that we'd accumulated over the years, into a three-bedroom apartment, with a small sitting area and an eat-in kitchen. We had to purge a lot of stuff.
The thing is, we had too much stuff to begin with.
Even though we'd decluttered over the years, it was way too easy to just say, "well, let's hold on to this thing, in case we need it down the road." We almost never needed it down the road. If you've been a Simple Mom reader for a while, this is a tune you've heard before. But get rid of as much as you can, even now.
If you move? Great! Your life will be simpler!
If you don't move? Great! Your life will be simpler!
Making money from a yard sale is great, but don't hesitate to just give stuff away. It's a great way to bless your friends and neighbors with tools, kitchen supplies, clothes, books, toys, and other things that it's time to let go of.
Eliminate, then repopulate
In the same vein, it's probably better to be overly aggressive in getting rid of stuff, and then repopulating your life as necessary once you get to your new home.
A friend of mine was describing a friend of his who had a duplex. "He and his wife … decided to gather every single thing they had and put it in the bottom level of the duplex. They moved upstairs, lived in just the top level, and as they needed something, they would go downstairs, find it, and bring it up. Little by little, they repopulated their life with only what was necessary.
"If you have something at hand to begin with, you can come up with a bunch of reasons to keep it, whereas if you start without it and have to go out of your way to get it, you have to ask a different question. Instead of asking, 'Why should I keep this thing?' you ask, 'What thing do I need here?'"
Get rid of as much as possible. If you decide there's a bookcase-shaped hole in your home, you can fill it (and then fill it!).
Don't spend money on moving boxes
Your local liquor store or grocery store has more boxes than they know what to do with. These boxes — especially the liquor boxes — are often far sturdier than the boxes you can buy at the moving company and are perfectly sized for books, equipment, toys, cooking supplies, and other stuff.
The only problem: they don't fold flat for transporting from the store to your house, so you might have to make several trips.
When friends ask what they can do to help you move, after you point them to 7 Simple Ways to Help a Friend Move, tell them "pick up liquor boxes and drop them off at our house."
Get extra insurance for the move
If you're driving the truck, look into getting extra coverage from your insurance provider, or get a AAA membership. Tsh's husband, Kyle, described one of their experiences: "After three days on the road, I was within a hundred miles of my destination when I got a rock in the windshield from a passing vehicle. The extra insurance paid for itself right there."
You'll have enough anxiety as you move; worrying that you've banged up the mirror on the truck is a stress you don't need.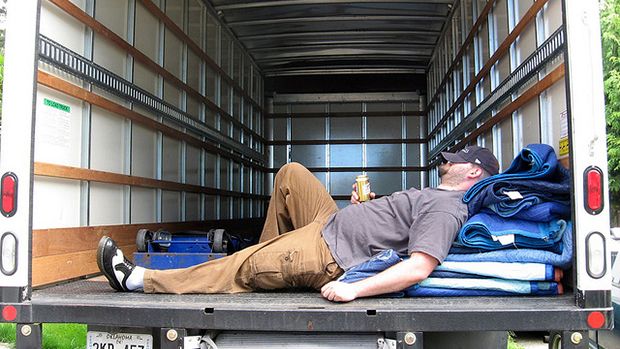 Photo by Jason Burrows
Evaluate your options by jumping on Twitter
Here's a quick tip I learned (too late) for sussing out which moving services to use. Since we didn't have a ton of people we could ask about moving companies, we were kind of in the dark. What we should have done was this: Go to Twitter, and search for what people are saying about the companies you're considering. Yes, people often post on Twitter in a huff, but you get to see what kinds of things people are encountering.
I tend to rely on online reviews frequently (I almost always check Yelp before going out to eat, getting a haircut, etc.), but I didn't think to check Twitter before signing the contract with the moving company. Don't make that mistake!
Your thoughts?
Moving isn't easy. And it isn't cheap. But with a few strategic choices (and managing your expectations), you can decrease the stress and the money it takes to move. That way, you can focus on having good closure with your old home and a good start on your new one.
There are a ton of other suggestions I could have made here that I had to leave out.
But I'd love to know — what tips do *you* have to make moving easier and more affordable?