Somewhere in my twenties, my love of good food grew into a love of cooking and trying out new recipes.
I always had at least one cookbook checked out from the library, my Pinterest boards were devoted mostly recipe links, and if the t.v. was on there was a 50-50 chance I was watching a cooking show.
None of this makes me unique.
In our foodie culture, variety is king and repetition is for people who don't know any better.
We are fortunate to live in a country where good food in seemingly endless variety is right at our fingertips; but shortly after I had children, this abundance began to feel overwhelming.
When my daughter was two and my son six months old, I was struggling under the pressure to feed my little ones the "right" foods in the "right" ways, during days when spending more than 15 minutes doing any one thing without interruption was almost a miracle.
It was about this time that in a quest to help my son find relief from his eczema, we discovered he had several food allergies: wheat, soy, eggs, peanuts, tree nuts.
One blood test and a single sheet of paper turned an already stressful situation into something even more complicated.
At first, I was happy to start uncovering the abundance of resources out there for people with food allergies, but it didn't take long before I couldn't process any of it well.
Eventually, I learned to turn off my computer and set down my smartphone. I turned down all the noise and asked myself: what are my personal priorities in regard to feeding my family?
A few clear thoughts rose to the surface:
I want to feed my family food that is mostly healthy and nourishing, but not outrageously expensive.
I want to keep my son safe from foods that will make him ill.
I want to cook one meal for everyone in family.
With two kids under the age of 3—for my own sanity, I needed to limit the amount of time I spent in the kitchen.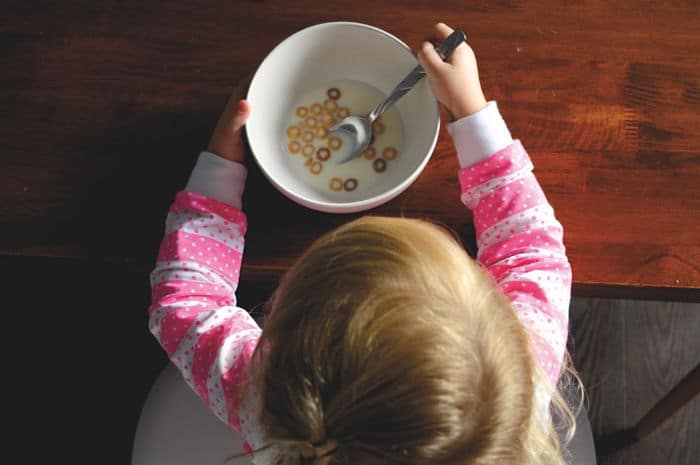 The result? I ended up with fewer choices.
I realized that starting with unprocessed, whole foods checked all my boxes in a way that required less thinking.
I re-learned that repetition is not a bad thing. My kids don't care if they have the same two choices for breakfast every day, and my husband has eaten the same breakfast nearly every day since he was in high school.
I gradually accumulated a handful of recipes that were either simple and fast, or could be made in big batches and frozen.
I found a small number of reliable convenience foods and go-to brands that I liked and knew (after hours spent reading food labels in the grocery store) that were not full of junk and free from our specific allergens.
I ended up at my local farmer's market and discovered the joys of roasted vegetables and simple sheet pan suppers (because you can seriously roast almost anything and it's delicious).
Is our eating life perfect? No (I'd like to blame Walker's stem ginger shortbread biscuits and Blue Bell ice cream, but there's also my obsession with baking pies), but it's no longer overwhelming.
I feel like my whole family is healthier, body and soul, because of the particular rhythms we've established.
One day, eating "simple" will probably look different than it does now—kids grow, circumstances change.
But for me it will still mean turning down the noise, identifying my own priorities, and sometimes limiting my choices.
It's a lesson that has trickled down into other areas of my life, something I never saw coming, but will always be thankful for.
---
Amanda Waters is a writer, reader, coffee addict, and former librarian. She loves Jesus and believes most problems can be solved with gratitude, good conversation, a long walk outside, or a nap. You can find her online at www.amandaloveswords.com.