My second oldest son graduated from high school a few weeks ago. While the event itself was somewhat surreal—we watched his graduation ceremony from our living room couch and he received his diploma at the "Drive-Up Diploma Dash" from his principal while he was sitting in the front seat of our car at the high school. Okay, that was beyond surreal!
Despite the circumstances surrounding his graduation, I couldn't help but think about my own high school graduation. Thirty. Years. Ago.
That's crazy. Thirty years. It didn't help that I recently found my high school senior portraits that made me wonder about my sanity at the time.
Despite the vast differences between the graduating class of 1990 and 2020, there is one thing we have in common.
Music.
"Music is the art which is most nigh to tears and memories." —Oscar Wilde
Music inspires. Music brings back memories. Music brings us together.
A song can immediately take you to a place, a moment in time, calm your heart, and energize your soul.
Which leads me to this—let's let go of the surreal for a moment and have a little bit of fun with a song challenge!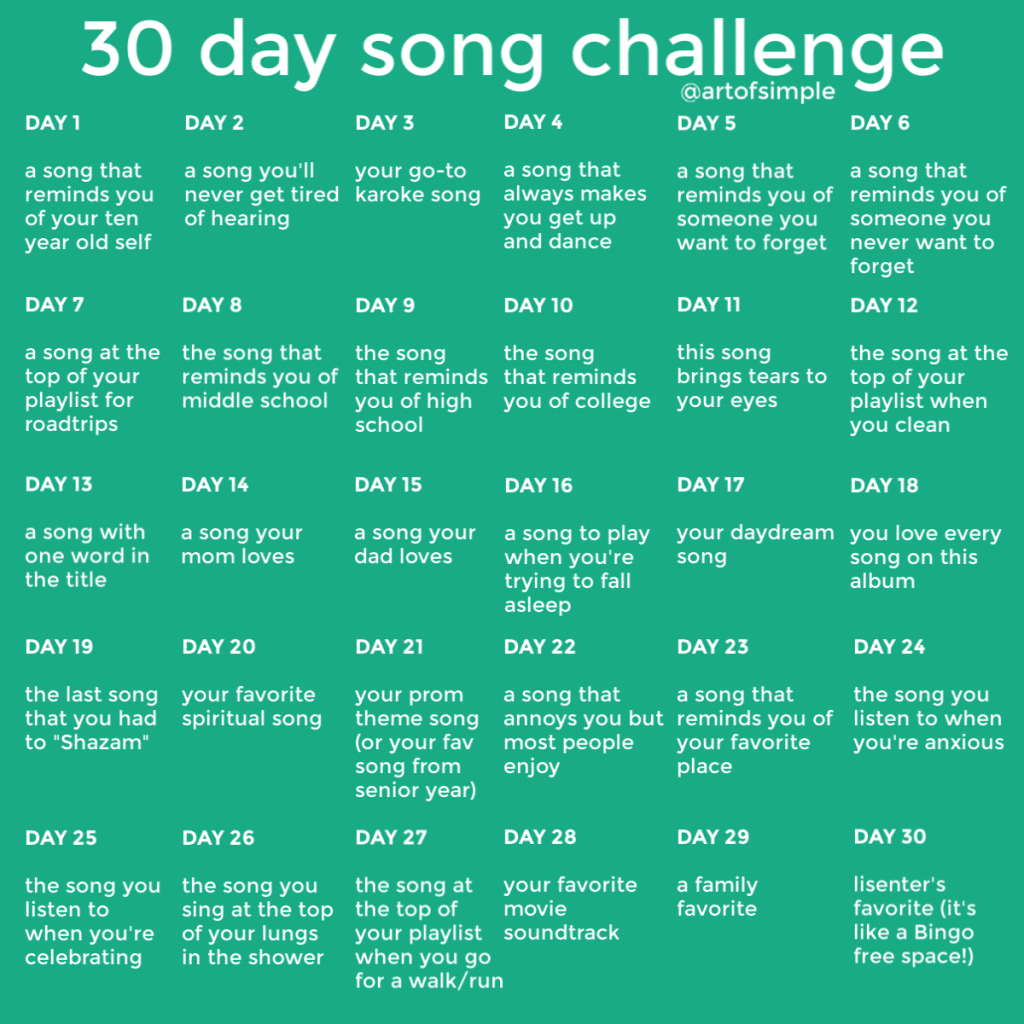 Feel free to grab the image and post your lists on Instagram. If you do, be sure to tag us @artofsimple.
You can make the challenge spread out over 30 days, you can answer them all at once, or you can simply add your answers in the comment section below. If you want to take it to the next level, make your own iTunes or Spotify playlist and share it with your friends.
Have fun, friends! And happy listening.
Here are the prompts with my answers:
1. A song that reminds you of your ten year old self: "I Love Rock n' Roll", by Joan Jett and The Blackhearts
2. A song you'll never get tired of hearing: "Amazing Grace" by Andrea Bocelli
3. Your go-to karaoke song: "We Belong" by Pat Benatar
4. A song that always makes you get up and dance: "Gettin' Jiggy Wit It" by Will Smith
5. A song that reminds you of someone you want to forget: "Wonderful Tonight" by Eric Clapton
6. A song that reminds you of someone you never want to forget: "Right Here Waiting" by Richard Marx
7. A song at the top of your playlist for car trips: "Life is a Highway" by Rascal Flatts
8. The song that reminds you of middle school: "Food, Glorious Food" from the musical, Oliver! (It was the year that my love of musical theater came to life!)
9. The song that reminds you of high school: "Red Red Wine" by UB40
10. The song that reminds you of college: "It Takes Two" by Rob Base & DJ EZ Rock
11. The song brings tears to your eyes: "Theme from Schindler's List"
12. The song at the top of your playlist when you clean: "Can't Stop The Feeling" by Justin Timberlake
13. A song with one word in the title: "Home" by Phillip Phillips
14. A song your mom loves: "Can't Help Falling in Love" by Elvis Presley
15. A song your dad loves:  "All Shook Up" by Elvis Presley
16. A song to play when you're trying to fall asleep: "Stars and Butterflies" by Jean-Yves Thibaudet
17. Your daydream song: "Fall for You" by Secondhand Serenade
18. You love every song on this album: "1989" by Taylor Swift
19. The last song you had to Shazam: "Never Worn White" by Katy Perry
20. Your favorite spiritual song: "How Great Thou Art" by Carrie Underwood & Vince Gill
21. Your prom theme song (if you didn't go to prom, your favorite song from your senior year of high school): "I Remember You" by Skid Row
22. A song that annoys you but most people enjoy: "Sweet Caroline" by Neil Diamond. When I was a kid, I cringed every time this song came on because I was so tired of the "sweet" label. I love it now.
23. A song that reminds you of your favorite place: "I'm Gonna Be (500 Miles)" by The Proclaimers.
24. The song you listen to when you're anxious: "A Sky Full of Stars" by Coldplay.
25. The song you listen to when you're celebrating: "Don't Stop Believing" by Journey
26. The song you like to sing at the top of your lungs in the shower: "The Middle" by Jimmy Eat World
27. The first song on your playlist when you're going for a walk/run: "Say Hey" by Michael Franti & Spearhead, Cherine Tanya Anderson
28. Your favorite movie soundtrack: "The Greatest Showman"
29. A family favorite: "Beautiful Things" by Gungor
30. Listener's choice (it's like in Bingo, a free space!): "Livin' on a Prayer" by Bon Jovi