Recently, a new friend had us over for a spontaneous playdate. Call me nosy, but I just love that first visit to someone's house. As the kids played and she and I chatted, I was able to soak in a bit of who they are.
It felt like a privilege and an honor, and I left their house feeling more connected and more aware of their passions and pastimes and priorities— simply from things like the pictures on the wall, their style, the color of their dishes, and the books on their shelves.
I notice this because I feel it in my own home. If you come to our house, you get to know us.
Years ago, with guidance from Tsh, we wrote up our family mission statement, purpose and priorities. I typed it up in pretty fonts and colors, and It's been hanging on our wall for quite some time now. Of course, the truth is, sometimes I forget what it says. Sometimes I have to make myself re-read it and ponder, are we actually living this out?
The part that sticks out the most is one that has become a deep passion. It says that we will strive to cultivate a home that's open, laid-back, and inviting, and a reflection of our family.
When I penned those words, I didn't realize how much our home would indeed begin to reflect who we are as a family. It's like how couples eventually start to look like one another in some strange way, or like people who somehow resemble their pets. Isn't it funny how that happens sometimes?
But it's true, it does! And as I walk through and look at our home, it truly is a reflection of us, who we are, our hearts. When it's cluttered, my mind and heart often feel overwhelmed and messy. When it's quiet, I feel a deep sense of calm, and when it's full of people I love, my heart feels like it's in its element.
We strive to be open and inviting, and friends and neighbors know that they are always welcome. Our front screen may be shut, but the proverbial door is always open.
And laid-back? Well, I do try to vacuum the floors somewhat regularly and wipe down the bathroom counters, but I'm not afraid to be authentic and let my home reveal that I'm not fussy in my housekeeping. Hospitality is not about spic-and-span with me; it's about being honest, and being welcoming.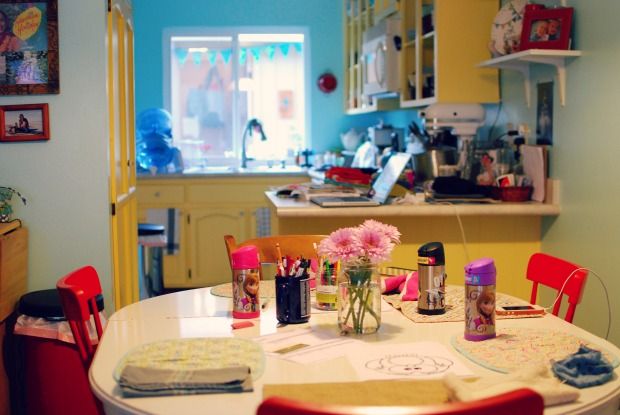 When you take the short tour and look around our house, you get a thousand little glimpses into who we are as a family. You see lots of photographic evidence of our passions (like the beach and baseball) and a hodge-podge of handmade, hand-me-down, modern Swedish classics, books galore, and a plethora of evidence of the pleasures of childhood.
And you also notice that the center of our home is our table. It's a modest table, but it holds a treasure trove of memories and stories. Just as it sits virtually in the center of our downstairs area, our table has been the heart of many a gathering, drawing in friends and family for food, conversation and deep community.
Our home indeed reflects who we are, and we've seen this play out naturally over the years, however humble the abode may be.
So next time you come over to our place, feel free to snoop around and get to know us more. As we open our doors to you, we're opening our hearts to you as well.