It's that time of year, when most of us are reviewing the past year and anticipating what's to come — full of goals and resolutions and hopes and dreams for the new year.
When I was in high school, I was involved in the youth group at our church, and one of the buzz phrases that was thrown around a lot was "accountability partner." For everything from spiritual growth and purity to healthy eating and studying, the key to any change was having an accountability partner.
Looking back, that idea might have been a bit overplayed, but there are some very real benefits in choosing to be accountable to another person when setting and working toward a goal.
Benefits of accountability
1. A little friendly competition
If your "accountability partner" has set the same goal as you, a little bit of friendly competition can go a long way. Last year, some friends of ours both decided they wanted to lose weight. They created their own Biggest Loser competition, and the one who lost the highest percentage of weight at the end of 8 weeks was declared the winner. Knowing they were competing for a prize (even just the prize of being able to say "I won!") helped them both stay on track and achieve their individual goals.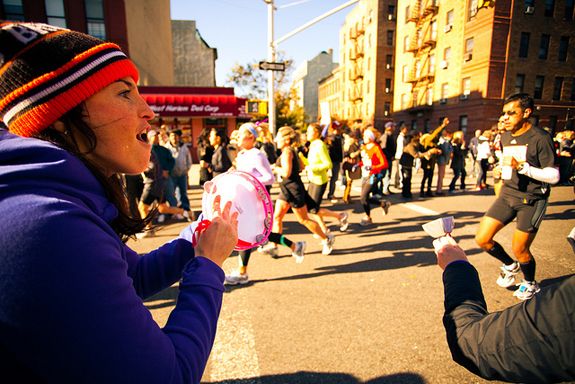 Photo by Lululemon Athletica
2. Encouragement to keep going
Sometimes we attach so much significance to achieving a goal that when we experience a setback — which is inevitable at some point along the way — we just throw our hands up in the air and decide that the goal isn't worth pursuing after all. An outside party can encourage you during setbacks and plateaus or when you experience a lack of motivation, helping you look past the momentary failure to see the bigger goal.
3. An honest look
If an accountability partner is just patting you on the back or nodding their head when you make excuses, then they're not really holding you accountable after all. An important part of being accountable to someone is giving them permission to be honest with you. They should be comfortable telling you when you've gotten off track or pointing out areas where you may want to focus more of your efforts.
4. Ideas and inspiration
Sometimes, you may look for someone who is more of a mentor than an accountability partner. If they've walked the road before you and achieved the goal you're striving for, they can share ideas, tips and experiences that will help you along the way.
Finding accountability
When choosing an accountability partner, be sure you ask someone who is up to the challenge and who wants to invest in your life in this way. They should be willing to ask hard questions, check in with you regularly and remind you of your goals even when you don't want to hear them.
Set aside time to meet and discuss your goals. Make sure the goals and milestones are clearly defined so that your accountability partner understands what you're trying to accomplish as well as you do.
Finally, schedule regular appointments to check in, whether it's over email, the telephone or in person. If possible, schedule these times in advance so that they're not lost or forgotten in the busyness of everyday life.
At the end of the day, just knowing that someone is going to ask you how you're doing with a goal or resolution can be the extra bit of motivation you need to stay on track.
Have you ever had an "accountability partner"? Do you think being held accountable would help you to reach your goals?
This post was first published on December 28, 2010.