As you start this week, may you shoo away any thought that whispers that your home isn't good enough for table company. May you pick up the phone today and text that person you've wanted to invite over to share bread, coffee, whatever.
I told Myquillyn in our most recent podcast that one of my biggest takeaways from our family's road trip was the beauty of hospitality in the midst of the mess. We were welcomed warmly in countless homes, each of them tidy but none of them perfect.
From the oatmeal-colored walls in North Carolina to the turquoise cabinets in Encinitas; from the snowhill in the New York backyard to the sand in our toes in the Bay Area, not one house resembled a pristine magazine photo shoot. But as I sat at each of their tables, in that moment, I didn't want to be anywhere else.
Now that we've been back in our home for about three weeks (sounds so long, and yet I can't believe we haven't even been back a month), we've made a point to have friends in our home—preferably for a meal—several times a week. Warts and all.
My scattered friends reminded me the simple pleasures of conversation and company over a home-cooked meal, even with a full laundry basket peeking in the corner. So I've decided to shake off my need for ducks in a row, and have reignited my delight in offering a friend a glass of wine with tomato sauce still crusted on the stovetop behind me.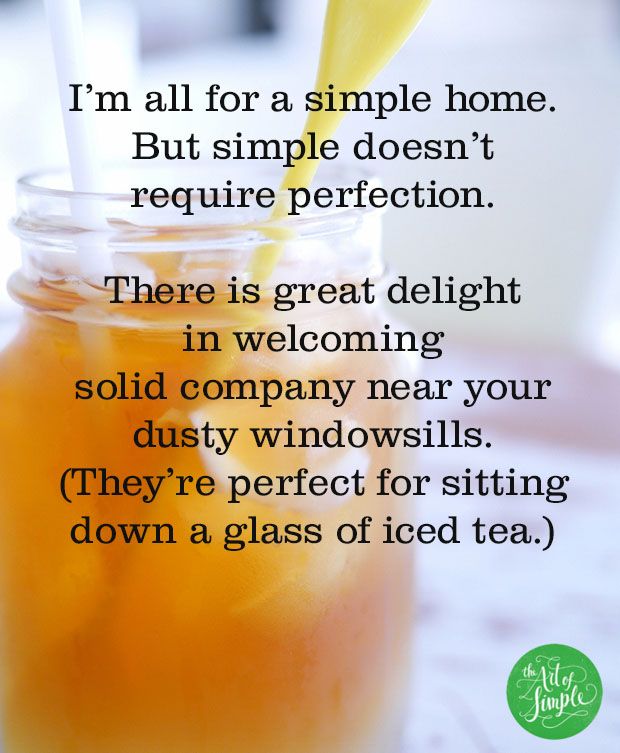 I'm all for a simple home. But simple doesn't require perfection. There is great delight in welcoming solid company near your dusty windowsills. They're perfect for sitting down a glass of iced tea.
Who are you going to invite over to your home this week?