When you think about travelling, a slideshow of Instagram-worth destinations probably runs through your mind. There's the pristine beach, the gorgeous mountain view, the incredible restaurant.
Your family is smiling, relaxing, enjoying quality time in a beautiful place.
What's not in the pictures is the actual act of traveling. You know, getting there.
The hours spent in airports, trying to keep tired kids entertained and praying for no further delays, insanely long car rental lines, missed buses, struggling through subways with luggage and strollers.
You get the idea. It's not glamorous, but it is the definition of travelling—it's getting to a place.
I was reminded of this on a recent trip to Mallorca.
A beautiful island off the Mediterranean coast of Spain. We grabbed tickets for our family of three when we saw an incredible deal on Google Flights from Barcelona, where we're currently living abroad. The flight is only 30 minutes long and we got a relatively cheap hotel just outside Palma, the capital city.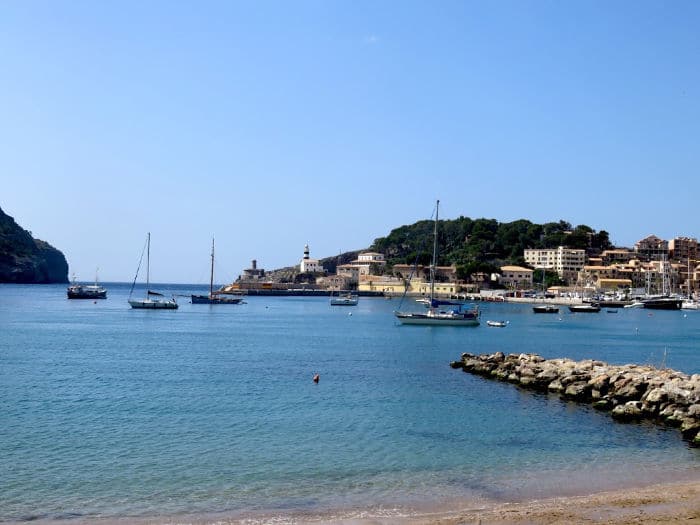 Travelling always begins before you leave the house, because you have to clean.
No one wants to come home to a dirty house. (Again, there are never pictures of this.) I was scrubbing away some dried yolk from breakfast when the plate cracked, slicing a deep cut into my wrist just a millimeter away from the vein.
It's questionable whether this would have happened if we weren't about to leave for the airport, but there's a special kind of anxiety that leads one to think that bracing a plate against the side of the sink is a good idea.
After elevating, applying pressure, and bandaging the wound, we got out of the house and made our flight.
When we landed in Palma, the sun was shining.
We were on a tight budget for our trip and decided to take the public transit to our hotel. We discovered that the ticket kiosk for the airport bus only took cash. We had zero cash.
My four-year-old son Emmett began to get anxious as buses came and went, while my husband, Marshall, found the ATM. He came back with twenties. The kiosk didn't take bills larger than ten. He had to buy a croissant to split it up.
We added up the waste in our budget with regret. By the time we boarded, Emmett's questions were all posed in a whine. Despite the surprise pastry, he was hungry. Then the city stops made him feel carsick.
We had to transfer buses to get to the outlying neighborhood of our hotel. Transferring is never a good thing.
Immediately, Google Maps led us astray.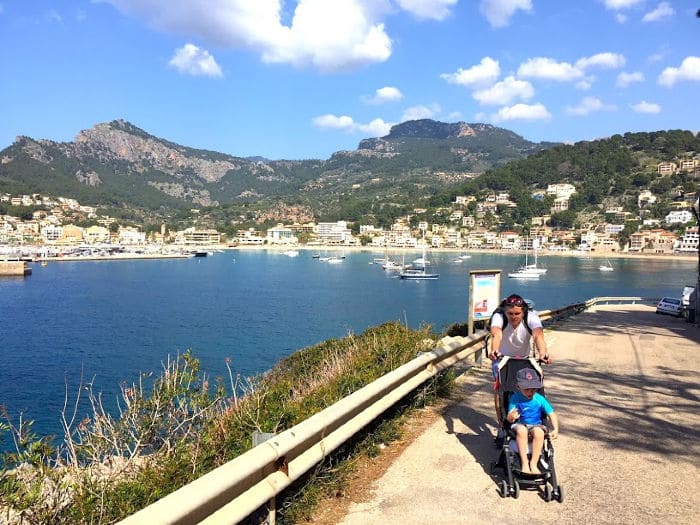 We pulled our luggage and stroller in a wide circle to discover our one-minute walk to the bus stop was the same bus stop we'd been dropped off at.
We missed yet another bus, and when the next arrived, the driver told us it was the wrong one for where we were trying to go. "You need the three," he insisted as we held up our phones in vain. The passengers looked impatient.
As the bus pulled away from the curb without us, our son peppered us with questions we had no answers for.
We were at the end of our collective rope. All three of us wanted food, a place to put down our bags, a bed to close our eyes in.
It's moments like these that are the true tests of the traveling family. The only path forward is acceptance of the situation, and problem solving under pressure.
In our case, the solution came with spending more money than we'd hoped. It was time for a taxi. Taxis were everywhere when we were waiting for the bus. But now that we were looking, they were nowhere to be seen.
During this time, I counted my mistakes: Breaking the dish. Not bringing cash. Having too much faith in Google Maps.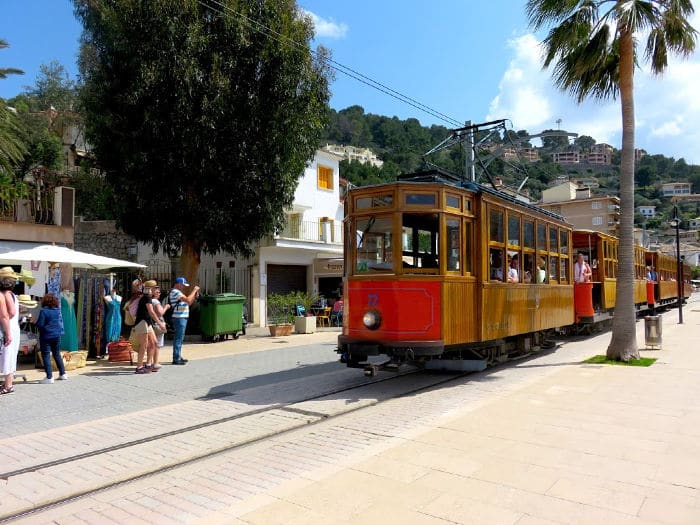 I had to remind myself of that mantra, "The journey is the destination." I think of it all the time, in work and in life.
But in travel, it's literally true.
"Getting there" is always a side note in the travel guide, bothersome logistics. But on this trip, it was smacking me in the face. Or maybe it had started getting my attention by stabbing me in the wrist.
We were standing across the street from a marina filled with luxury yachts and cruise ships. People came from all over the world to be where we were.
While Marshall attempted to flag a taxi, I pointed out the smokestacks on the city-sized cruise ships to Emmett. I took in Palma and the grass that sprouted through cracks in its sidewalks. I smelled the sea air.
We made it to the hotel, after the taxi driver took a wrong turn and overcharged us.
Suffice to say things went on like this (missed shuttle, several more bus mishaps) until the next afternoon.
That's when we finally found our way to Port de Soller, a completely breathtaking town on the northwest coast. With a harbor nestled into magical mountains, it's the Platonic ideal of a quiet, Mediterranean island beach town.
Our son played in the waves, and Marshall and I sat back on a hotel towel, feet buried in the sand.
Later, we hiked to the lighthouse at the mouth of the bay for gorgeous views.  It was worthy of many photos, one of which I posted on Instagram.
It's easy to hide what a hassle travelling can be—the act of getting somewhere. It sounds like complaining. I asked myself this on our second day of bus snafus: "How can I be annoyed when I'm in this gorgeous place?"
My answer to myself was to recognize my privilege, but honor my feelings. Burying them would only lead to guilt and self-recrimination. (Those are even less fun vacation feelings!)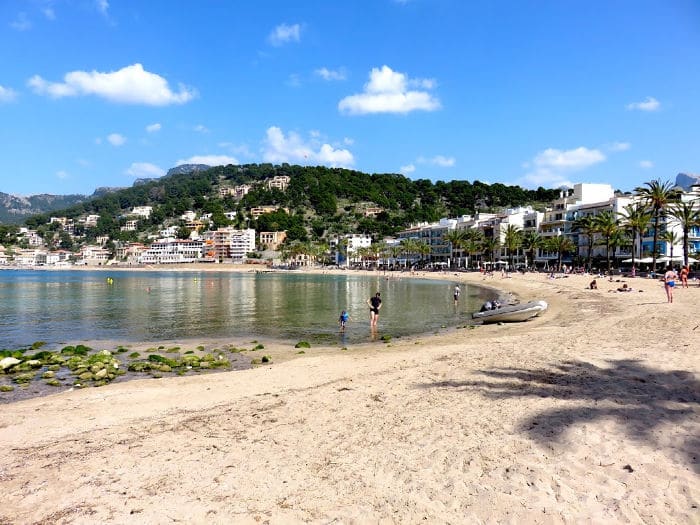 Naming what I was feeling helped me put it into perspective, and look forward.
It would take more time and more money than we'd planned, but we'd figure it out. Next time, we would be more prepared (i.e. We would bring cash).
I'm not advocating for more photos of airport boredom on Instagram feeds, although honestly, those might be refreshing.
It's just that when it comes to reality, leaving the hassle out of the narrative is misleading.
The best-planned trips can go seriously awry if you only plan for relaxation, and don't take stress into account. We're all on journeys, right?
Yours isn't any less of a journey, even if it's a hassle.
---
Lindsay Patterson moved from Austin, Texas, to Barcelona, Spain, with her husband and son in August 2017. She blogs about life and travel abroad at TumbleTravels.com, and is the creator, producer, and co-host of Tumble, a science podcast for kids.
all photos taken and used with permission by author.