Every year, I long for the lazy days of summer – late nights outside, grilled food and fruity desserts, lots of beach days, and visiting and hosting friends and travelers from near and far. We love staying with friends when we road trip and travel, and we equally enjoy returning the favor at our home.
Visiting and hosting are not confined to summer, but with vacation days and warmer weather, it certainly seems to ramp up. Over the last few years, we've had the privilege of hosting out-of-town friends who in fact became our friends via none other than this very blog, and of course, dear old friends as well.
Our days consisted of visiting local destinations like beaches and favorite coffee shops and restaurants— walking around Balboa Park or the zoo, picnicking by the beach with our favorite Mexican food, and taking our Canadian friends to experience In-n-Out burger.
Our evenings were full of good food and drinks, and conversation on the patio stretching late into the night. These are the precious hours when we get to know newer friends on a deeper level or reminisce with long-time friends about the good ol' days over photo albums.
We always try to make our home an open and inviting space, even though our house is small. We are very happy to transform our master bedroom into a guest room and camp out in the living room, and our kids love playing host in their own room to visiting little friends— the more the merrier as far as they're concerned.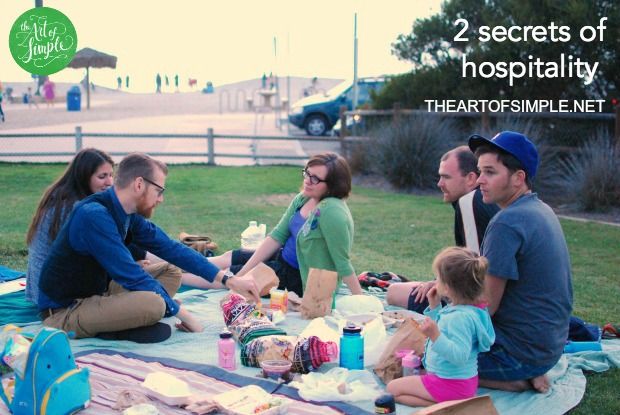 When I think back to both times we've had with visitors in our own home and the fun memories of of staying with friends on the road, I realize the highlights of those times are pretty universal, no matter who we are with or where we are.
The two secrets to successful summer hospitality when hosting out-of-towners seems to be as simple as this for us: quality time and local favorites.
When we have visitors, we strive to enjoy every minute we can with them, as we introduce them to local faves — places, traditions, food, and drinks — along the way.
When we visit friends, those are the things we look forward to as well— long days of conversation and connection, and sampling all that their particular town or city has to offer. If it's a new place, we are especially interested in seeing the main sites of interest, but we also want to see where our friends love to go, and experience a slice of their everyday life — their favorites. The more often we return to visit a place, the more off-the-beaten path we long to get with our friends.
Quality time and local favorites never disappoint when we are hosting guests. They are at the core of why we bother with the expense and effort of travel, and so they have become among our core values as we enjoy being hospitable to others, during summer, or any other time of the year.
So bring on summer, bring on the road trips, and bring on the it's-so-good-to-see-you hugs! I'm ready to see my friends and take them out for the best cup of coffee in town.