It's a weekend morning, and chances are when you open your eyes, the next hour or two is going to fall into one of the following three scenarios:
1) Although the calendar says Saturday, you still have to get up and go.
There's a soccer game to get to by nine.  You have a list of errands and chores to catch up on.  Better grab some yogurt and granola and get going.
Make sure you take a few extra minutes to pack your coffee in your favorite to-go mug. (If this sounds like your family's regular Saturday schedule, you might enjoy this song.)

2) Uggh!  It's Saturday, when will the kids ever figure out that it's okay to sleep past 6:30 on the weekend?
It's a good thing the oldest knows how to work the DVR.  Let's hope we can squeeze in a few extra minutes of sleep while they catch up on their PBS Kids shows.  A little Saturday morning cartoons never hurt anyone, did they?
3) Daddy?  Mommy?  Daddy?  Is it up-time?  Will you make pancakes for breakfast?  Pleeeaseee?
Can we have a pajama morning?  (Not much going on today, and nothing sounds better than hanging out together in pajamas right now.)  Yes!  We'll make pancakes while you play.  Since it's Saturday, why don't you pick out some music?
Does any of that sound familiar?
I love turning on music on weekend mornings.  On most occasions, I'd much rather fill my house with the sounds of song than cartoons, especially on Sundays when I'm trying my best to squeeze in a few quiet minutes of newspaper reading.
I love the way a little music accompanies the relaxed sounds of the weekend, rather than fights against it.
Speaking of keeping fighting to a minimum, the question of "who gets to pick the morning music?" provides a prime opportunity for a sibling squabble.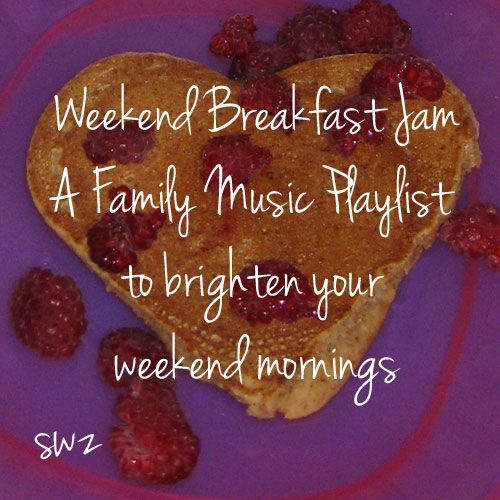 Since nobody wants to start a weekend morning in a squabble, I created a Weekend Breakfast Jam playlist to make at least one of your pre-coffee choices a little bit easier.  I hope you'll find that it has a little bit of something for everyone's menu.
Once you enjoy it over the weekend, don't hesitate to crank up the tunes on weekday mornings, too – music has been known to get the grumpies out of some of the grumpiest children.
Enjoy the Spotify version below, or via this link.
Not a Spotify user?  Visit Swing Whistle Zing for links to purchase the playlist, along with a few bonus track recommendations of some songs not found on Spotify.
As always, happy listening!