Continuing our series during this final year of AoS of the top 12 published posts of all time (measured in simple traffic numbers), here's number 7. I'll admit this one surprises me — and yet it doesn't, because don't almost all of us feel a conundrum about what to do with these things? It's kinda fun this post ranks so high in our all-time essay popularity.
xoxo, Tsh
The Countdown: 12 / 11 / 10 / 9 / 8 / 7 / 6 / 5 / 4 / 3 / 2 / 1
---
There's something about the power of handwritten cards and letters—we love getting them; most of us love sending them. But… then what?
Here's my philosophy: Get rid of all cards and letters that don't add to your happiness. Keep the things that matter; repurpose everything else.
Here are seven things I like to do with all the cards and letters I receive.
For cards and letters you want to keep:
1. Scan & store them on your computer.
If you really want to keep them, scan them—they'll take up much less room. Create folders on your computer, like "2011 Christmas," or just "2011" for all letters received then, or maybe "Schmidt Family" for all letters received over the years from a specific family.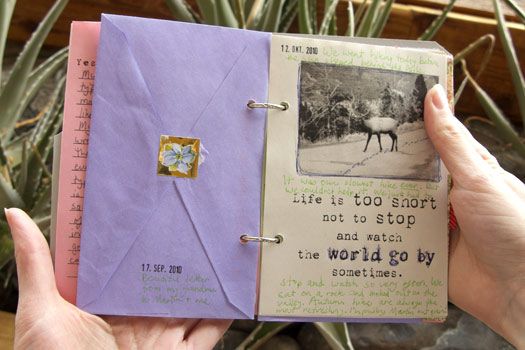 Photo by Katie Clemons
2. Tuck them in your scrapbook or journal.
I like combining letters with my own stories, because they offer different perspectives to life events.
I keep a simple journal like the ones from my shop. All I have to do is hole punch postcards and letters (like the one above from my grandma) and put them in my journal. I do the same with photographs and ticket stubs. I'll add my own thoughts—voila, a themed collection.
3. Keep them so you can one day give them back to the writer.
A couple of years ago, my grandma got a package in the mail—it was filled with about 24 letters and Christmas cards that she had written to her closest college friend over the years.
Getting those letters back was like receiving a time capsule for her. It was the first time we got to learn about my dad's first Christmas.
Tips for doing this:
Be selective about the cards you keep—a few dear friends or family members is plenty. You want to give back a collection of that person's story, so only hang onto the mail that contributes to it.
Keep everything in a box so you'll have a set place to file away the items you want to send back one day.
Keep emails in a dedicated digital folder so you can include them as well.
You might want to be sneaky—write letters and notes to your chosen person so they might be inclined to do the same. (Email and telephone weren't luxuries my grandma and her friend used. )
For the cards you want to ditch: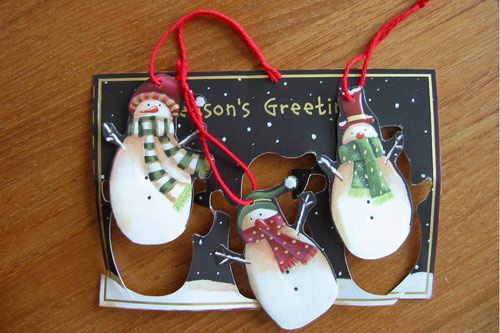 Photo by Katie Clemons Journals
1. Repurpose them into tags & gift cards.
Pretty poems and cute pictures are perfect for repurposing into gift tags. Use them year-round with your gift giving.
I like to cut out the images as I get them—hearts, snowmen, leprechauns. I punch a hole in my cutout and string through a scrap of ribbon or twine. My tags are kept in an envelope with the rest of my wrapping supplies.
2. Repurpose them into scrapbook & journal embellishments.
Looking for the perfect quote or pretty image for your memory keeping? Pieces from cards are perfect and readily available, especially for Christmas and weddings.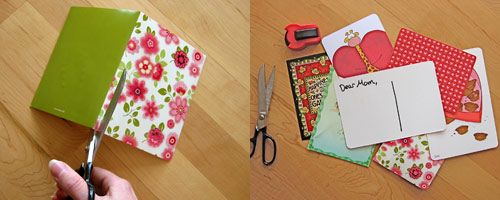 Photo by Katie Clemons Journals
3. Repurpose card tops into postcards.
Super easy—tear or cut the card in half. Recycle the half with the inside text and names; put a postcard stamp on the side with the pretty picture, and you've got your postcard.
4. Donate card tops.
Lots of organizations, from Girl Scouts to YMCA and Kiwanis summer camp programs, can use your card tops for their craft projects all year long. Ask your local camps if they're in need.
St. Jude's Ranch for Children, an organization that helps at-risk children, accepts card tops year-round. They repurpose your card pieces into new cards that are then sold to raise funds for the organization.
Ultimately, don't sweat tossing notes, cards, and postcards into the recycling bin—it's not a statement about how you feel about the person. You appreciated the card at the time. You still appreciate the person.