Continuing our series during this final year of AoS of the top 12 published posts of all time (measured in simple traffic numbers), here's number 8. It's a little strange to read about things like this, when most of us can't physically gather. I suppose these days "alternative" takes on a whole new meaning, eh?.
Meg is one of our longest-running contributors and one of my earliest internet-turned-actual-friends. She now almost exclusively podcasts, and I love her dearly..
xoxo, Tsh
The Countdown: 12 / 11 / 10 / 9 / 8 / 7 / 6 / 5 / 4 / 3 / 2 / 1
---
I have such fond memories of each shower thrown for me as an expectant mama, but one event stands out as a favorite. When I was hugely pregnant with our twin sons, my friends in our neighborhood put together a lovely and low-key shower that was wonderful without cheesy games or extravagant decor.
Glasses of wine for them, sparkling juice for me. Platters of cheese and fruit and sinking back with laughter into the couches in my next-door neighbor's living room while music played softly in the background. It was far more Girls' Night In than traditional shower.
I weathered those last days carrying my third and fourth children, it was exactly what I needed.
I loved the bigger, traditional showers thrown for me when I was expecting my older girls, but this particular shower helped me understand why there are so many mamas-to-be who much prefer a simple celebration to anything planned by Pinterest.
If you find yourself hosting a shower for a friend or family member who has specifically stated that she prefers simple over elaborate, you might be at a loss for what that could look like—especially if you're a Big Party person yourself.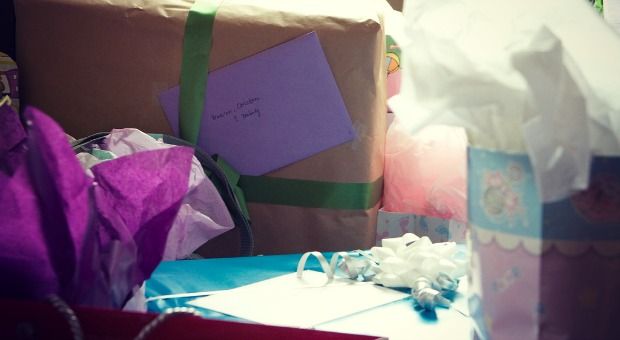 Photo by lmnop88a
1. Instead of a shower, throw a "sprinkle."
A "sprinkle" is the lite version of the traditional shower. Usually given for women who already have at least one older child, a sprinkle is low-key and laid-back: casual invitations, no games, light fare. For the mom who doesn't want a big fuss, a sprinkle is the perfect fit.
2. Plan a Sip & See.
Depending on the culture where you live, a Sip & See is hosted by either friends or the happy parents themselves. It's held after the baby arrives, and like a sprinkle, there are rarely games (baby will probably be sleeping, eating, or fussing!)—it's more about eating and talking than focusing on the parents opening gifts.
A Sip & See is a particularly fitting choice when a baby joins the family through adoption.
3. Make it practical.
It's hard to turn down the opportunity to buy darling newborn outfits for the mother-to-be—I'm a repeat offender of this practice! But some moms prefer an emphasis on the practical for a simple celebration.
This might be a diaper shower, where guests bring boxes of disposable diapers and wipes, or selected cloth diapers from a registry. Other moms might prefer a meal shower, to stock her freezer with healthy homemade meals from friends for those first few weeks.
And in this Facebook thread about shower ideas, one mama shared how her shower guests helped make homemade baby products during the shower.
4. Do a "blessingway."
Some women might eschew a shower altogether, preferring a spiritual approach. A "blessingway" honors and blesses the mother-to-be but without the pressure of opening gifts while being watched.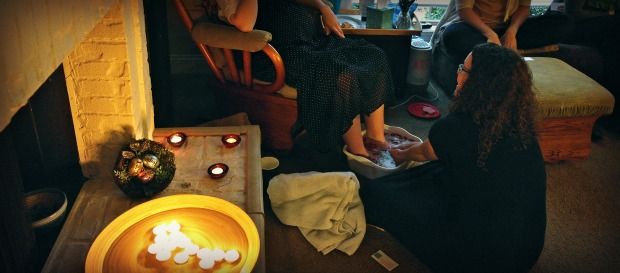 Photo by Erin Vest
This might include pampering the mother with a massage or pedicure, speaking words of blessing over her, and giving gifts that would encourage and support her during labor, such as candles, music, or beads strung into a necklace that remind her of the supportive women dear to her.
5. Help other moms, locally or worldwide.
Women who truly don't want any more gifts for herself or the baby may like a shower that blesses other women. Guests could bring gifts to be donated to a local women's shelter, pregnancy center, or foster family resource room.
For a globally-minded mom, turn the shower into a gathering to create clean birth kits for women in remote, underdeveloped areas. (Adriel Booker shares details on this and other ideas in her Love A Mama Community).
Celebrating a woman as she brings her new baby into the world can be a beautiful part of life in community. A shower doesn't have to be all-or-nothing—ideas abound for creative ways to celebrate a new life.