I am a nurturer of souls, and so are you.
We moms (and really, all people) have the opportunity to influence the souls of the children in our care. It can feel overwhelming, just thinking about what that means; that we are capable of cultivating a whole life, beginning in the inner most parts of a being. It's staggering, really, what we are capable of if we are intentional and loving.
In pondering the significance of our influence, I'd like to offer a few ways you can nurture a child's soul.
Be a sorter of their tangles.
How tender is a young heart, and how easily wounds fester. I'm 32 and I wonder at the wounds in my own heart. I feel more untangled now than ever; freedom is all over me because I have understanding – I've lived and I've fought for freedom.
My little ones, they don't understand the fullness of forgiveness and brokenness and pain and injustice. They haven't lived enough. It's confusing for them; they just know how they feel. I'm the sorter-outer.
We, us mamas and daddies, we're the ones who have to keep at the sorting. We must keep on listening, really listening, discerning, and teaching our babes so they can be open to freedom. With compassion, patience, and time we give ourselves to the work of sorting the heart strings so one day they'll be open to having them tied up new and beautiful.

Make them feel like the most important person in the world.
Our children, just like us, want to be known. They want to be respected. They want to know they matter more than anyone else, because they are ours.
Take the time every now and then to give them your full attention. Give them your arms to lean into. Give them your eyes and your smile. Make them feel like the most important person in the world.
Because in this moment, they are.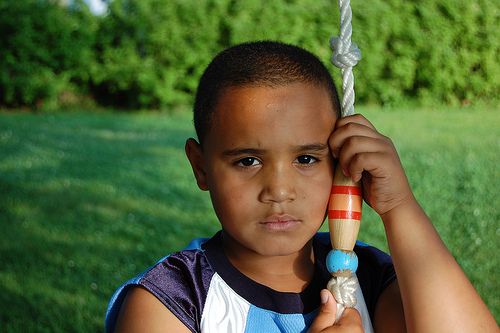 Photo by tamckile
Give them permission to not make you happy.
Your children are created uniquely and beautifully, and they have opinions and tastes that often will be opposite from your own. Accept it, and allow them to be free in who they are.
Let them know that they are not responsible for making you happy. Let them know that they make you happy just because they're yours.
Give them permission to not make you happy. It's a freeing thing.
Respect them.
I believe that respecting our children is of the utmost importance. I want my children to know that when they say "no" or "stop" that they should be listened to, respected. If I'm tickling my babes and they say stop, I stop. If I go to rub their back and they say stop, I stop (and I don't make them feel guilty for it).
We should not be offended if our children don't feel like hugging, or being tickled, or playing ball, or whatever. They are growing into who they are and what they like and don't like, and we need to respect their boundaries, just as we want our boundaries respected.
They need to know that what they say matters, that we care about their opinions and feelings and bents. It's not only how we respect them, it's how we gain their trust. And I want the trust of my children. I bet you do, too.
Let's listen to our babes and offer them a safe place to grow and learn and stretch into who they are. Let's respect those little loves of ours.
Be willing to be their best friend.
Oh, how many times I have heard, "You are not your child's friend, you are their parent."
I am my child's parent, this is true, but I'm also trying to be her friend. I'm trying to cultivate our relationship now by accepting her, showing her grace, teaching her, loving her well, listening to her, taking her seriously, being honest with her, and respecting her. My "job" as a parent is to help her figure out the world, and to live well and to love others.
And isn't it the same as a friend? To share and laugh and learn from each other as we figure out life together? As we go through the ups and downs of everyday, together? As we learn to love and forgive and lean into truth, together?
Yes, that is friendship, and I hope and am willing to be best friends with my child.
Speak kindly to them.
If you find that you are speaking harshly to your children, or yelling at them too much, or you find yourself losing control when you get angry, please get on your knees and choose to change. Be vulnerable, and don't give up when the change doesn't happen immediately.
Ask your children to forgive you, and tell them you are a mess some days (we all are). Be honest with them; give them the respect that you would want. And above all, don't get discouraged that you will never change; you can change, you do have control over your anger.
Kindness is a gift you can give your children. Never stop unwrapping it.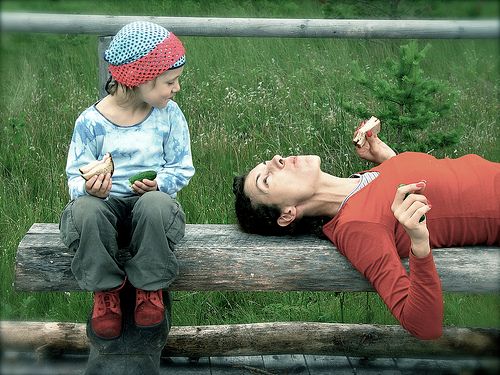 Photo by rolands.lakis
Let them know shame is not invited into your family.
Let your children know that you will never discipline them for telling you something they need to be free of. Let them know whatever it is, whatever yuck has happened, whatever to anything, that they can trust you. Let them know you are there for them, and you're on their team. And mean it.
Because shame says, "They'll be mad at you, and they'll blame you, and you are ugly and bad and it's all your fault anyway."
Shame is a liar when you know the truth – the truth that you are not your mess or anyone else's. The truth that you can be free. Let your children be free to be honest with you, and make sure they know they have your open arms.
Show them that you begin again.
We all botch up, everyday, but we don't have to stay there in the mess. Sure, we can, if we choose to stay hardened, to not apologize, to not accept grace.
But we also have the choice to lay ourselves low. We can feel sorrow and we can get up from the muck. We can enter into real love when we break before others and allow ourselves to be healed; they see the mending and the scars, but they forgive us, as we forgive them.
This is grace and freedom. And with grace and freedom there is no room for tension – the painful, ugly tension that strangles a soul.
You can choose to begin again. Every day is new.
What are some ways that you nurture your child's soul?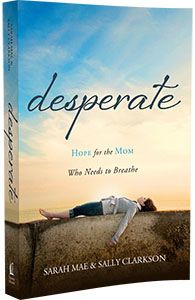 Psst… Sarah Mae's book, Desperate – Hope for the Mom Who Needs to Breathe, was released this week! The book was written from the perspective of a mom in the middle of the little years and the perspective of a mom who has raised her children well. Find it wherever books are sold (and check out the amazing gifts and giveaways happening this week!).