Apparently January is the internet season for talking about bullet journaling, right? It's everywhere. It's borderline cliché. I still love it.
It's been a long while since I wrote about bullet journaling, and yet almost two years later, and it's still my favorite way to capture—well, everything. My personal method has ebbed and flowed, and I don't doubt that will continue, but I've finally gotten into a groove and have found what really works for me.
You might have read my bullet journaling post from last year. I've made a few changes since then.
I now use different materials. In last year's post, I made a case for a nice, small bujo (that's shorthand for bullet journal, by the way). That still has its merits, but turns out it just wasn't working for my needs.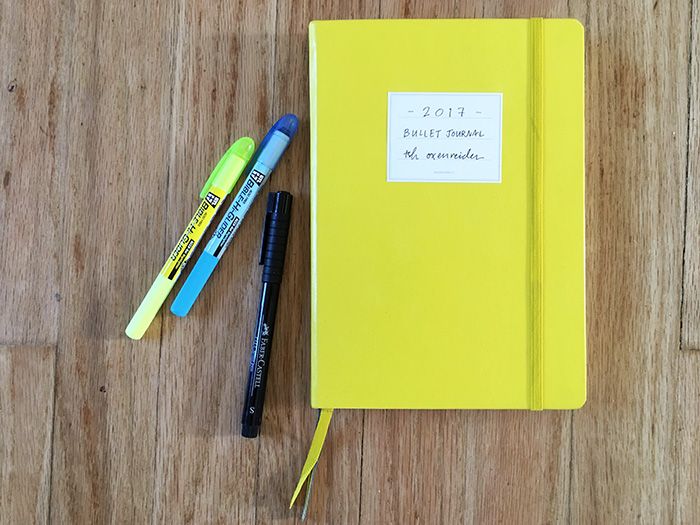 Here's my tools of the trade now:
• Leuchhturm1917, squared pages—This has proven just the right size for me, and I like Leuchhturm's extra bookmark ribbon (for a total of two), pre-numbered pages, table of contents, back pocket, and labels.
• Pitt artist pens—These guys don't bleed a bit. 95% of the time, I use the S tip.
• Accu-gel Bible highlighters—Weird name, but these pens are pretty much a cross between a colored pencil, highlighter, and a crayon. No bleeding through the page.
I've got a new ebook that explains how I use my bujo (plus a few mental tricks) to organize my time, particularly my to-do lists—this system works really well for me, and it's quelled my stress levels considerably (especially during work). Read more if you'd like a deep-dive on time management.
Here, in this post, I thought it'd be fun to show you some of my "extra" pages, the things I enjoy capturing in my bujo just because.
1. Gratitude
Earlier this month, I was feeling rather down about friendships. So, I started a running list to remind me of the fabulous people in my life, near and far. It's changed my perspective.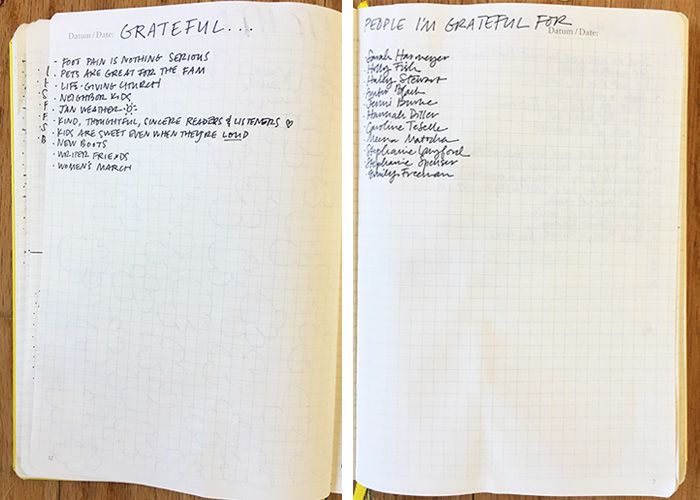 I don't write more than a name, because this is for me alone. There's no rhyme or reason to this; when a face comes to mind throughout my day, I jot down their name and whisper a silent prayer of thanks.
I also do the same for the things in my life that make life sweeter. I suppose they're called blessings.
Last year I was better at capturing at least one thing a day as part of my nightly examen; a sort of backwards prayer. I hope to return to that this year.
2. Goals
This year, I'm trying out quarterly goals—shorter-term, practical goals that feed into more a nebulous, big-picture vision for the year. I think this will be more helpful than a lofty annual goal that might not even be a priority in twelve months.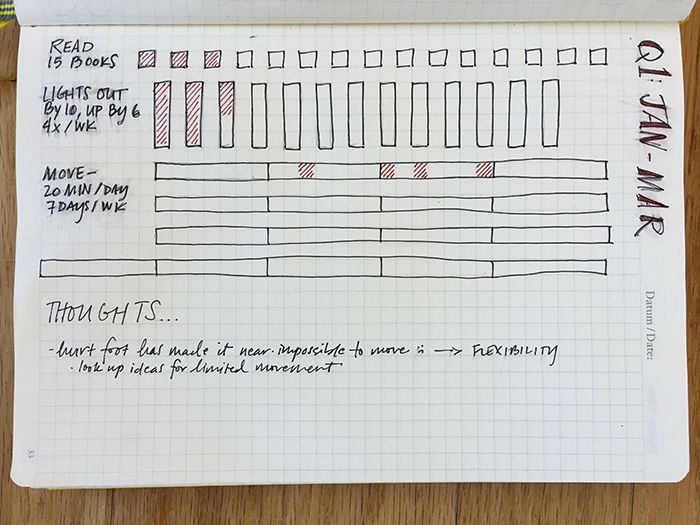 I've broken up my three goals for Q1—read 15 books (for a 2017 total of 60), lights out by 10 pm and up by 6 am four times a week, and some sort of movement 20 minutes per day—into checkable squares.
A few notes:
• Two years ago, it would have eaten my perfectionist side alive that my pen smudged when I erased the pencil underneath (this was written before I discovered the Pitt pens). No way would I have posted a picture of it here. Now, I just shrug my shoulders and move on. Do I want it to look nice? Sure. Do I want that more than I want my bujo to be useful? No.
• I'm also allowing more grace in my life for unchecked boxes. My foot is still giving me unpredictable pain, making it frustratingly hard to meet my movement goal. Doctor's orders have kept me still. Am I giving up? Nope. Am I showering myself with grace? I have to.
3. Media
A few weeks ago I shared this bookshelf idea on Instagram, and it's been so fun to watch y'all make your own versions. I 100 percent did not make this up, but so far, it really has been fun to fill out.
I also keep a running list of books that come to mind. This will assuredly go on to additional pages, seeing that it's only January.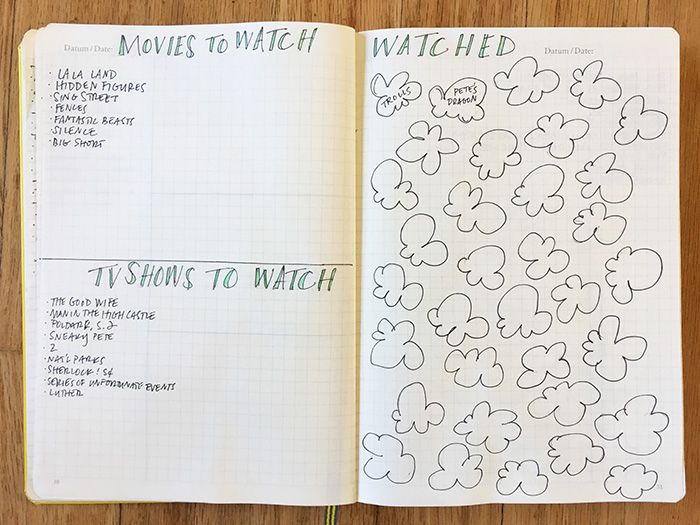 I thought it'd also be fun to track movies and TV shows watched this year. These aren't master lists—we have plenty bookmarked on our lists in Hulu, Netflix, and Amazon, but the ones in my bujo are priorities.
(Like what I've accomplished so far in this category? Clearly I'm a mom.)
Bullet journaling sometimes has a rep for being all show, little use, but it's been the opposite for me. It's all in how you use it. I'd love for my pages to be Pinterest-worthy, but I just don't have the time. For other people, making art out of their bujo is useful, and that's great.
For me, I aim for creativity, not museum-worthy art. The act of drawing and lettering is more cathartic than a gorgeous end result.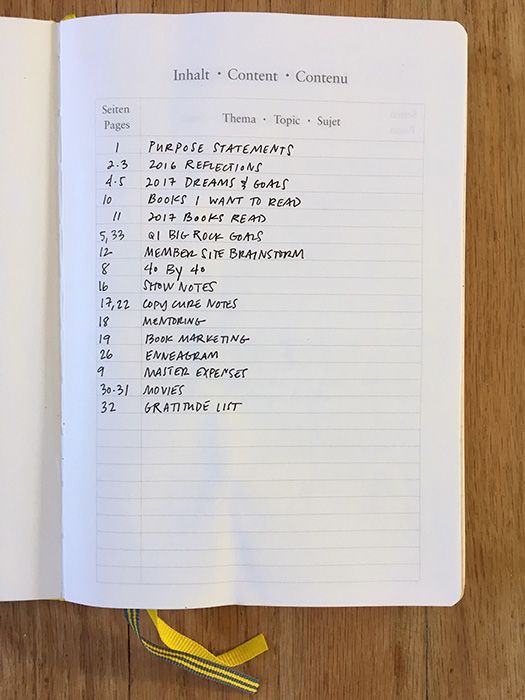 I'm also grateful for the indexing concept, where I can jot down ongoing pages of the same category without needing to make space for more pages in advance. If my "work brainstorming" pages are all over my bujo? No big deal—I just need to reference my index.
A few more "extra" pages in my bujo:
Goal mind-mapping: a form of brain dumping for my big-picture visions for different categories—health, work, etc.
Menu planning ideas
Note-taking for classes I take
Expenses and budget drafting
Notes for meeting with my enneagram coach
Notes I take while mentoring people
A master list of 40 things I'd like to do my 40th birthday (in 7 months!)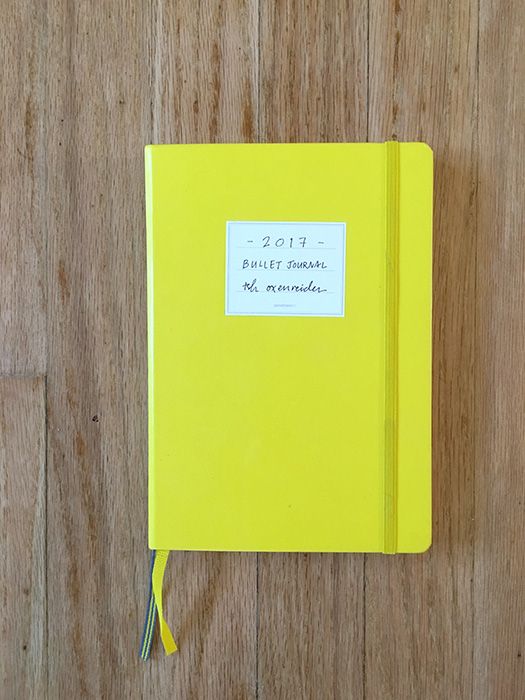 For me, bullet journaling is more than keeping track of schedules and to-do lists. Which is why I pretty much never leave home without it.
More on bullet journaling: