I love my work as a pastor. Sometimes it's hard, as I'm called to companion people as they walk through some very dark valleys. Sometimes it's glorious, like when I hold a baby the day after she's born, and again when I baptize her a few months later. I cherish that it is literally part of my job description to nurture relationships and cultivate community.
One of the communities that has been deeply meaningful to me is Moms in Faith, a ministry I helped found nearly ten years ago. It has been a real source of strength and joy for a lot of mothers—and, by extension, a lot of families.
Colleagues and friends often ask me for advice about starting a small group. There's no such thing as one-size-fits-all when it comes to communities; local culture and context are everything. Still, with so many people hungering for analog, face-to-face relationships—true friends in an age of "followers"—I want to share a few things with The Art of Simple community that have worked for us. If you are contemplating starting a small group in your church or neighborhood, perhaps you'll find some resonant wisdom here.
1. Offer excellent childcare
Seriously. You can have pretty invitations and an awesome speaker and a lovely breakfast spread, but if you are expecting moms to line up their own babysitters in order to come, you're going to get nowhere fast. Our church underwrites childcare costs for paid childcare workers; if your group is gathering without institutional support, perhaps you could pool funds to pay a couple of babysitters. Several of our childcare workers have been working for us for years, and are known and loved by the kids. Offering childcare during your group meetings allows the kids to have their own fun while the moms are meeting.
2. Establish a culture of hospitality and trust
It's one thing to say that everyone is welcome; it's another thing to actively practice hospitality toward one another. When we say that we'll pray for one another, we mean it. We hold confidences in confidence. We organize meal trains when families have new babies or experience crises. We try to be intentional about following up with people if we haven't seen them for awhile.
Once a year or so, I reiterate that we are thrilled to see you if this is your one chance all week to wear dangly earrings and cute shoes, and we are thrilled to see you if the only way you could make it here was unshowered in yoga pants. We welcome church members and non-church members warmly, and don't have any hidden agenda. It's true that several non-members have gone on to join the church, but it's also true that we have always had many moms who are part of other churches or are happily unaffiliated, and they are every bit as much a part of Moms in Faith.
3. Generate peer leadership
During our second year in Moms in Faith, the co-founder (a lay member of the church) and I organized a Steering Team to help make decisions and attend to tasks related to running the program. This group has led small-group discussions, organized mission projects, coordinated hospitality, organized childcare, and managed budgets. We've tried to be careful about having healthy leadership turnover; generally, people serve for two to three years.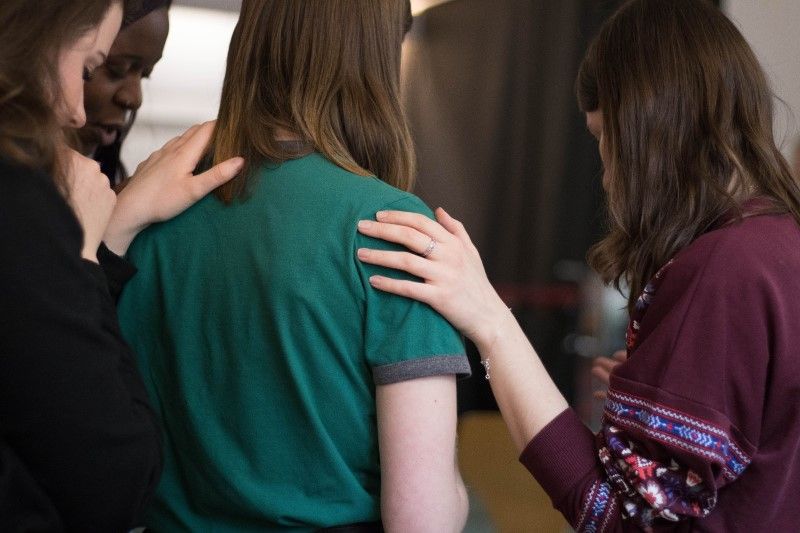 4. Gather with a plan and a purpose
We often begin by going around the circle responding to an opening question—sometimes as simple as what we love most about fall, sometimes as challenging as what we love most about ourselves. Then we discuss either a short reading (emailed out ahead of time) or watch a short film; Christian groups might love The Work of the People as much as we do, or secular groups might explore TED Talks as conversation starters.
We try to be mindful about making sure the extroverts don't overwhelm the introverts (for this, I always use myself as an example because I am an extrovert who is entirely capable of causing introverts to collapse from interpersonal exhaustion if I'm not careful). Then, we go around the circle again to share our joys and concerns. This takes time, and is the sacred center of the ministry. How often are we asked how we really are? I offer a spoken prayer, lifting up our joys and concerns and giving thanks for our time together. (One time, after a particularly heavy discussion, I rambled so much during the closing prayer we all ended up in stitches. I am convinced the Spirit intentionally led me into the maze of mixed metaphors because we all needed the laugh so desperately!)
Once a month we share breakfast together, so instead of gathering in a circle of 20-25, we gather around tables of 6-8—a welcome respite for folks who prefer a smaller group. Sharing a meal together is always a joy. We also bring in the occasional guest speaker. But we've actually found we love creating our own panels of non-professional speakers most of all—we've invited preschool teachers, women in their 60s, 70s, 80s, and 90s, and married couples to visit and share their wisdom.
5. Do other stuff
Invite everyone to a Moms Night Out, including the working moms if your regular meetings are during the day. Go on retreats. Get your kids together for church Valentine and Halloween parties. Engage in mission projects together, either during your regular meeting time or as special events. Go to Family Camp together. Nurturing meaningful community takes time and effort, but it is a worthwhile endeavor.
• Listen to the podcast episode about this post.