My hands-down favorite thing about San Diego is how the weather makes it effortless to spend so much time outside.  No wait, the food. No wait, the people. No wait, the beach…
Okay, it's hard to pick one favorite thing because San Diego is simply one of the best cities on the planet.
I'm the kind of person who goes to the beach year round, no matter the weather (but not always in a bathing suit). I have so many special memories of watching incredible sunsets at the beach, experiencing that deep sense of renewal and hope that comes from soaking in natural beauty without other distractions.
I grew up in Austin (obviously another amazing city), but after 15 years in California (8 of them in San Diego), I now call the west coast home.
This "I Love This Place" series has made me reflect about why my affection for San Diego runs so deep. And it's not just the weather, the beaches, the restaurants, or the growing culture of creativity and innovation.
It's what has happened in my life while I've lived here that makes me feel it's truly home.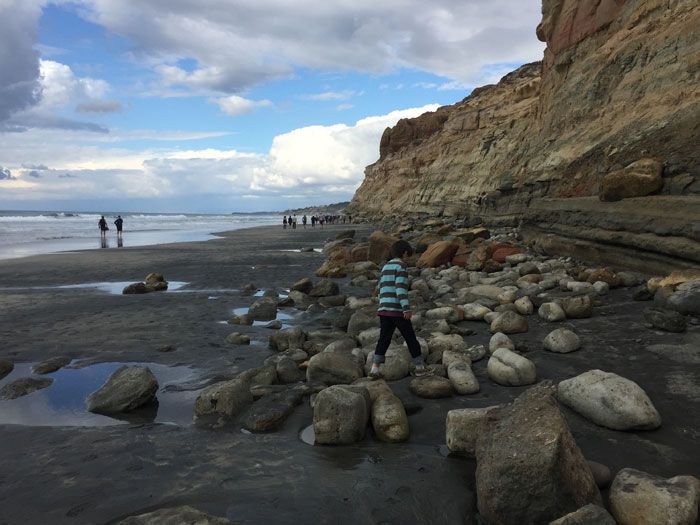 On a day in San Diego spent entirely outdoors:
One of San Diego's greatest assets is the reliably mild weather. This makes it easy and necessary to spend as much time as possible outside.
If I were to spend an entire day outdoors, I would start at the Farmer's Market in Little Italy. I'd come on an empty stomach and be sure to get some fresh local strawberries and coffee or freshly pressed juice. I'd also get a few extra things to use for a picnic lunch.
From there, I'd walk down to the waterfront, take a look at the bay, the boats, the Star of India, and the Midway. Then on the way back to my car (which I probably parked in Little Italy), I'd have a snack or picnic at the Waterfront Park right next to town hall.
Next, I'd drive up to one of my favorite hikes in the world: Torrey Pines in the La Jolla area. It actually reminds me of hikes I've done off the coast of Italy.
This hike is a nice loop and I always recommend going up the road on the back side first so that you can then have the best view when you hike down the cliff to the beach. You can finish your stroll by taking off your shoes and walking through the sand and water back to your car.
Young kids can easily do this hike, you'll just have to take more breaks or walk slowly. Make sure it's low-tide when you're walking back on the shore (or beware that you may get a bit wet!). There's also a bathroom mid-way on the hike (again perfect for kids).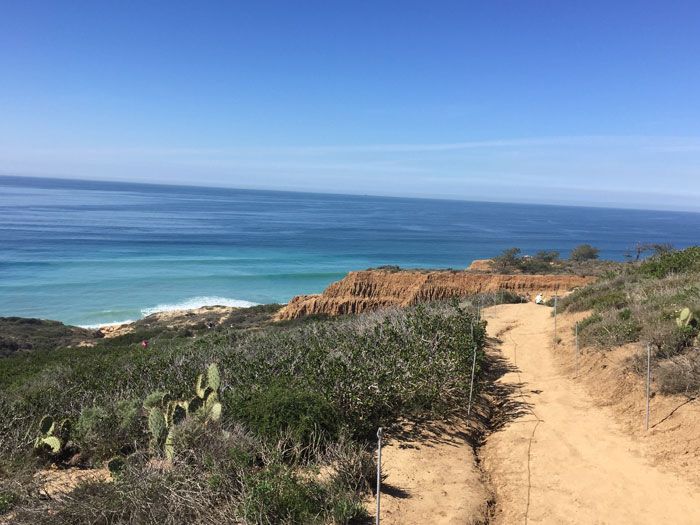 If it's getting late, I would just stay on this beach for sunset, but if it's early enough, I'd drive back down to the Point Loma area and stroll along Sunset Cliffs while the sun goes down. It's stunning. Bring layers because it can be quite windy and cool (year round) once the sun sets.
For dinner, I'd head to Liberty Station and pick one of the many great options there.
Visit the Stone Brewery Bistro if you're a craft beer lover. Or Fireside if you want another option with trendy decor and outdoor seating. They even a few small areas for lawn games. (Perfect for kids to play while you wait for food). For coffee and a little retail browsing, don't miss Moniker General.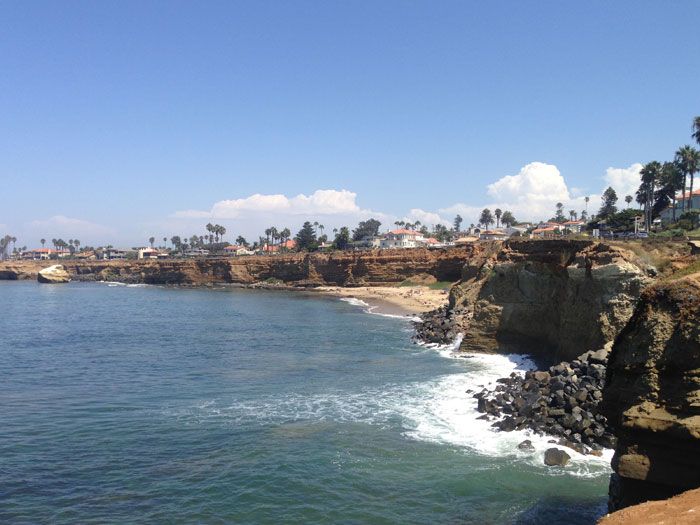 On a great date in San Diego:
I'm an English major and I have to be honest and say I never really appreciated Shakespeare until I started seeing his plays at The Old Globe Theater in Balboa Park.
This isn't the cheapest date activity, but if you're looking for something special, you won't be disappointed going to a play here with your sweetheart. Every single play I've seen here has been memorable and meaningful. (If you're under 30, they have some great ticket deals!)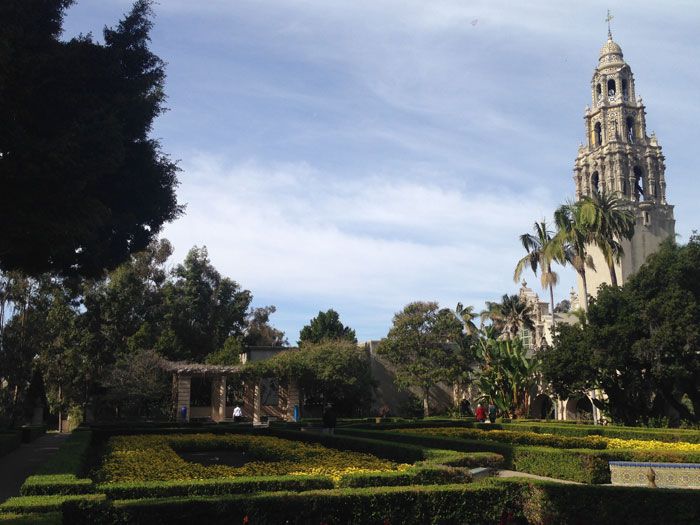 I would start with happy hour and dinner at Banker's Hill Bar & Restaurant or if you want some classy Mexican food in a funky environment: Barrio Star.
There's definitely some dining options in Balboa Park so if you're short on time and just want to deal with parking once, find a place to park in the Park and head to Panama66. It's only steps from the theater and definitely shows off San Diego's craft beer culture.
It's open air, so again, layers! It may be hot during the day, but it can get really chilly at night, so don't get caught out and about with out a jacket.
After the play, I'd stroll around Balboa Park, enjoying the beautiful architecture, and maybe get some coffee. If we were needing a little post-entertainment dessert, we'd stop at Extraordinary Deserts on Fifth Ave.
On eating out with family or friends:
• The best donuts in the world, no exaggeration: Donut Bar. Go early because once they sell out, they close for the day. Maple Bacon and Red Velvet are two of my favorite flavors. The flavors change daily.
• Excellent and funky breakfast or brunch: Wow Wow Waffle (but check their schedule because they are not open every day of the week).
• Lucha Libre: casual and delicious Mexican food with some really memorable decor.
• My favorite Italian restaurant: Bencotto
• If you're looking for a treat and maybe a hike outside of San Diego, head to Mom's Pie in Julian after you hike to the top of Iron Mountain.
• The Smoking Goat: great for a special occasion.
• The Station: impressive mix of family friendly plus totally hipster with delicious food.
• Local coffee that will not disappoint: Dark Horse Coffee Roasters or Influx Cafe (both have multiple locations around town)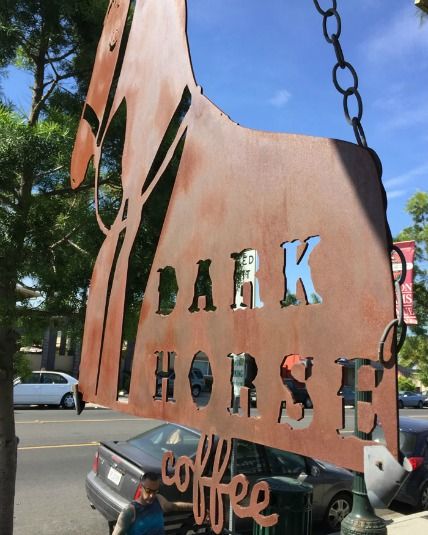 On how to spend $20 here:
San Diego is not known for being an inexpensive city, but if you want to stretch your dollars spend the $20 on food and enjoy one of the many, many free activities available:
• Stroll around Balboa Park and check out the best free options: Botanical Garden, Timken Museum of Art, and on Sundays at 2p.m, there's a free concert in the Spreckels Organ Pavilion.
• Visit Coronado Beach and check out the historic Hotel Del
• Free Summer Concert Series (there's one almost every single night of the summer at a different park. Bring a picnic and a blanket.)
• Sunset at Sunset Cliffs (although really any beach view will do, especially if there's clouds)
• Museum of Contemporary Art is free Thursdays 5-8pm
• Mt. Soledad offers a beautiful 360 view and a Veteran's Memorial
• Ray at Night offers outdoor music on the Second Saturday of Every Month from 6pm to 10pm.in the extra-hip area of town called North Park.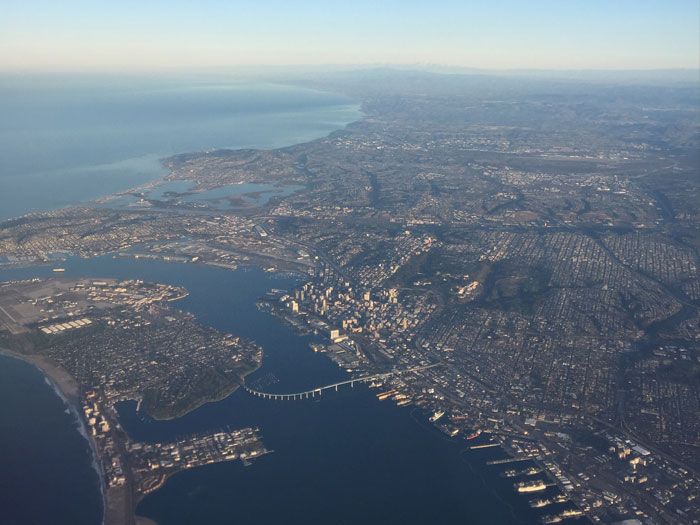 p.s. – Other highlights in our I Love This Place series: Austin, Canmore (near Banff), Bavaria, and nearby Encinitas.