On the evening news in October of 1969, Walter Cronkite announced to the entire country that Chattanooga, Tennessee was the "Dirtiest City in America."
Declared so by the federal organization that would eventually become the EPA, Chattanooga's air quality was so poor and smog-riddled, locals had to drive with their headlights on during the day.
The truth hurt area residents and city officials so deeply they decided to do something about it.
Fast forward 40 years and Chattanooga is a beautiful city with incredible momentum. It's clean and green and a place you want to spend time outdoors.
The shift didn't happen by accident but with strategic intention that turned an unsafe place into a destination you'll want to return to again and again.
We lived there ten years, now gone almost four. We appreciate it as both the place our children think of as "hometown" and a wonderful place to visit.
I'm so happy for the I Love This Place series because it gives me reason to introduce you to Chattanooga, and point you toward both obvious choices for a visit and a few off the beaten path.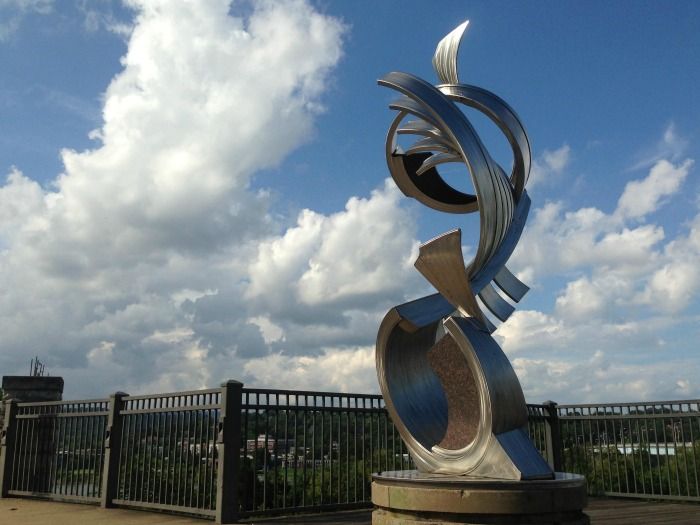 Downtown – A Great Place to Start
Chattanooga's downtown is divided, anchored on one end by the NorthShore along the Tennessee River, and at the opposite end by the Southside. You'll want to spend time meandering both.
Southside
The first thing that comes to mind when most people hear "Chattanooga" is Choo-Choo, inspired by the old Glenn Miller song.
You'll want to visit the Choo-Choo hotel, at the former Terminal Station, easily recognizable by the train sign topping the building. Walk through the hotel and check out the gardens in back (spring and summer); you will definitely want a photo near the train.
You can even stay overnight in an old Pullman Train Car (what it lacks in elegance it makes up for in nostalgia and kitsch). There's touristy shopping and restaurants popping up – Stir is right on the premises; it makes a big deal about ice, and its aesthetics and menu are fun and yummy.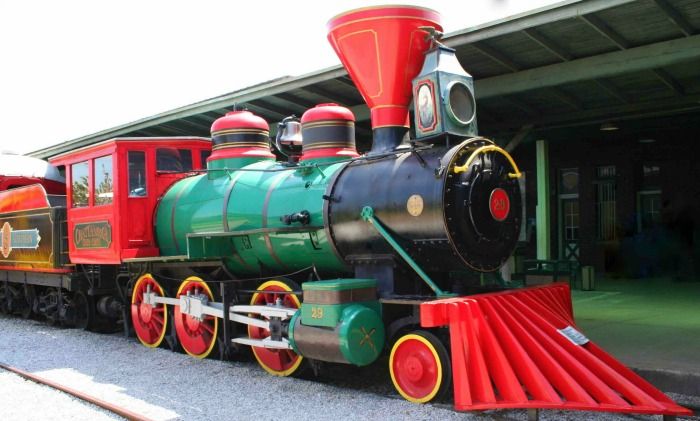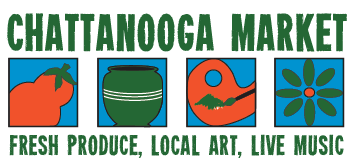 If you're visiting on a Sunday April through December, don't miss the Chattanooga Market. A producer-only, open-air market, you'll enjoy the sights, sounds, tastes and goods by locals. There's no admission to wander, and you'll begin to gain a sense of the city's cool vibe.
The arts community is alive and kicking in Chatty, too. Visit Area 61 (eclectic) on Main St., Gallery 1401 (fancy) on Market, and do not miss the HART Gallery--featuring artwork by local homeless/non-traditional artists.
Warehouse Row is on the Southside, too, home to higher-end shopping, and local and regional restaurants (my favorite is The Public House).
A bunch of places I can't help but mention:
• The English Rose Tearoom: Authentically British, a little crowded, somewhat kitschy…but get that Eton Chaos!
• Niedlov's: Bread artisans (and more) servicing the local area. The cinnamon rolls, you must get. You're welcome.
• Bluegrass Grill: Breakfast is served all day, and most of the time there's a line out the door (during peak meal times). That line exists for a reason. Get eggs any way and don't skip the breakfast potatoes.
• Urban Stack. Hamburger specialists. There IS a difference. Get a shake but you'll hate me.
• Flying Squirrel. This one is for grown-ups; a cool bar with nice outside space, adjacent to The Crash Pad–the coolest hostel you'll ever find.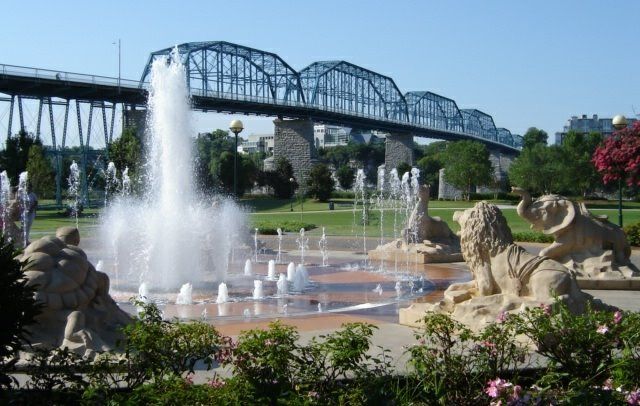 Photo source
Northshore
Oh, dear…the Northshore. It's been the go-to tourist destination for years, but locals love it for….
Pick a decent weather day any day of the year and you'll find people enjoying Collidge Park. Its antique carousel is a bargain and MUST-do for kids of all ages.
Lots of green space, adjacent to the Tennessee River, and on the back side of Frazier Avenue. Oh–and warm days BEG you to play in those animal-sculpted fountains.
Ask around and from Coolidge meander your way to Renaissance Park–there's a little walking but worth it.
For the young and young at heart, have a blast sliding on cardboard "sleds" (bring your own or borrow leftovers). There's not much snow in these parts, so homegrowns improvise.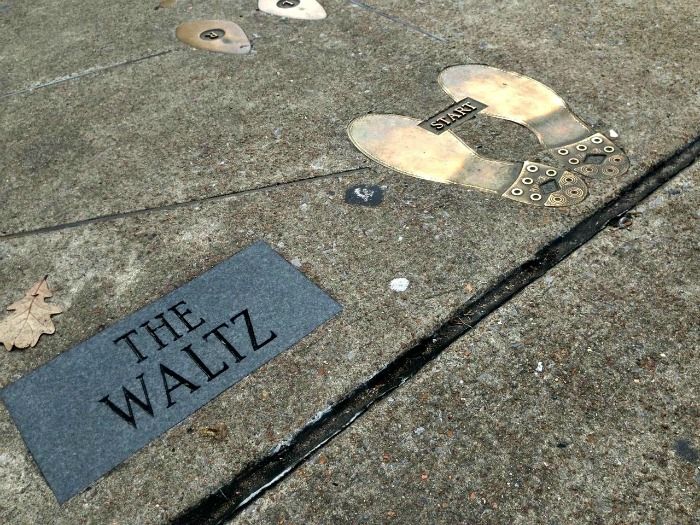 Park on the street and start walking, restaurants and eclectic shops line the entire stretch.
One suggestion? Grab a dog and frites at Good Dog and save room for a Clumpies ice cream.
Everything from art (Blue Skies is a personal favorite) or tattoo shops to used books and designer wear are found on Frazier. Funky, fun, and fantastic.
Be sure to look down–all along Frazier there are bronze footprints embedded in concrete with steps "choreographed" for popular dances–the Waltz, Cha-cha, Tango…and The Kiss.
Who knew a stroll could be educational?
Extra eats:
• Beast and Barrel. Open air onto Frazier. Great scenery inside and out.
• Taco Mamacita: Just off of Frazier sits a few special places, and Taco Mamacita leads the way. They're billed as "Fresh-Mex" and there's usually a wait. Worth it.
• Milk & Honey: Homemade, creative gelato is its springboard, but they're continually evolving. Aesthetics-wise, I LOVE this place, its branding, and heart. I don't love the food as much as some, but it wins overall scores for the full package.
Note: Taylor and Mike Monen are incredible Chattanooga restauranteurs; they own Urban Stack, Taco Mamacita, Milk & Honey, Community Pie and Clydes. Heck, maybe more by now. I love what they've done for the foodie scene in Chattanooga.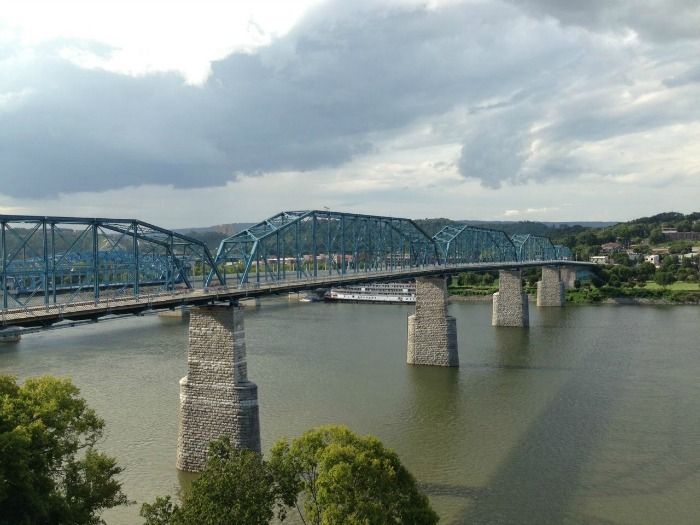 Downtown, the "other" side of the river from Northshore
• Walnut Street Pedestrian Bridge. For incredible views of the Tennessee River, Downtown Chattanooga and the Northshore, put your walking shoes on. Closed to car traffic, bikes, pets, and people welcome.
• Hunter Museum of American Art. On the opposite side of the river from Northshore, three buildings filled with American art. Free for kids 17 and younger, and for all if you're lucky enough to be there the first Thursday of the month from 4pm-8pm.
• Bluff View Arts District. Restaurants. Shops. A free sculpture garden. And some of the most incredible views of the city.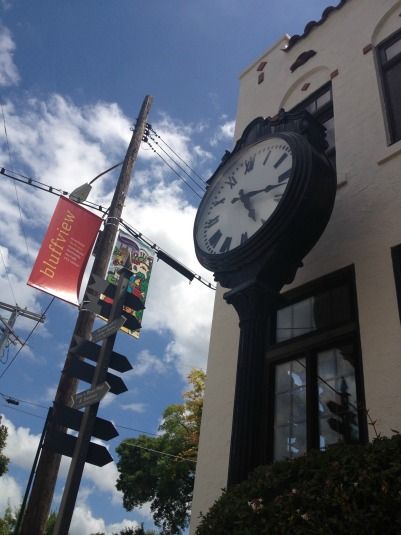 Popular Tourist Destinations…at a Cost
Worth mentioning because they're iconic Chattanooga Things To Do, but all of these will cost you.
• Tennessee Aquarium. It's one of the best you'll find, with so much to see it takes two buildings.
• Creative Discovery Museum. Great entertainment and engagement for kids elementary-aged and younger.
• High Point Climbing and Fitness. Climbing walls inside and out. Do this and you might be hooked for life.
• At the top of Lookout Mountain you'll find iconic Rock City and Ruby Falls; at the base, the Incline Railway. You can knock out all three in less than a day. If you don't have the dollars to spare, keep reading for beautiful area bargains.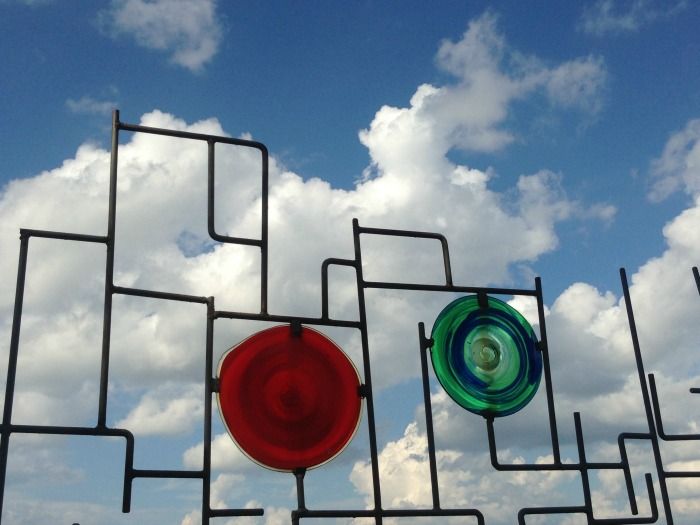 Got 48 Hours? A plan that won't break the bank
Comfy walking shoes will serve you well.
Day 1.
Breakfast at Niedlov's or Bluegrass Grill, then walk up and down Main Street. Lots of street art, and here's where you'll find the Hart Gallery, Area 61 and Gallery 1401, all mentioned above (among more).
Head to the Choo-Choo hotel, walk through the great hall toward the back where you'll find the gardens and icon train. Take pictures.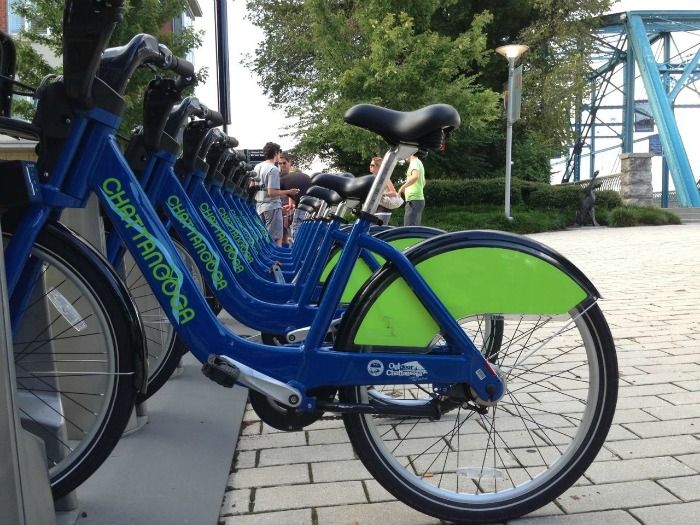 Take advantage of the Chattanooga's Bicycle Transit System or drive Downtown but don't cross the river.
Start at the Bluff View Arts District. Tour the Sculpture Garden, then check out River Arts Gallery. Get a coffee or sweet at Rembrandt's (a favorite!!).
Continue on to the Hunter Museum. On inclement weather days plan to tour inside; otherwise, check out more scenic views and continue on to the Walnut Street Pedestrian Bridge.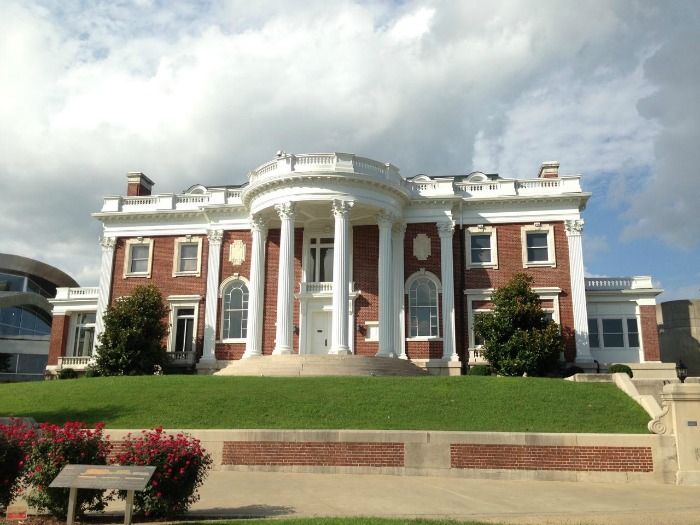 Enjoy people watching as you're headed to the Northshore. You'll get a great view of the Tennessee River, Coolidge Park and the Carousel on your way.
The bridge ends on Frazier Avenue, where you can pick a place for lunch (Good Dogs?) and wander in and out of shops before heading down to Coolidge Park. Ridge the Carousel ($1 a person, free under two years old).
Find your way to Renaissance Park and slide down Cardboard Hill.
Trust me, you will have filled a day with all of the above, and more that you pass along the way.
As much as I've shared, there's still more! Note: if you happen to be in Chatty on July 4th, be sure to walk Walnut Street Bridge at dark–you'll see fireworks all over the city!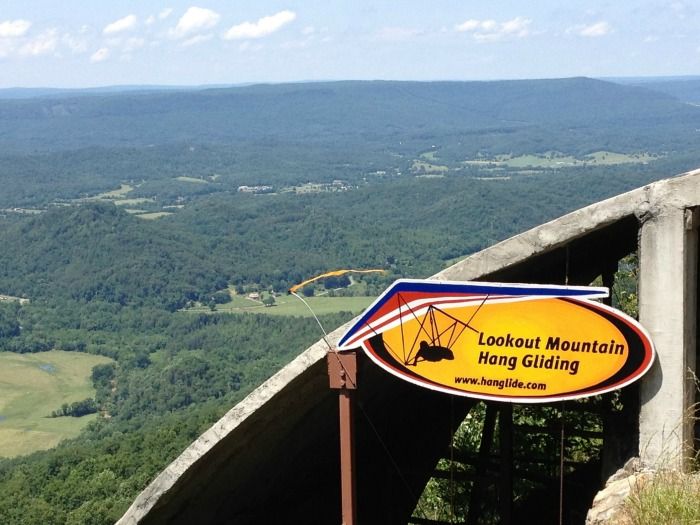 Day 2.
You're on your own for the morning (haven't I given you plenty to consider?) but make a picnic for lunch and head up to Point Park on Lookout Mountain.
Enjoy your picnic and then take advantage of the relatively easy hiking trails nearby. After your hike, head over to the Hang Gliding launch area (about 25 minutes driving).
Oh…my…those views. If there are hang gliders around (and there have always been when we've gone, especially on weekends), you'll be captivated as you watch them fly like eagles. (If you're brave enough and  you're willing to fork over the bucks, you can tandem-glide!)
Depending on your timing, you'll want to head over to Sunset Rock where you can enjoy another hike that will end in a beautiful view.
This hike comes with a caution: be careful and on alert! There have been fatal accidents but that shouldn't scare you away–stay on the trail and keep young ones close.
Chattanooga is the place our children will remember as their hometown, and as such, it holds a treasured place in my heart. If you'd like to know more beyond this brief glimpse, please check out my Love Where You Live series!
p.s. – Other highlights in our I Love This Place series: Austin, Canmore (near Banff), Bavaria, Encinitas, and San Diego!
Photo source: all images by Robin Dance unless otherwise cited