When we were sipping drinks in a German village pub, near the end of our school year around the world, Kyle and I realized that we both felt like we should move our family back to the Central Texas area. There was one caveat:
As much as it's possible, let's make it Georgetown.
I've loved this little town a few miles north of Austin ever since I was a kid and all my dance recitals were at Southwestern University, the oldest university in Texas. It felt like a breath of fresh air, driving into a quaint, slower, older town from the strip center-peppered suburbia of Northwest Austin where I was raised.
And while we both liked the idea of living near Austin for a variety of reasons, we didn't really want to live in Austin (traffic and housing prices topped the list). We were open to a few small towns, but Georgetown was always our first choice.
We were beyond thrilled and floored when we were able to move here, into a dilapidated fixer-upper right in the Old Town neighborhood. (Honestly, this house was the main reason we were able to move here, with old cottages in need of love sitting next door to gorgeous old mansions hinting at life from another era.)
On the weekend, our neighborhood sees visitors from all over the area; people come here to get away from the city, to shop at the regular Town Square-hosted markets, or to check out an event. When friends and family come to visit us, they usually remark, "It feels like a breath of fresh air — like the valve was released on my stress levels and I can finally slow down."
Several years into living here, we still feel exactly the same. Here's some of my favorite highlights of the Old Town district of Georgetown, Texas.
On the most obvious  landmark in town: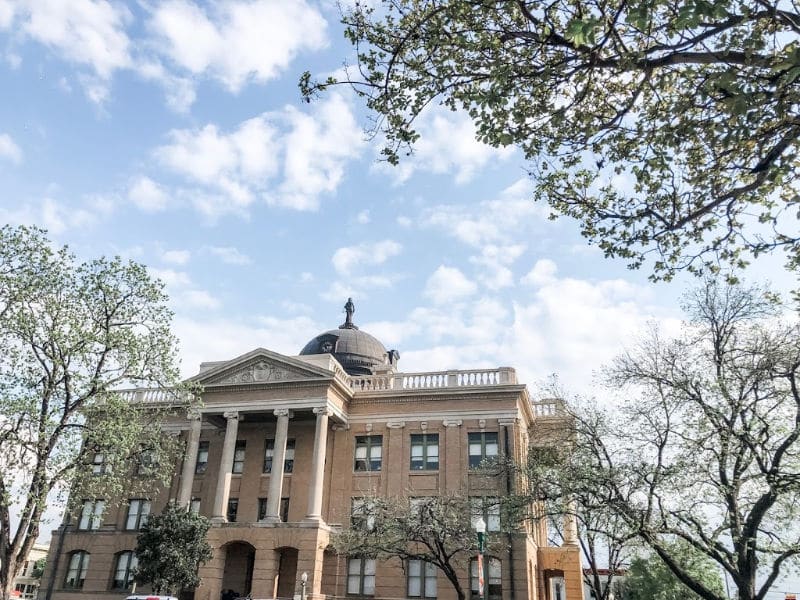 Georgetown is a county seat, so the courthouse sits prominently in the middle of the Town Square — there are signs proudly boasting it as a "Main Street City," frequently winning the Best Town Square in Texas. Cue the Gilmore Girls theme song.
On a favorite place to eat out with the family:
We rarely drive to eat out anymore, since there are so many restaurants in walking distance (which can be dangerous to the budget!). Sometimes we'll walk along the San Gabriel River and cross over the bridge on Blue Hole to Hat Creek for burgers (though Burger University, on the Square, has the best sweet potato fries on the planet).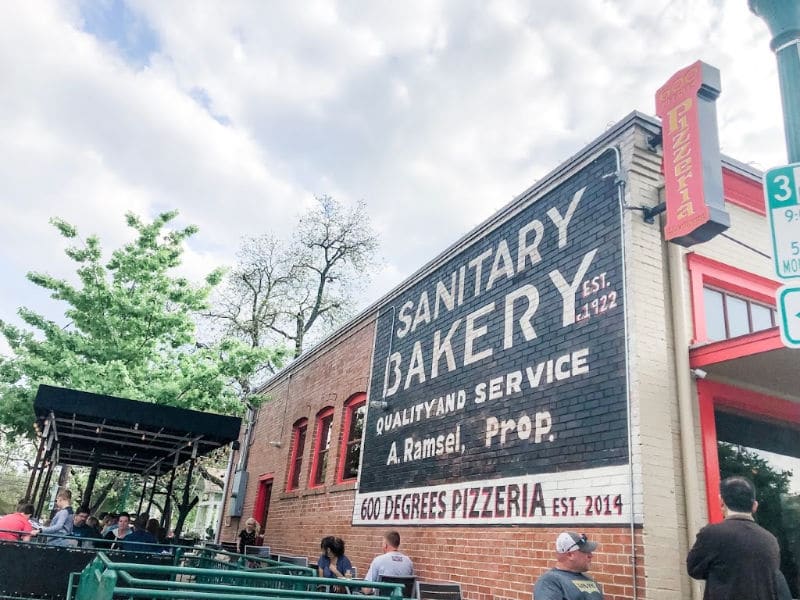 We'll also sometimes order pizza from 600 Degrees, walk the five blocks to pick it up (Kyle likes to go a few minutes early to grab a beer at the bar), then enjoy it at home during a family movie night.
Once or twice a year, we'll walk to Monument Cafe for breakfast out — they've got fantastic pancakes, hashes, and homemade jams, and  walking through the front doors feels like entering a diner from another era.
On a great date night in Georgetown: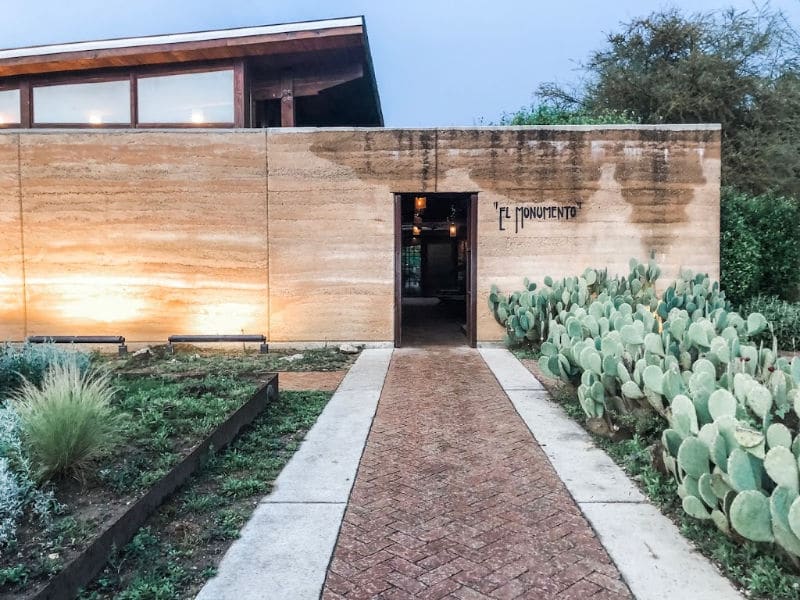 I don't know if it's because of us or our kids getting older; I guess it's a bit of both (basically: our current life stage)… These days, our favorite date nights involve making an easy dinner for our kids and letting them watch a movie together at home while the two of us walk to a beloved neighborhood restaurant.
Blue Corn tops the list — we love sitting outside on their back deck, and I usually order one of their daily drink specials and pair it with their insane blue crab-stuffed chicken.
If we only want to be out an hour, sometimes we'll grab a quick drink on the rooftop bar at Uptown Social. The drinks are honestly nothing special, but you've got quite a view of the historic district, and it's lovely during sunset.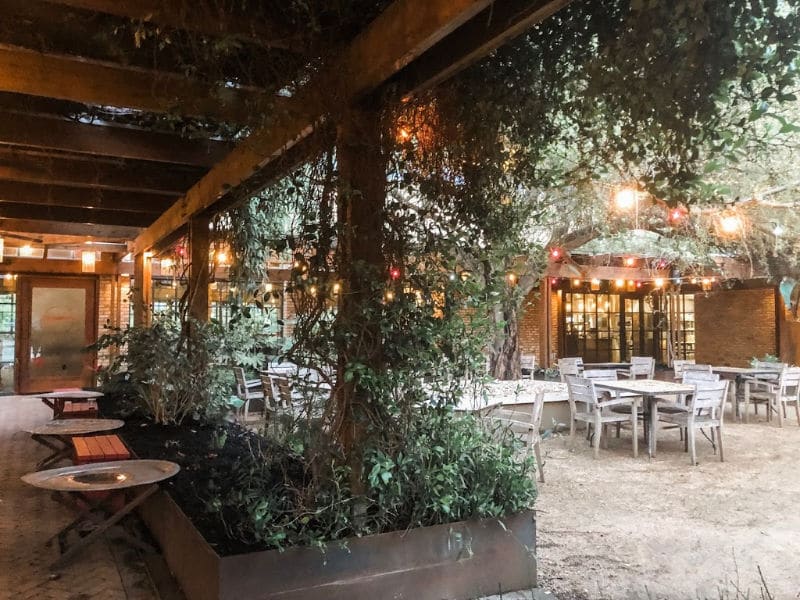 Our favorite date spot in the neighborhood is El Monumento. The food and drinks are ridiculously good (and interior Mexican, vs. the usual Tex-Mex found in Central Texas), the view of Blue Hole is tranquil (if you can get a seat on their deck), and the architecture of the whole building is a stunning work of art.
Their margaritas are like slushies: they hand-crank the shaved ice like you see at fairs for snow cones. Delicious.
Oh, and if you've got time, order a decaf French press of coffee for two and sip it in the courtyard — I usually drink my coffee black, but their whipped cream that comes on the side is so heavenly, I indulge.
On spending a solo morning or afternoon here: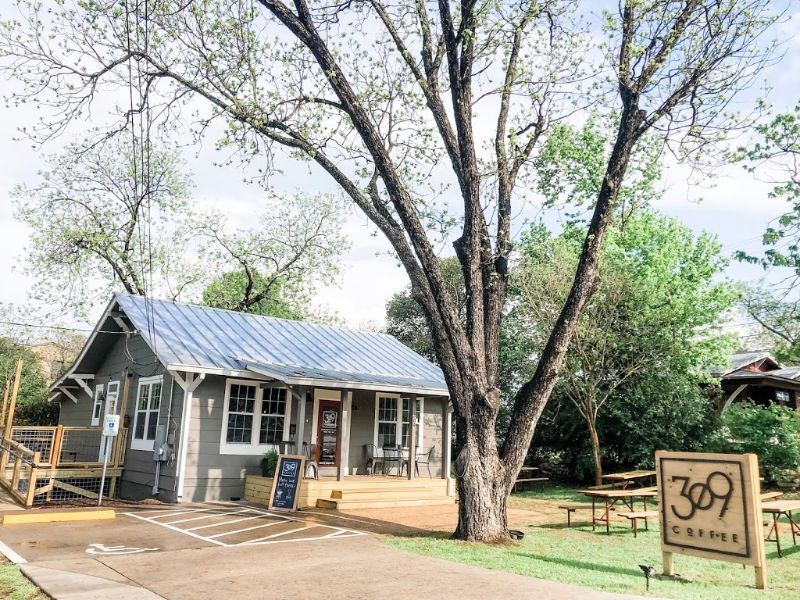 This neighborhood is a great area to spend by yourself. I'd start at 309 Coffee, the newest coffee shop in the area (it's literally 200 steps from our front porch — we counted!), and get either a pour-over or a lavender latte.
I'd then walk to the Square and slowly browse the secondhand or antique shops (don't forget East 6th Relics & Antiques on the way), or maybe take a yoga class at either Moksha or Brave Vira.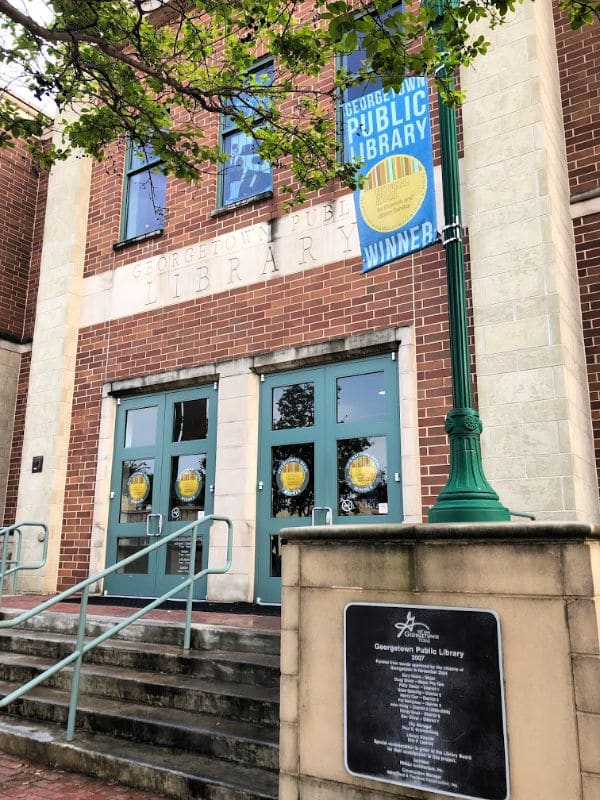 After that, I'd wander the Georgetown Public Library (it recently won the National Medal for Museum & Library Service) — you may just find me at one of their desks, working.
Or, you could walk the other direction and go for a dip in Blue Hole — the best time of year is late spring to early summer.
Then, I'd finish off with a salad or pastry at Sweet Lemon Kitchen, an old house they've turned into a lovely spot for breakfast and lunch. Bring a journal and book, and sit on their patio under a shade tree.
On family walks:
If our kids seem punchy and the weather is nice, we'll go on a post-dinner neighborhood walk. I love looking at all the historic houses, but the kids love it when we pop in to All Things Kids and get a scoop of ice cream (my current favorite is Texas Honey Whiskey).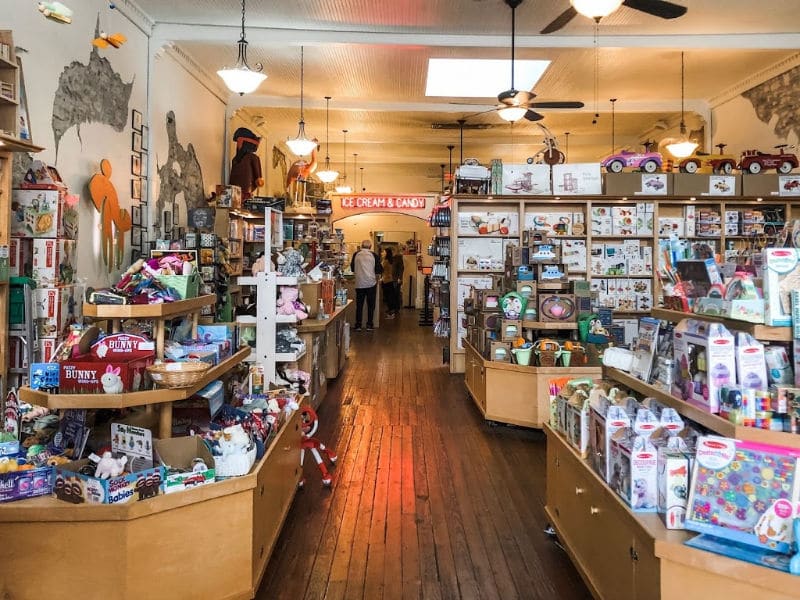 It's also a battery-free toy store.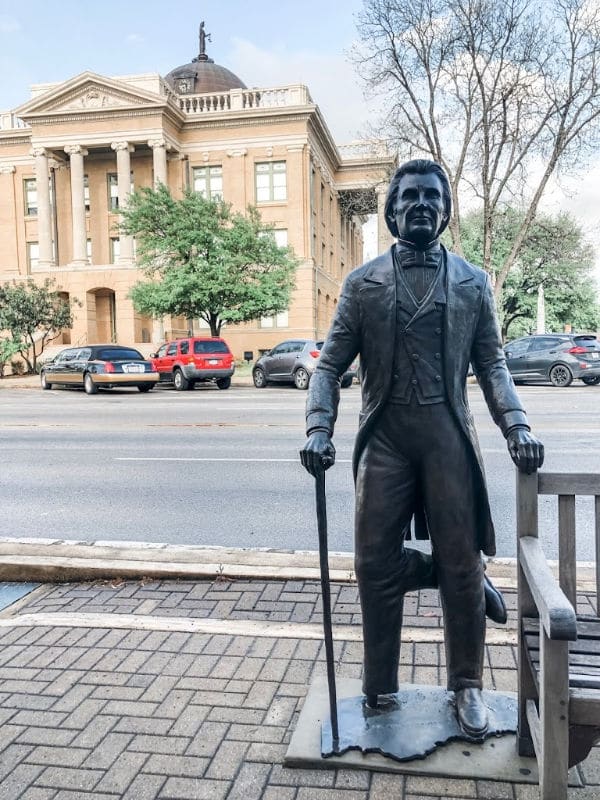 Occasionally on our walks we'll wander over to the (free!) Williamson County Museum and see what the latest exhibit is… If it's your first time there, you can also snag a photo with Three-Legged Willie.
The neighborhood also has a great Bark Park, some of Ginny's favorite six acres in the town, so we'll frequently head that direction on our walks. On the way there, we sometimes catch a Little League baseball game in action.
On small-town events and fun holidays in the neighborhood: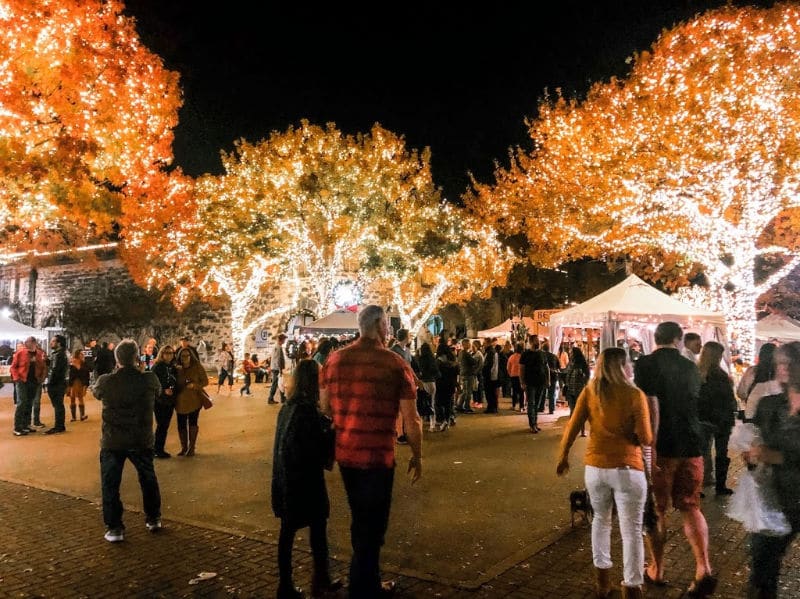 Twice a year we have a parade go past our house — one is to kick off the Christmas Stroll on the Square; the other is to kick off the Poppy Festival, which is in just a few weeks. Poppies bloom all over the place during the spring, so this weekend event is basically an excuse for live music, food trucks, artisan booths, and wine tasting.
Old Town is also a great neighborhood for trick-or-treating — Main Street is hopping with families who've driven in from all over.
On the people:
I think my favorite thing about Georgetown, overall, is the attitude of its residents. People here are friendly but not obnoxious; proud of their town but not pretentious.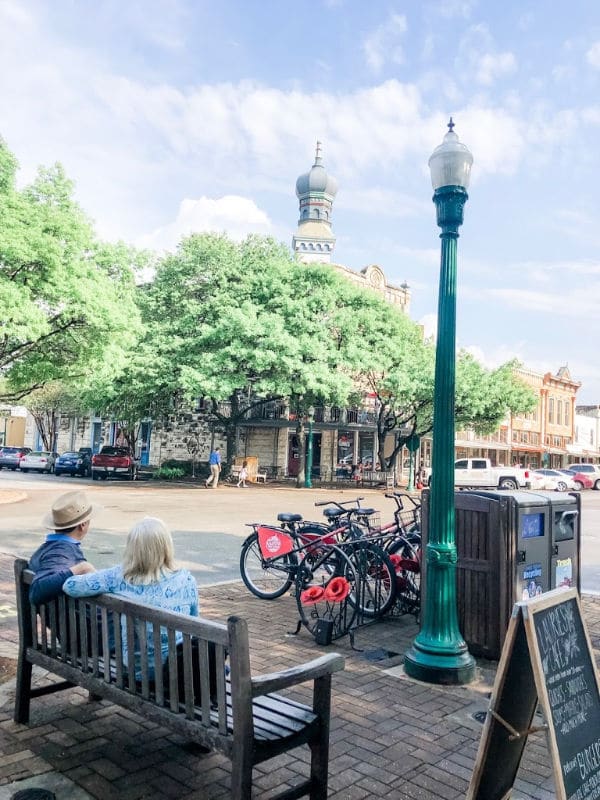 It's a combination of the older crowd who's been here for generations, mixed with newer couples who've recently moved here to start a family (at a neighborhood Christmas party I met a couple who just moved here from Manhattan, after hearing so many glowing reviews about the town).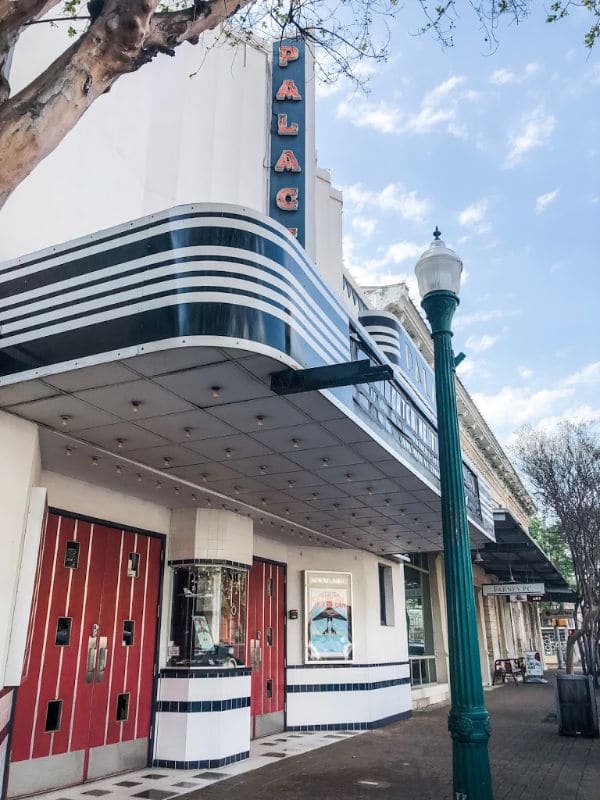 It's artistic — Finn's taken some fabulous art classes at the Georgetown Art Center; local art is displayed all throughout the Square — but it's an accessible, for-the-people style of art.
There's an openness to bringing in new businesses while still holding dear to preserving Georgetown's historic beauty.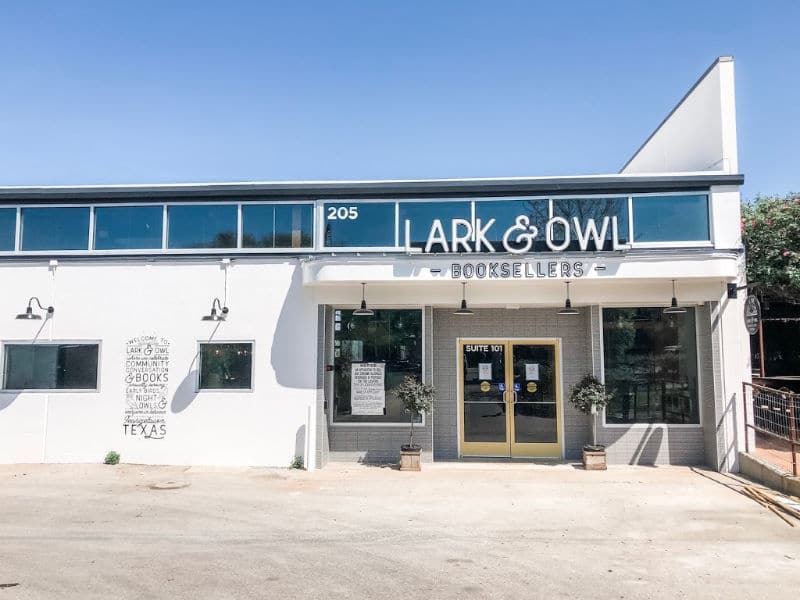 (Our neighbor across the street is part of launching Lark & Owl, the newest neighborhood bookstore, behind Monument Cafe, and I cannot be more excited about this.)
Whenever Kyle and I sit on our rocking chairs on our front porch to listen to the live music coming from 309 or the Square, like we're 94 years old, we'll often remark that we may once more live in other countries, or we may travel again for an extended period of time… but we're pretty sure we'll keep our little house in Georgetown.
It really is a delightful home base, a great place to raise kids, and a fun way to spend a weekend. I love this place.
Other great places in Georgetown's Old Town district and central area:
p.s. Other highlights from our I Love This Place series: Asheville; Chattanooga; Beirut; Nozawa Onsen, Japan; and of course, Austin.
Also, listen to the podcast episode about this post.