What makes a place loveable? Its personality? The people? Sights? Does it have to be beautiful? Interesting? Should it teach you something?
For me, yes.
Beirut is a diverse, eclectic city whose layers betray the civilizations that have inhabited it. Greeks, Romans, Arabs, the Ottoman Turks, and the French have all left their mark on this 5,000 year-old city.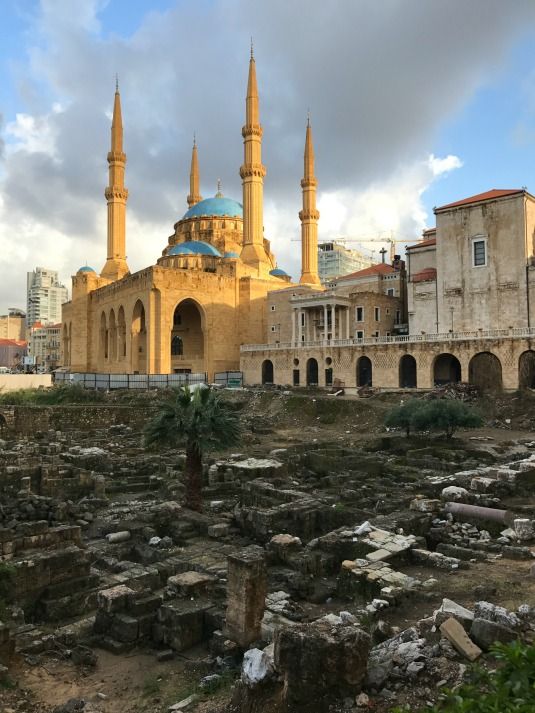 Beirut hosts seventeen Muslim and Christian groups; four Muslim sects and thirteen Christian sects. Each neighborhood is a religious village unto itself, and Beiruti families in one part of town can live their entire life without passing through neighboring streets.
I imagine it much like Montagues and Capulets.
Besides the diverse Lebanese population, many Armenians, Palestinians, and Syrians now call Beirut home after fleeing their homelands.
These families have seen atrocities I understand to exist only on TV, and have forged on. They are like their Beiruti hosts in this way.
The elder generation of Lebanese who remain here each have a story of their situation during the 1975 Civil War, and those our age can tell you from which vantage point they watched Israel carpet bomb Beirut targets in 2006.
Experiences like these beget a strength foreign to me. One less like CrossFit and more like the steady, thick strength of Lebanon's Cedars.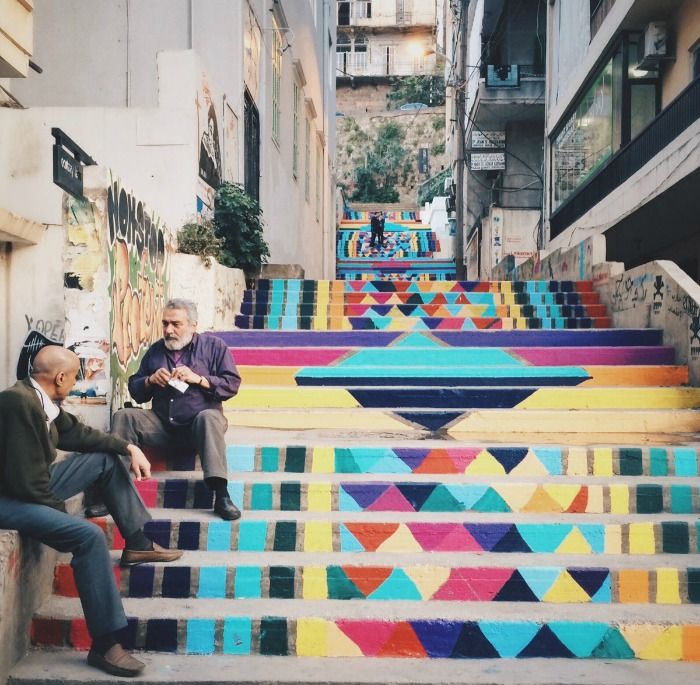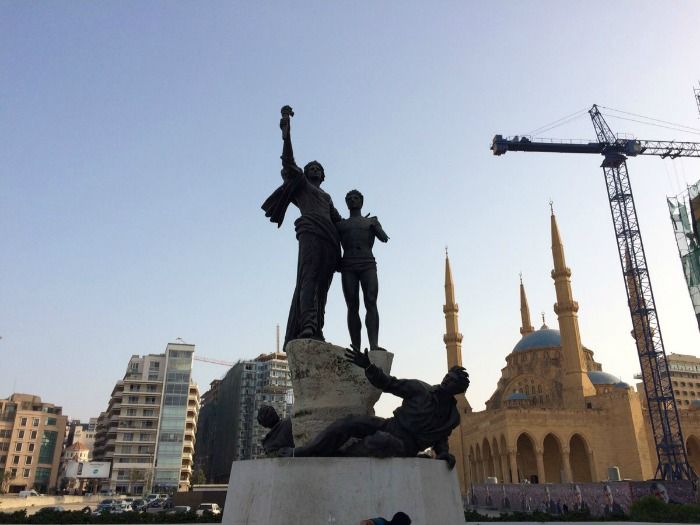 Beirut in a word?
Inspiring.
Turn a corner near Beirut Souks and you'll happen upon old Roman baths.
Step into the neighborhood Patisserie and find a rainbow of macarons and specialty chocolates.
Anywhere you turn you're awash in the unique mix of Arabic, French, and English spoken here.  You're sure to hear all three almost anywhere you go, but its uniqueness flows not so much from the impressive population of bilingual and trilingual people, but from the fluid mixture of all three in everyday conversation.
It's normal to begin in Arabic, weave to English or French, and then substitute words from the third language as desired. In the same sentence.
Beirut streets weave you in and out of abandoned buildings with Mediterranean plants and trees crawling their way up through cement floors and verandas.
The buildings were evacuated during the Lebanese civil war and cannot be sold or inhabited until the owners are found.
Such monuments to broken families and lost lives and livelihoods are everywhere.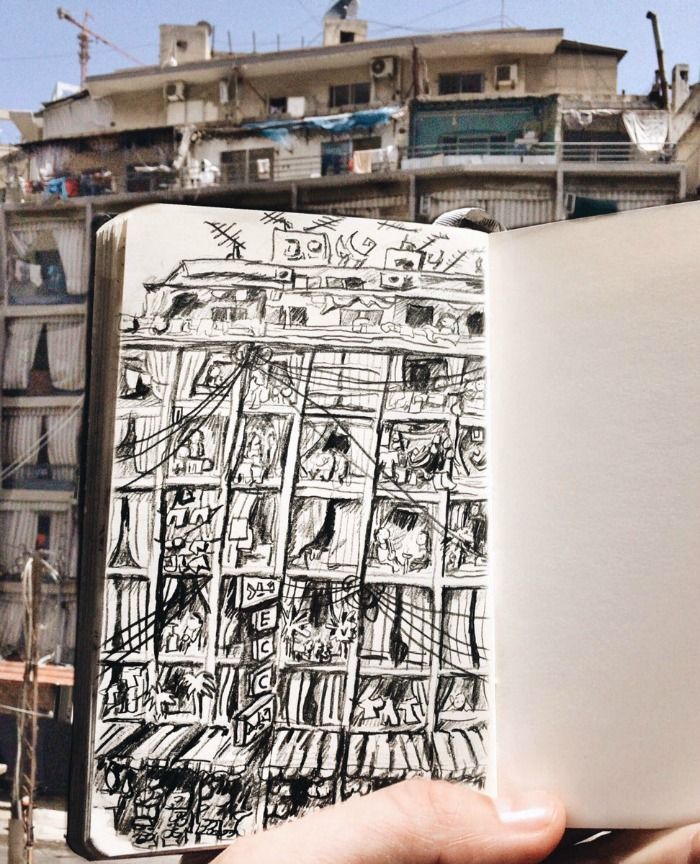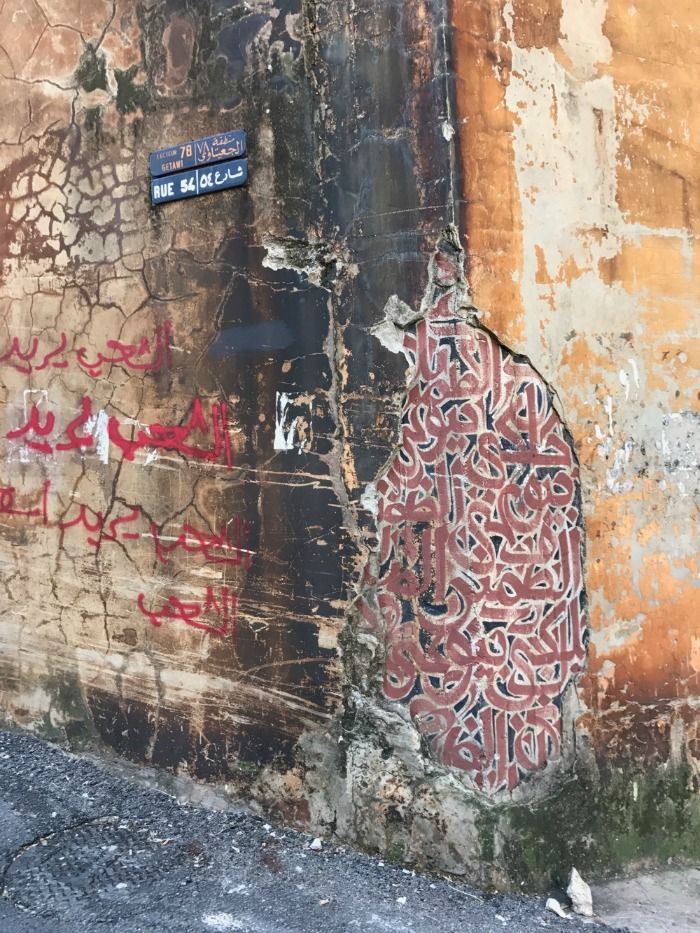 In the animate buildings, the ground floor might have low stone buttressed ceilings, with the upper floors giving way to the tall ceilings and towering windows of the classic Lebanese "salon."
From neighbor to neighbor architectural details glide from simple to chateau to Gatsby. With life oozing from every pore.
And the whole thing sits on a subtle peninsula on the eastern edge of the Mediterranean Sea, so every evening witnesses the sun kiss the water goodnight.
With constant changing cloud cover, sunsets here are live paintings in constant motion.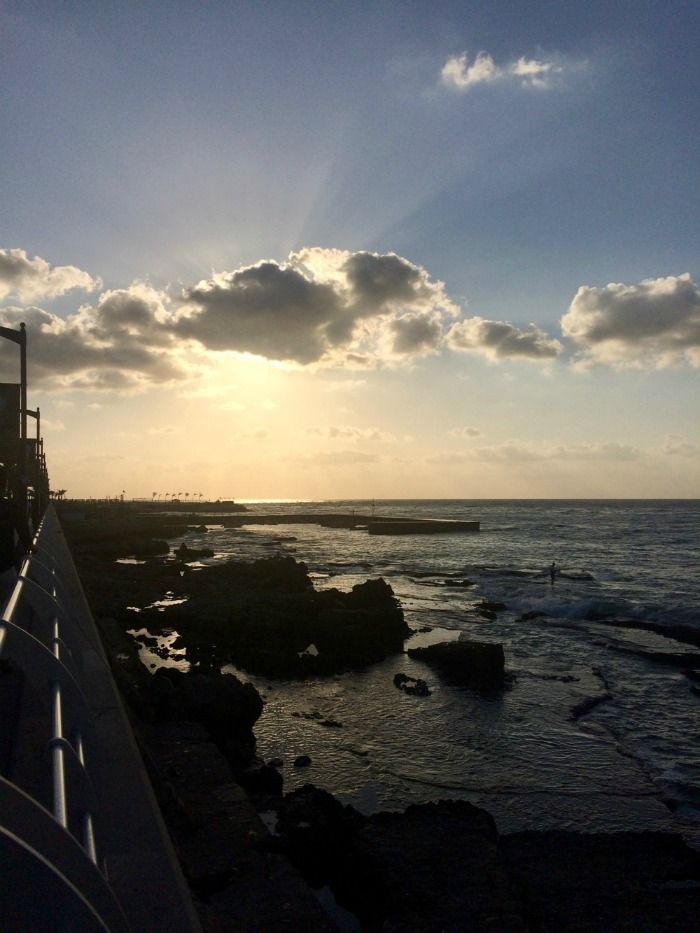 Most inspiring are the people, who are as resilient as the city itself. Here, there is no illusion of control.
Voice is given to the connected and pocket-liners, and there's nothing to be done about it.
Even still, this generation is looking past what has been and hoping toward what might be. They're speaking up for themselves and taking action, even though no action in their parents' or grandparents' lifetime has led to any sense of lasting change.
They go on, living, creating, and loving.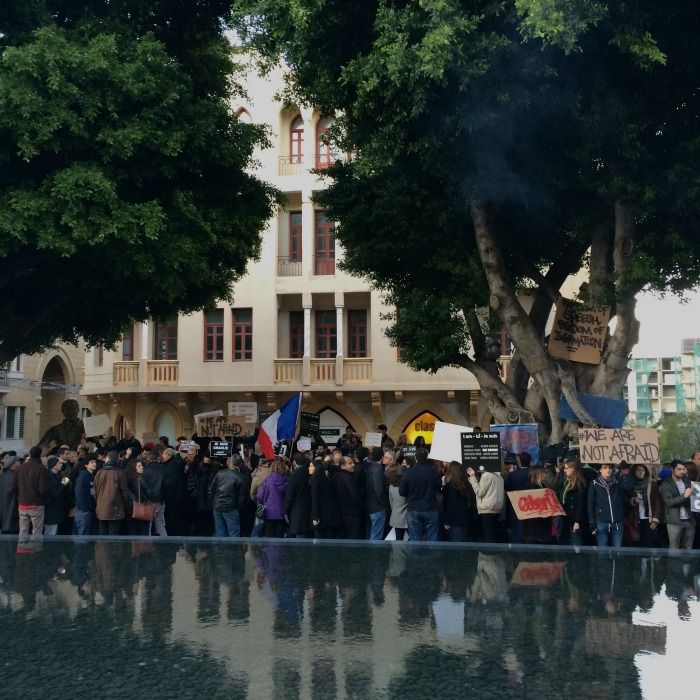 There are travel advisories against visiting Lebanon, but you should come anyway, especially if the idea freaks you out a little. It will illuminate the real nature of travel advisories (I'm constantly confounded by them), and you might just have one of those experiences where what seemed scary or overwhelming at first turned out exhilarating and beautiful.
But really? Come because it's fabulous.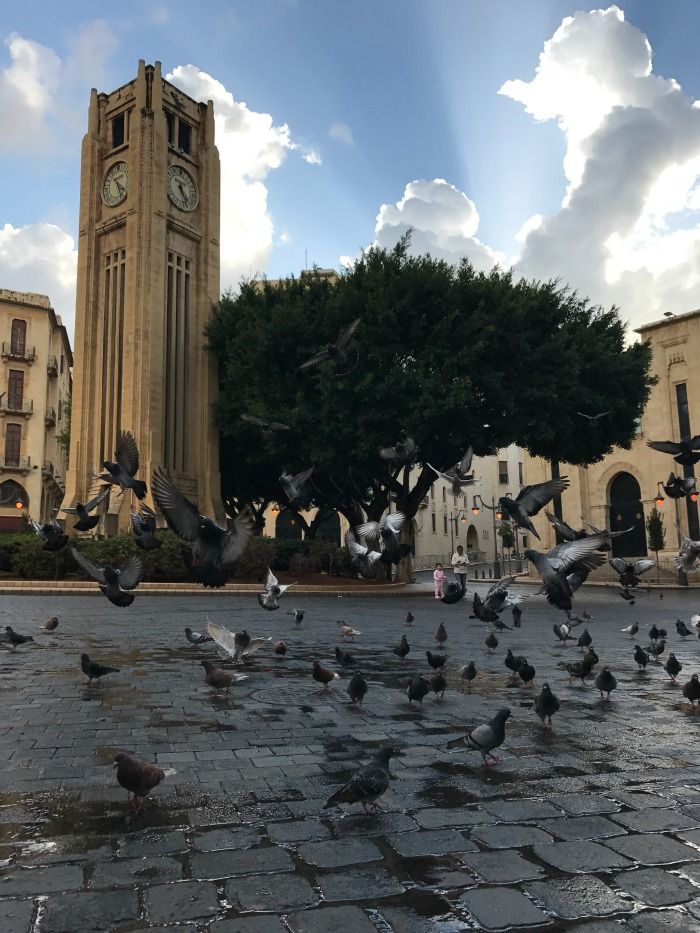 Here's a few things not to miss on your visit:
Hamra.
A neighborhood with a slice of everything Beirut, including the underbelly. Plenty of murals and graffiti decorate otherwise gritty shops, cafes, bars, and eateries. Just don't buy flowers from the kids; it's a bad situation for them. Instead, let them follow you and buy them a falafel sandwich.
While in Hamra, try Taa Marbuta on a weekend evening for well-portioned and well-priced Lebanese fare. The eclectic crowd lounging on the patio never disappoints.
The Corniche near AUB.
As Beirut has very few parks, this seaside boardwalk is the it place for any who would gather. Runners, breakdancers, swimmers (men only), divers, fisherman, and plenty of food vendors to keep you going.
Happy Hour.
From 5-8 pm, drinks are half-off almost everywhere, every day of the week. There are exceptions, but no neighborhood is without solid options. Nationwide Happy Hour: Why didn't we think of that?
Raouché.
Specifically, the Rock of Raouché, Beirut's most iconic natural feature. This towering layered rock with boats tunneling beneath is mesmerizing. Visit at sunset.
Mar Mikhael.
A bit more polished than Hamra, with a wider range of cuisine. Use Foursquare to choose a spot for cocktails or head to Enab for fantastic Lebanese food in a converted classic home. And don't miss Oslo for some delicious ice cream and homemade treats, too.
The plaza behind Beirut Souks.
There's not much to do here as the stores are mostly closed, but the quick walk through the area passes the oldest extant church in Beirut (Saint George Greek Orthodox Cathedral), a graveyard of Roman antiquities, and other small treasures.
Turn left when you get to the next major street and you'll come upon the impressive Mohammad Al-Amin Mosque, which is open to guests.
As you turn back toward the Souks you'll also pass Martyr's square, so named for the martyrs executed there under Ottoman rule.
During the Civil War this area divided the city in half, and the memorial statue there is now riddled with holes of all sizes. This short walk is a must.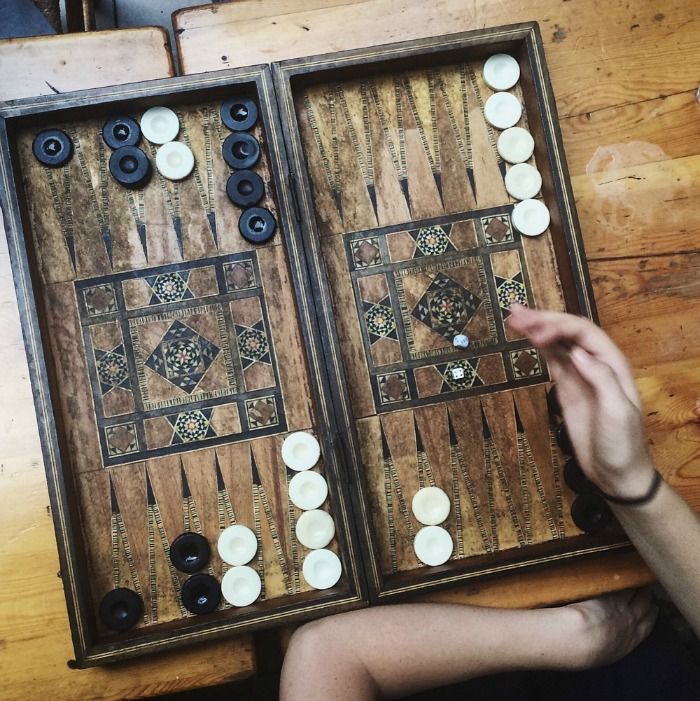 Beirut.
Does it have personality? Absolutely. Is it beautiful? Tragically. Is it interesting? Like whoa. Is it loveable? Infinitely.
p.s. We made a soundtrack! I had my favorite kiddo create a Spotify playlist of our most listened to songs. It represents only one style of Arabic music, but it's certainly what my daily bus ride and Lebanese life sounds like these days. Hope you enjoy it!
ALSO – Other highlights in our I Love This Place series: Austin, Canmore (near Banff), Bavaria, Encinitas, San Diego, and Chattanooga!