The traveller's dilemma – you find a gem of a place and love everything about it.
Do you:
Tell everyone about it and hope they enjoy the same unspoilt beauty you did?
Keep it a secret and hope it remains under the mainstream radar?
Today, I'm bravely going with #1, because this place? It's something special and, yes, I want to tell you about it. And while the place itself is wonderful, the lessons I learnt about slowing down and living well were even more wonderful, and that's something worth sharing.
In January, my family spent a magical couple of weeks in Nozawa Onsen – a small Japanese village nestled in the mountains of Nagano Prefecture, a 2.5 hour bullet train journey from Tokyo.
I have fond memories of most trips we take, even (or especially?) the ones that don't go to plan, but our trip to Nozawa is hands down one of the best trips we've ever taken.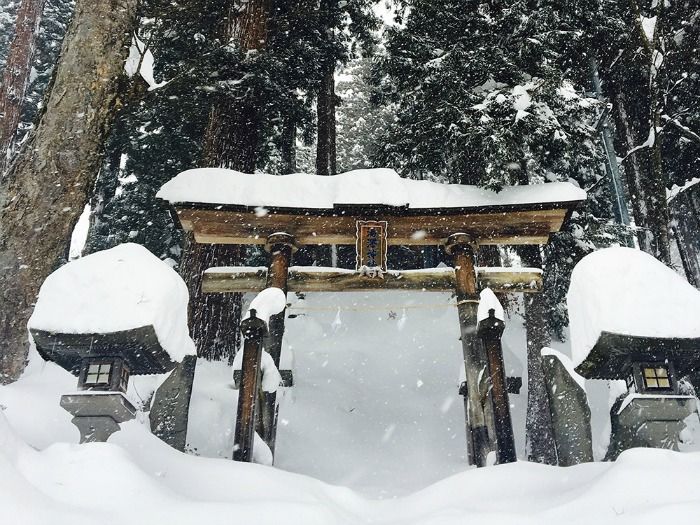 We're unapologetic powder hounds, often leaving the Australian summer for a snowy holiday full of skiing, snowboarding and general mountain town shenanigans and this trip was no different.
The Nagano region of Japan is well known for it's beautiful fluffy powder and big storms, and during the two weeks we were in Nozawa we had more than 3 metres of snow.
One of the amazing things about Nozawa is that it's actually built on top of a series of natural hot springs, which are used for everything from cooking to laundry, bathing and heating the streets to keep them clear of snow.
The town has more than 15 public bath houses (onsens) and you can't walk more than a few blocks without stumbling upon a centuries-old shrine nestled amongst the houses.
In the warmer months, Nozawa is a farming village and during the winter retains the slower pace of a traditional village, even when inundated with tourists from around the world, all looking for good snow, great food and a very different experience to the busy-ness of some of the other ski resorts we've visited.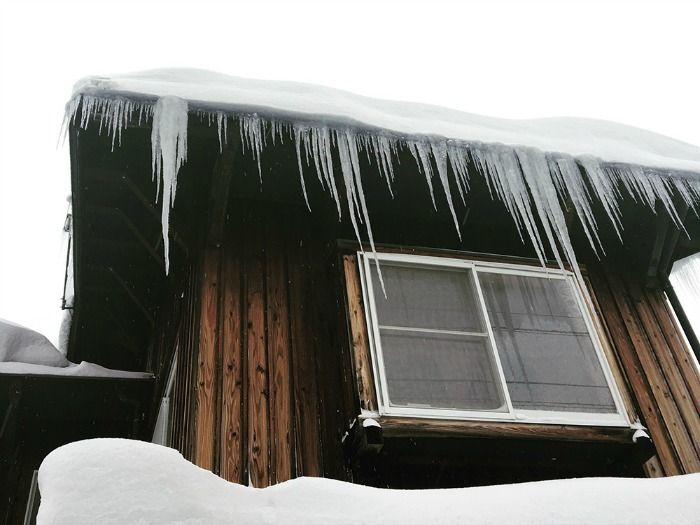 Where's a favourite place of yours to eat out with family or friends?
Tonkichi is a great family-friendly restaurant serving okonomiyaki (Japanese style savoury pancakes). The menu is limited and delicious, and we loved sitting at the bar watching the owner make the delicious hearty pancakes and gyoza.
Describe a great date in this place.
Ben and I would spend the afternoon skiing and finish the day with a thigh-burning run from the very top of Mt Kenashi down to the gondola at Hikage.
We'd head in to The Craft Room at the base of the gondola and enjoy some craft beers (the Powder Keg Porter was great). Then we'd head back to our lodge, have an onsen and walk in to town.
We'd grab a drink at The Foot Bar, enjoy a soba at Soba-dokoro Daimon before listening to some music or finding a karaoke bar in town (Heaven is lots of fun!). As we walked back to our lodge we might pick up an oyaki – a delicious steamed bun with either sweet fruit or savoury fillings – to keep us warm.
What's a great holiday to spend in this place?
In winter, Nozawa Onsen is a ski town through and through.
And while there's plenty off-snow stuff to do, I'd definitely recommend you spend at least a day or two on the hill as well. The view from the top of Mt. Kenashi is spectacular and there's a good mix of beginner-intermediate-advanced terrain to make sure no-one gets bored.
The Yudanaka National Park is only an hour's drive away and is home to a large group of snow monkeys.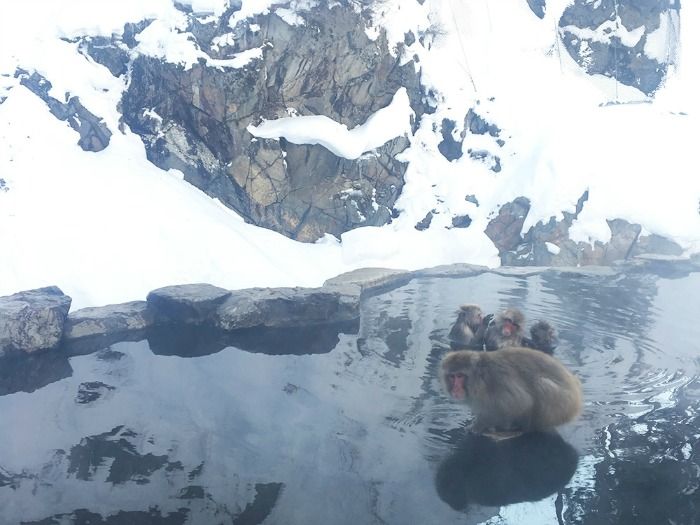 It's a beautiful, snowy, slippery walk in to the national park and you can get up close to the monkeys and watch as they jump in and out of the hot springs. Depending on who you book with, they may also include a stop at the best sushi train I've ever been to.
We were in town for the annual Nozawa Dosojin Fire Festival, which is held on January 15 every year and such an incredible experience.
Villagers cut down dozens of trees in October, and two days before the festival carry them down the mountain and build them in to a huge shrine. The shrine is then alternately attacked and protected throughout the night of the festival by local men aged 25 and 42 (the "unlucky ages").
Eventually the shrine is set on fire as an invocation for a good harvest, good health and good fortune in the coming year, but has been expanded to include a good ski season as well.
The food scene in Nozawa is amazing – soba and fermented or onsen-cooked veggies a specialty – and while many of the restaurants require bookings in the peak periods there is always something on offer.
At night the main street bustles with people out for dinner or bar-hopping, or lining up to buy oyaki (steamed buns) which are cooked by the steam from underground hot springs.
If you spent a morning or afternoon entirely outdoors here, what would you do?
In the winter, we'd spend it up on the ski hill.
It's a great hill for families, with lots of beginner and intermediate slopes, gentle tree runs and a fun beginners park.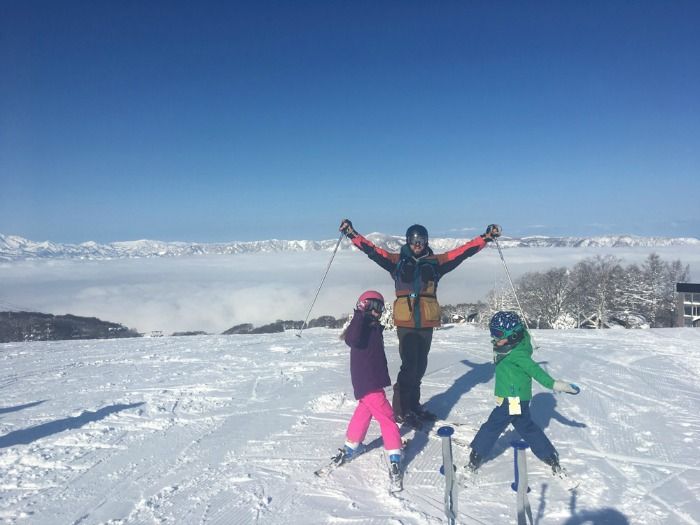 We might take a snowshoe tour in to the backcountry too, before heading halfway down the mountain to have lunch at Buna. The people watching here is well worth the wait for a table!
Then we'd head back out on the skis and slowly make our way down the mountain, maybe stopping in at St. Anton's for a hot chocolate.
Describe the attitude or style of the residents.
Nozawa is a farming village and retains much of it's laid-back rural attitude even when the snow-seekers arrive.
There's less of a hardcore ski scene here and a more relaxed, family-friendly pace. Wandering in to town from our ryokan, we would see locals clearing snow off their roofs, walking back from the onsen and visiting one of the temples or shrines throughout the village.
During the day things are pretty quiet as most people spend at least part of their day on the ski hill, but walking through town I was always struck at the right-pacedness of the place.
Things happened as they needed to, people didn't hurry, and it was fun to feel the busy rush of travel slip off us after a day or two in Nozawa.
At first we were challenged by how different everything was – our accomodation was one simple room with futons on the floor, the bathrooms were shared with other guests, we had to remove our shoes upon entering the ryokan and swap our boots for inside slippers, and the only bathing option was the communal onsen downstairs but the simple efficiency of everything was so enjoyable that we very quickly softened in to it.
I don't think I've ever been quite so relaxed!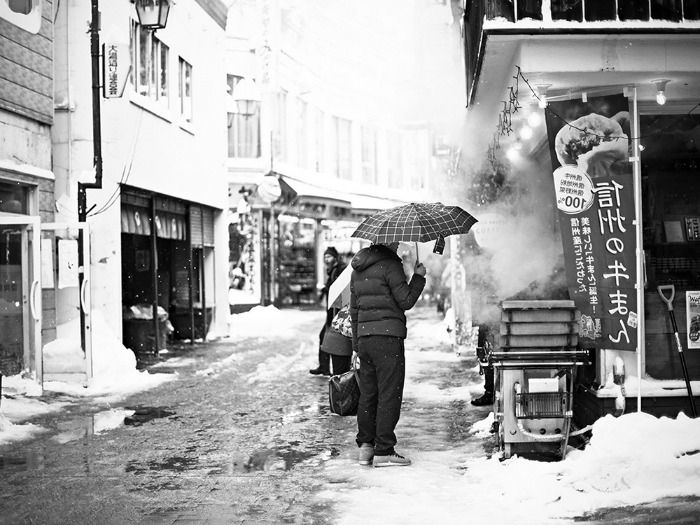 Photo source
Share a personal favourite memory that happened here.
I mentioned the communal baths at our accomodation, and while I was initially challenged by the need to bathe with complete strangers, it quickly became a beautiful ritual that I honestly, genuinely and unexpectedly enjoyed.
I particularly loved spending that time with my daughter, and watched her be challenged by and then accepting of different cultural experiences.
I loved how simple and mindful the process of bathing became, and the opportunity for conversations about body positivity and the fact that we're all different, yet all very similar too.
It had a surprising and wonderful impact on both of us.
On onsens and etiquette:
In a nutshell, onsens are completely separate for men and women and yes, you bathe in the nude.
I was very hesitant at the idea of public bathing before we left, and then we arrived at our accommodations and realized we literally had no other choice – the onsen was the only bathing option at our ryokan! (There are a few private family onsens in town where you can bathe with you partner and kids, as well as one mixed public onsen, but men and women wear swimmers in that one and it's more like a serene public pool rather than a bath house.)
As you enter the onsen you'll find space to leave your outdoor shoes – be sure to leave them tidy.
Then you enter a communal changing area, where you undress and leave your clothes in a basket or locker. Grab your onsen towel (much smaller than a regular towel – more like a face washer really) and your soap/shampoo and walk in to the bathing area.
You can use your towel to protect your modesty a little if you feel exposed, though I don't know how helpful it is!
You'll see some wall mounted hand held showers and some plastic stools and bowls. Grab yourself a stool and bowl and sit down under one of the showers. Clean yourself thoroughly, being sure to wash your body and hair (if desired). Only once you're completely clean and rinsed of any soap do you get in to the communal bath.
The water is usually very hot so be sure to enter slowly. And then sit, relax and enjoy the feeling of the hot mineral water soaking in to your tired muscles.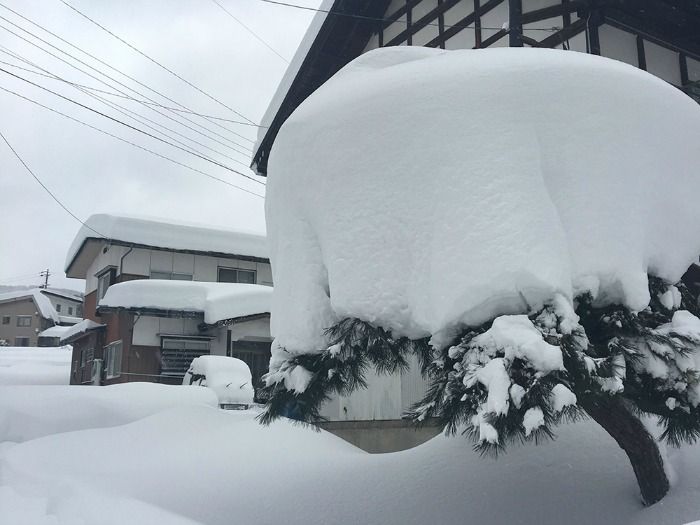 If you're curious about onsens or planning a trip yourself, we spent a bit of time before visiting Nozawa researching the most appropriate way to use the onsens and I was really glad we did.
It was great to walk in and feel at least somewhat prepared as to the do's and don'ts of onsens. This video is worth watching if you're heading to Japan and want to check out onsen life (there is suggested nudity in these videos – just a heads up).
p.s. – Other highlights in our I Love This Place series: Austin, Canmore (near Banff), Bavaria, Encinitas, San Diego, Chattanooga, Beirut, Little Rock, and Chicago.