Growing up a preacher's kid meant that my family moved around a lot. From New Jersey to Florida to Alaska and to several spots in between.
But despite all the wonderful people I met, friends I made, and natural beauty I encountered (oceans, glaciers, whales, starfish…) the place I loved the most, the place I wanted to call home more than any other, was Little Rock, Arkansas.
My parents who met and married while still teenagers, hailed from Little Rock, and so the majority of our family holidays, and a good chunk of my summers, were spent in Little Rock.
My prime reason for wanting to move to Little Rock had to do with my large extended family – no one loves a house full of loud, laughing, talking people, as much I do – and during our family visits home we were treated to many days and nights just liked this.
But I also loved the place of Little Rock.
I loved the rolling hills of the neighborhood streets, the way the light filtered through all the trees -oaks, pines, and magnolias. I loved the food, the familiar accents, and the rivers and lakes we seemed to be always be driving over as we traveled to see family.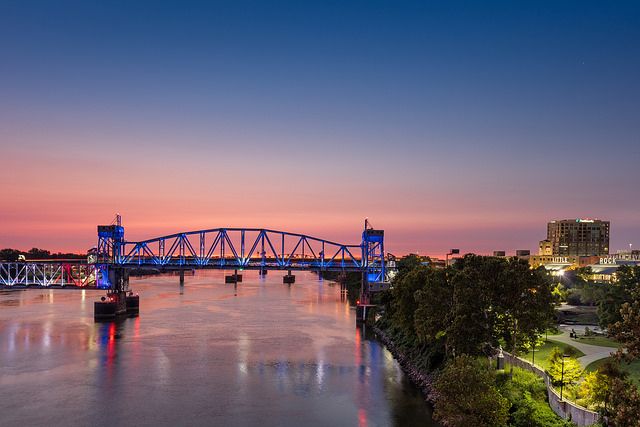 Photo Courtesy of Little Rock Convention & Visitors Bureau
I loved the lighting bugs that covered my grandmothers backyard in the summer, and the bunnies that always hopped over the creek to visit us just in time for Easter.  I loved how the whole city seemed to have an affinity for homemade ice cream and fried chicken. I loved that the birds seemed to always be singing, and so did everyone else.
To me there was nowhere else quite like Little Rock.
When it came time to chose a university, I decided to return to Arkansas and go to the family alma mater so that I could be close to my family and the place I had dreamed of for so long.
In time I married an Arkansas boy and we moved to Little Rock to start a family. Eventually we would move "across the river" to North Little Rock, but work took me back to the heart of Downtown Little Rock, where I got to watch the beautiful revitalization of the downtown area.
Since then, we have moved again, this time to a more rural part of the state – about an hour north of "The Rock", but every now and then I still sneak back into the city to soak up all the beauty and charm that I can.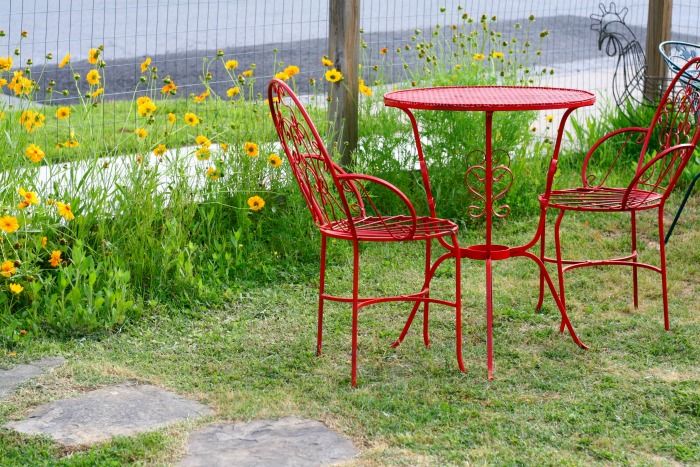 Two of the well- kept secrets about Little Rock is that this first, this is a great place to experience everything that's best about the "Arts in the South" and secondly, that here, local is king. From restaurants, to t-shirt vendors, to beer brewery to baseball – local is always preferred – especially in the downtown Rivermarket and SoMa districts.
If you have the chance to come this way, know that Little Rock is the perfect place for a 3-4 day vacation. There are lots of hotel options in the heart of downtown, along with B & B's, AirBnb's, and VRBO's throughout.
Here are my tips for going local when here:
SoMa
SoMa stands for Southside Main Street and it's a Historic Urban Neighborhood that is undergoing a revitalization.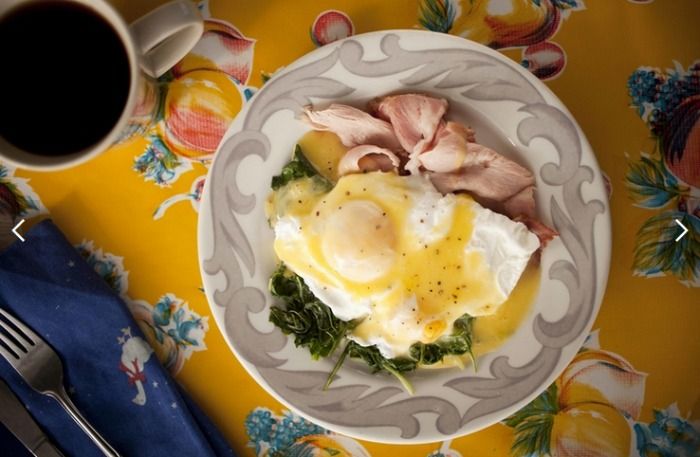 The Root Cafe
Have breakfast at The Root Cafe.
Their specialty, The Root Benny (which has been featured in Southern Living magazine), is out of this world. Two farm-fresh poached eggs are served over bed of local, seasonal greens (sometimes from right out of their own garden) with Grass Roots ham and topped with hollandaise sauce.
The Root is also great because they have all the lifestyle diet options – vegan, vegetarian, organic, and gluten free – so everyone can find something to love.  Kids are more than welcome at The Root and if you prefer the great outdoors,  you can enjoy your meal in their garden. The decor is hipster-homey and everything (including the mis-matched cloth napkins) is as sustainable sourced as possible.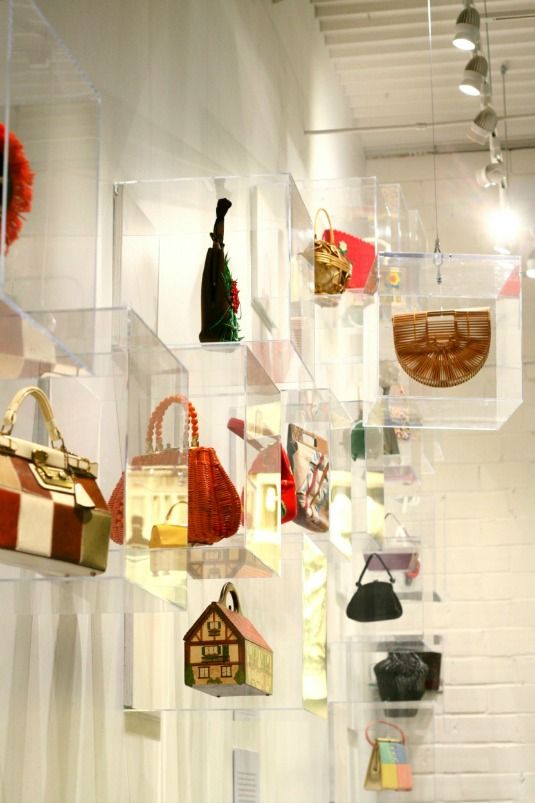 After your belly is full of  breakfast, make sure to visit ESSE – The Purse Museum, just a few doors down.
This amazing little museum and shop is more than just a fashionista's dream stop. It is a wonderful peek into the evolution of the daily lives of women throughout the centuries.
ESSE states that their in addition to their permanent collection, their "temporary exhibits, typically focus on a range of experiences and expressions that touch on the museum's core mission of empowering and honoring all women."
One current special exhibit was one that combined Black History Month and Women's History Month, to honor and celebrate the black American woman in the late 19th and 20th centuries.
After enjoying ESSE, I would recommend a stroll back down Main Street for some unique shopping – making sure to stop in two of my favorites – Sweet Home and MOXY Modern Mercantile .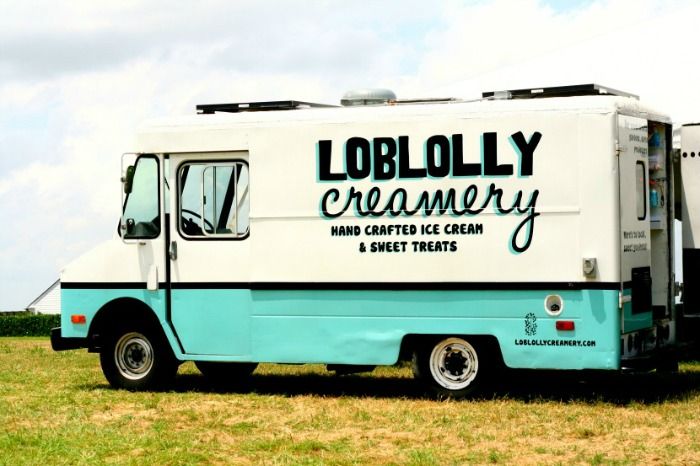 If shopping wears you out,  head over to the Green Corner Store and have some Loblolly Ice Cream (who has totally redeemed the Ice Cream Truck experience with their homemade and locally sourced creations) for some fortification and tasty delights.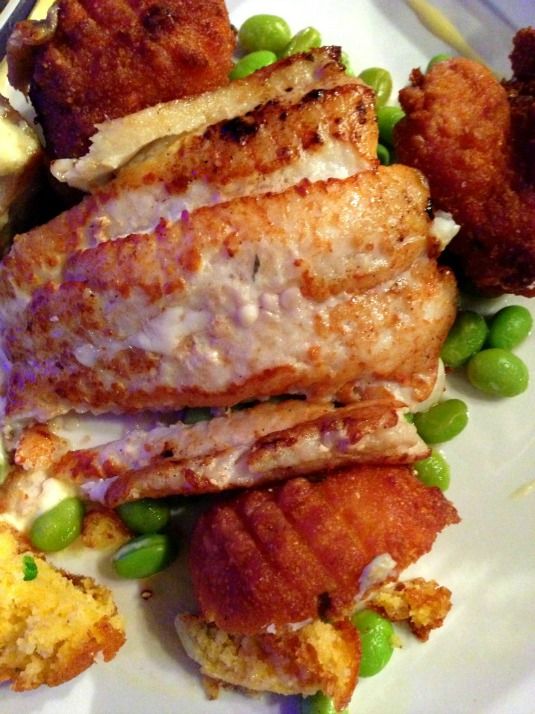 And, if you don't have an entire morning or afternoon to spend in SoMa , the one thing you must do is go eat dinner at South on Main (which is next to the Oxford American Magazine headquarters)  and if you can, catch a live show.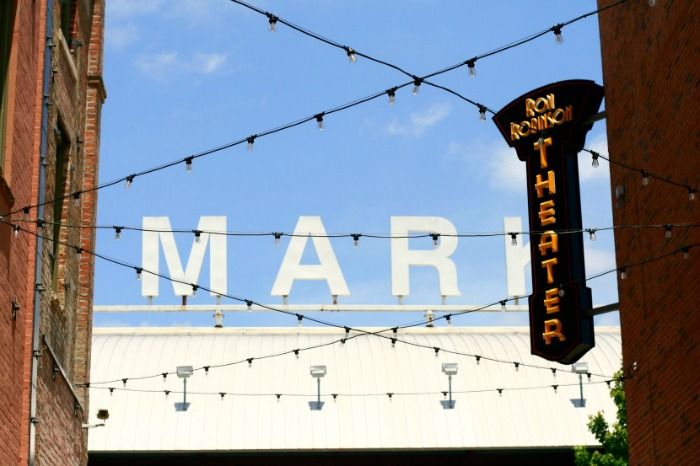 Rivermarket District
The Rivermarket District has seen one of the most beautiful restorations and expansion  in Little Rock, and another one of my favorite stops. There are so many things to see and do, places to shop, and eat.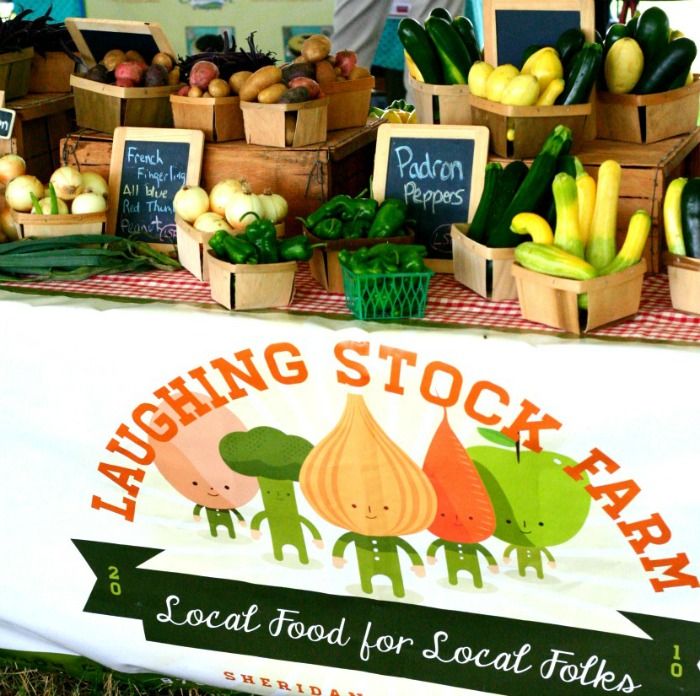 The revitalization of this area begin when the city built the pavilion overlooking the Arkansas River, in order to host a weekly farmer's market.
That initiative grew and grew, bringing life and commerce to an area that was once suspect at best. The market, which is now open on Tuesday and Saturday mornings, also includes artists, crafters, and musicians as well as produce and flower vendors.
There are a couple different ways to visit the Rivermarket, and here are two that I would recommend:
For the Literary Minded
Everyone should visit the The Clinton Library. In addition to the mini-oval office and President Clinton (who was Governor of Arkansas)  artifacts, the traveling exhibits and the restaurant are always worth a stop.
For some good Southern lore to inspire, make sure to trek down to the Old State House museum, and if you time it just right you might just be in town for the Seersuck and Sips lawn party.
If you come in April, make sure to arrange your trip around the Arkansas Literary Festival which usually features award winning and best selling authors as well as up and coming regional talent.
My personal favorite place to shop in the district is at Rivermarket Books. Owned and run by Central Arkansas Library, this is, by far, the best used book store in Central Arkansas. I probably do about half my Christmas shopping there.
And if you find yourself in this part of town, with a rumbly in your tumbly (as Winnie the Pooh would say) you have to go try the cheese dip at Dizzy's Gypsy Bistro.
It is actually the World's Best Cheese Dip.  (Did you know that Cheese Dip was invented in Arkansas? True fact!) and I am confident it will spark all sorts of creative writing ideas!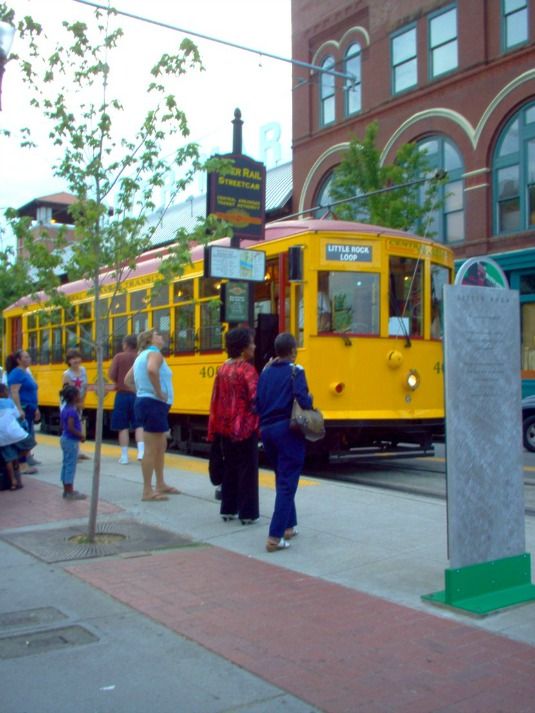 For the Family
The Rivermarket is also a great place to take a Family Outing – there is a great park on the river with  a splash-pad,  and a trolley to ride.
You won't want to miss the Museum of Discovery which  is right in the heart of the Rivermarket ( in fact my grandfather's office used to be in the very same building thirty years ago) or the Historic Arkansas Museum just a short trot (or trolley ride)  down the street.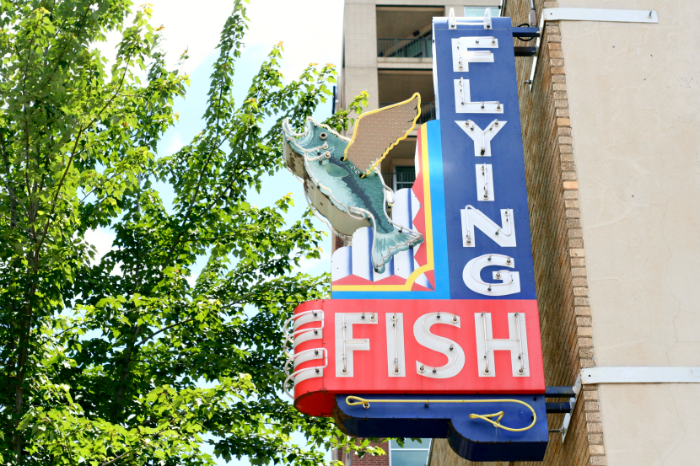 And everyone's family favorite for dinner or lunch is the Flying Fish, which hands down has the best fried catfish in town and is very kid-friendly (their kid meals actually come in little boats!)
Other Places to Visit and See in Little Rock
• Arkansas Arts Center – did you know you can go see a Picasso or Degas in Little Rock? You can. Both the permanent and traveling collections are outstanding and worth a stop.
• The Rep – the best of local theatre in Little Rock.
• Stones Throw Brewery – there is growing brewery and distillery movement happening in Central Arkansas – Stones Throw is a local favorite.
• Rock City Outfitters – If you want a t-shirt to commemorate your trip, this is the place to get them. In fact my husband gives Rock City t-shirts as gifts almost every Christmas.
• Whitewater Tavern– THE dive bar of all dive bars. No one has better music or $5 margaritas. The Whitewater is a local legend and lives up to every bit of hype.
• Arkansas River Trail – Biking – Arkansas has become a huge biking state, and this trail has won national and global awards. Walk or bike a part, or the whole thing!
• Arkansas Travelers – I don't know of a better way to spend a spring evening that at a Trav's game on your favorite blanket on the berm. Local food carts and brewers's serve good eats in addition to the usual popcorn, peanuts and cracker jack fare.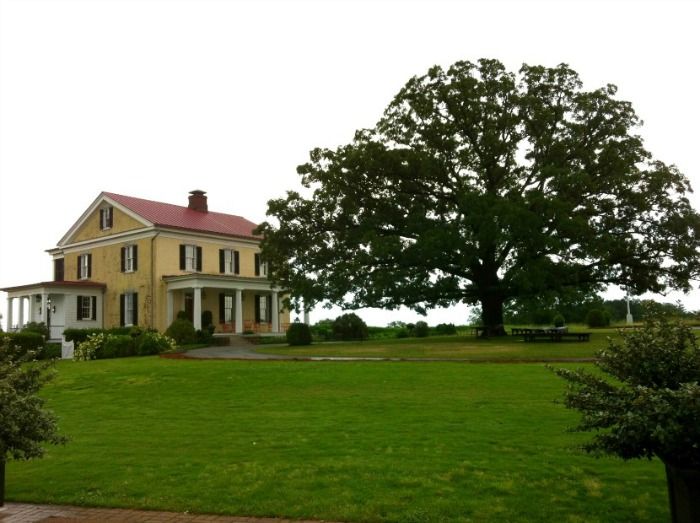 And finally, if you are a  gardener, hobby farmer, interior design addict, or chicken lover, you MUST go visit P. Allen Smith's Moss Mountain Farm.
This is not so much a family outing (tickets can be a little pricey) as it is a lovely girls-getaway event. Less than an hour from Downtown Little Rock, Allen's farm and home is beautiful.
I have had the honor of going on several visits (you can see some of my pics here) and I am not lying when I say it is as if the best of  Pinterest has come to life right before your eyes.
****
These are some of my very favorite spots in Little Rock, but I have only scratched the surface of what I love about this place. I have lived and traveled all over the country, and I can honestly it really is one of the best hidden secrets in America.
And, if you decide to come for a visit let me know – I will be happy to give you a list of ALL my favorite places!
p.s. – Other highlights in our I Love This Place series: Austin, Canmore (near Banff), Bavaria, Encinitas, San Diego, Chattanooga, and Beirut!

Featured Photo Courtesy of Little Rock Convention & Visitors Bureau