I'm writing this from the square in downtown Columbia, Tennessee on a park bench that says above it: "Welcome to our beautiful downtown. Sit down and enjoy yourself." To me, those two sentences accurately capture the endearing, welcoming, connective nature of this town, one I've grown to increasingly love over the last three years we've lived nearby.
I first stepped foot in Columbia—population 38,000—in November 2015, on the day our family left Texas and rolled into Tennessee with all our earthly belongings, but without jobs or a place to live. In an act of complete faith, we had just sold our business in Dallas (a citywide organic produce co-op and urban farmstead), left our home of 9 years, loaded up our two young girls, and set forth to start our new life.
I had gone to college at Belmont in Nashville and lived there as a young single and knew the green rolling hills of middle Tennessee would call me back one day. On our list to check out that day were some neighborhoods and towns south of Nashville where we could actually afford to buy land to hopefully start our own farm.
Columbia was first on the list.
As we pulled into the historic downtown, my eyes widened when I saw the iconic white courthouse on the square. The next thing I noticed were the golden mums overflowing from flower pots on the doorsteps of small businesses, the unique historical architecture, and the friendliness of the people.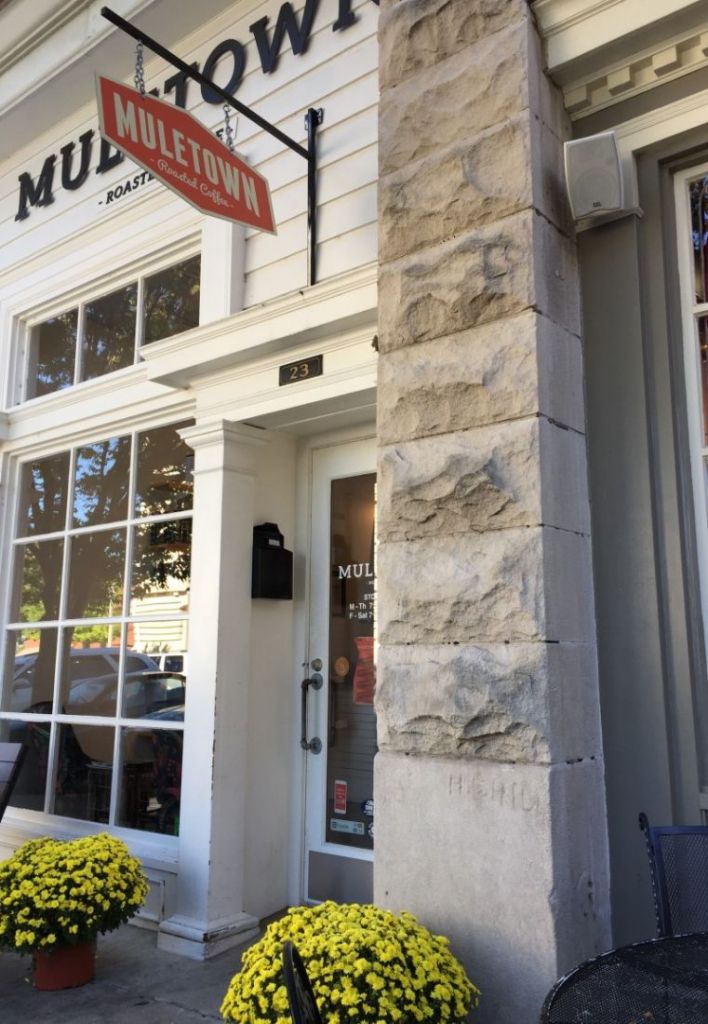 When you're new in town, where's the first place you go? To the local coffeeshop to talk to the baristas, of course. So we entered Muletown Coffee and met a barista named Austin who gave us the "lay of the land" while he brewed us an Americano and an almond milk latté.
That moment, our first in Columbia, was total providence. Austin gave us a tip that a nearby restaurant with an on-site farm was looking for a new farm manager. We grabbed our drinks and headed straight there. My husband got the job, which provided income for our family for the next year as we looked for the ideal land to call our own.
A year later, we did find the perfect land to start Kindred Farm in the little unincorporated rural community of Santa Fe just 15 minutes down the road from the heart of Columbia. Since Santa Fe doesn't really have a downtown (yet!), we consider Columbia our place to go out to eat, for ice cream, for a stroll around the square, or for a weekend date night. And we're loving being a part of this community.
Muletown USA : "The Dimple of the Universe"
Before we go any further, I should let you know that you'll hear the word "muletown" over and over again—it's Columbia's nickname. The town was formed in 1807, and in 1840, mule breeders began meeting together annually at Mule Day which continues every year as a huge festival and parade in town. Columbia is now considered the "Mule Capital of the World" since mules were bred and trained here for the military during WWI.
Columbia's charming downtown is on the National Register of Historic Places for its Federal, Victorian, and mid-19th century Revival architecture. So basically, you should be walking around craning your neck so you don't miss the details. It's really lovely how these old buildings are being restored by locals like Mike Wolfe of the TV show American Pickers (who owns the Trek Bicycle Shop on the square) and—rumor has it—even Sheryl Crow.
Another of Columbia's oldest nicknames is "The Dimple of the Universe" as it was considered to be located in "the most beautiful and most healthful section of the South." You should definitely take a pic in front of the huge mural near downtown and stamp yourself into Columbia's history.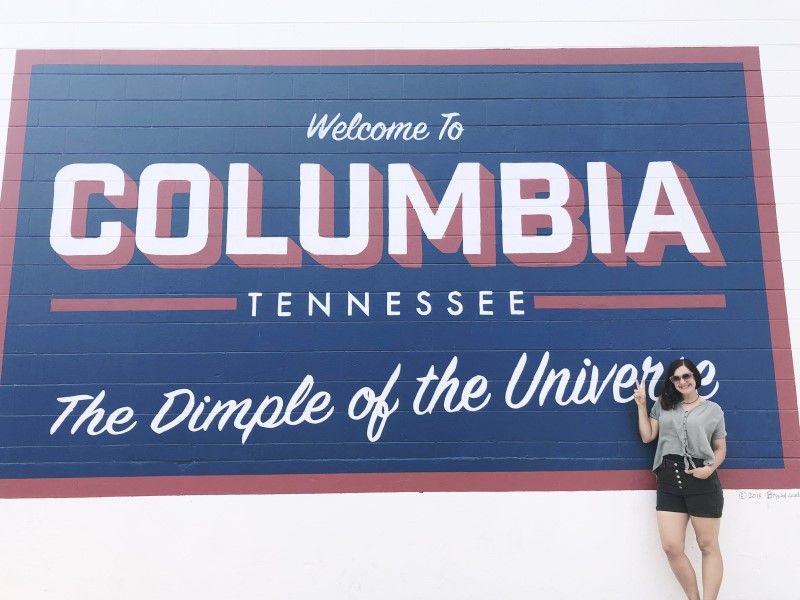 We personally have Muletown to thank for so much—not only did it lead us to the job that became Kindred Farm, but many of its residents now gather around the tables at our farm dinners and take home our produce and flowers on Saturday mornings. And in a full-circle kind of moment, that barista Austin Tyler Jones, who was the first person we met in Columbia, serenaded 100 of us with live music at our first farm dinner in October 2017.
Must-See Places & Landmarks
Columbia is simultaneously a step back in time and a big hearty jump into the future. One of Columbia's significant landmarks you can tour is The Polk Home, the ancestral home of the 11th President, James K. Polk. This is where Polk lived during his young adult life before his presidency. The historic home also regularly hosts fun pop-up markets and events.
Visiting the Columbia Arts District is a must. Here, old buildings and warehouses are being restored and revitalized, led by the pioneers who've opened the funky and fabulous Columbia Arts Building (CAB). There's a quote on CAB's website that I love: "The object isn't to make art, it's to be in that wonderful state which makes art inevitable." —Robert Henri
Everything about CAB makes art inevitable in their historic multi-story building that's chock full of artistic offerings and invitations from all kinds of artisans. There are galleries and studios for photographers like our uber-talented friend and neighbor, Sarah B. Gilliam. You can take classes in pottery, ceramics, painting, fiber arts, and more.
You can take kickboxing or yoga or a ton of other types of classes at CAB Movement and indulge in some seasonal, vegan and vegetarian treats at CAB Café. Check out The Muletown Collective for a vibrant co-working space, and grab yourself some fresh flowers at The Bloomstall. You'll definitely leave this place inspired!
Another notable spot in the Arts District is Row & Co, home of The Pottery Nest and soon-to-be Koko's (plant-based) Ice Cream. Grab a pastry at The Windmill Bakery around the corner (lots of gluten-free options!) Their drive-thru window has saved me several times with cranky kids in the car—a few muffins in a cute paper box bought me at least 30-45 more minutes.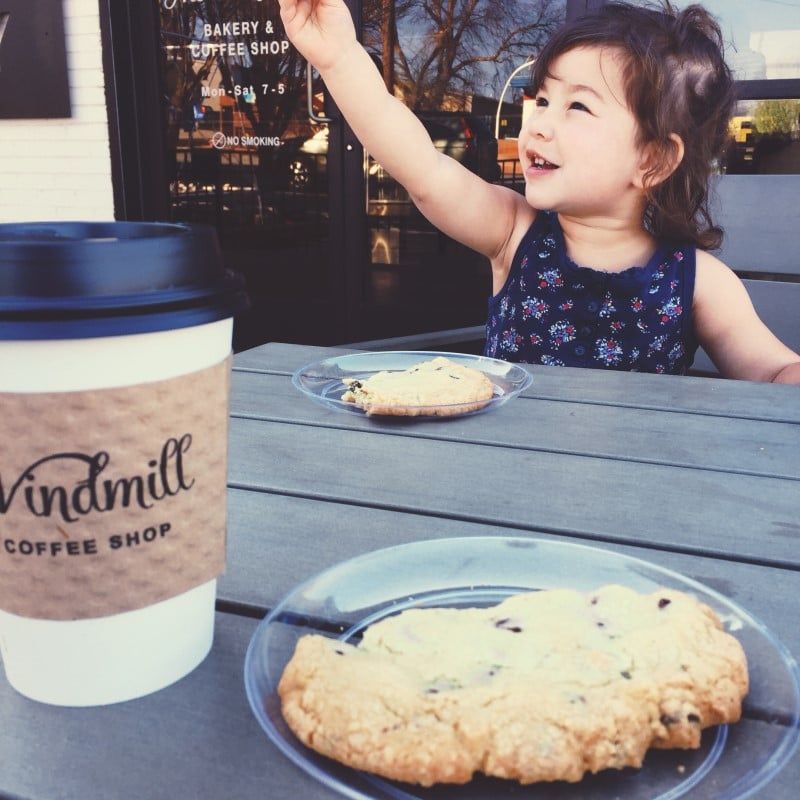 Favorite Places To Eat With Family & Friends
If you have food sensitivities or just really like wholesome, chef-driven, creative food, you must go to The Dotted Lime. They're the only 100% gluten-free restaurant in the entire state of Tennessee, and one of only a handful in the entire nation. One of my close friends has a daughter with a severe nut allergy, and the first time they went there, they were treated kindly and lavishly by owners/chefs Paul and Chrissy Jensen and all their teenage children who work in the restaurant. My friend's daughter said, "You mean everything here is safe?!"
Don't be fooled by the gluten-free label—The Dotted Lime makes gluten-free look good. When you go, ask for the secret menu, and definitely get something with their homemade chicken fingers. I recently got the Chopparino Salad with chicken fingers, honey mustard, garbanzo beans, cucumbers, pickled cauliflower, onions, mozzarella, and grilled wedges of Chrissy's gluten-free bread on the side. I've been craving it ever since.
For good 'ole Southern food, go to the Puckett's, a favorite local meat 'n three. There's live music, great drinks, and lots of space for big parties. Or try local staple Marcy Jo's, an authentic country eatery on the edge of town.
If you've craving fantastic, authentic Greek food, go to Pita Plus Gyros—our whole family loves this place, and it makes me feel like I'm eating in a New York diner.
Favorite Date Spots
There are two places we consider our go-to's for local date nights.
Vanh Dy's is Columbia's first Asian fusion restaurant, and we couldn't be more excited about it! The food is authentic Lao, Thai, and Vietnamese and wholeheartedly approved by my Korean husband. We had such a memorable date night here recently—I got the Muletown Mule with local bourbon, ginger, and mint to start off. For dinner, I ordered the coconut milk based red curry with chicken and jasmine rice which was creamy, warming comfort in a bowl. Don't miss the upstairs bar and rooftop patio overlooking the lights of Columbia—at night, it's still peaceful but also buzzing with possibility.
Our other favorite is Buck and Board, and not just because we can order a salad with our own lettuce in it! On a recent date night, dinner hit the spot in so many ways—carefully-chosen wine pairings, soup and salad with local ingredients, charcuterie boards and tartines with homemade crackers and baguettes, cheesecake with whipped goat cheese and shortbread crust. And great, caring service to top it all off.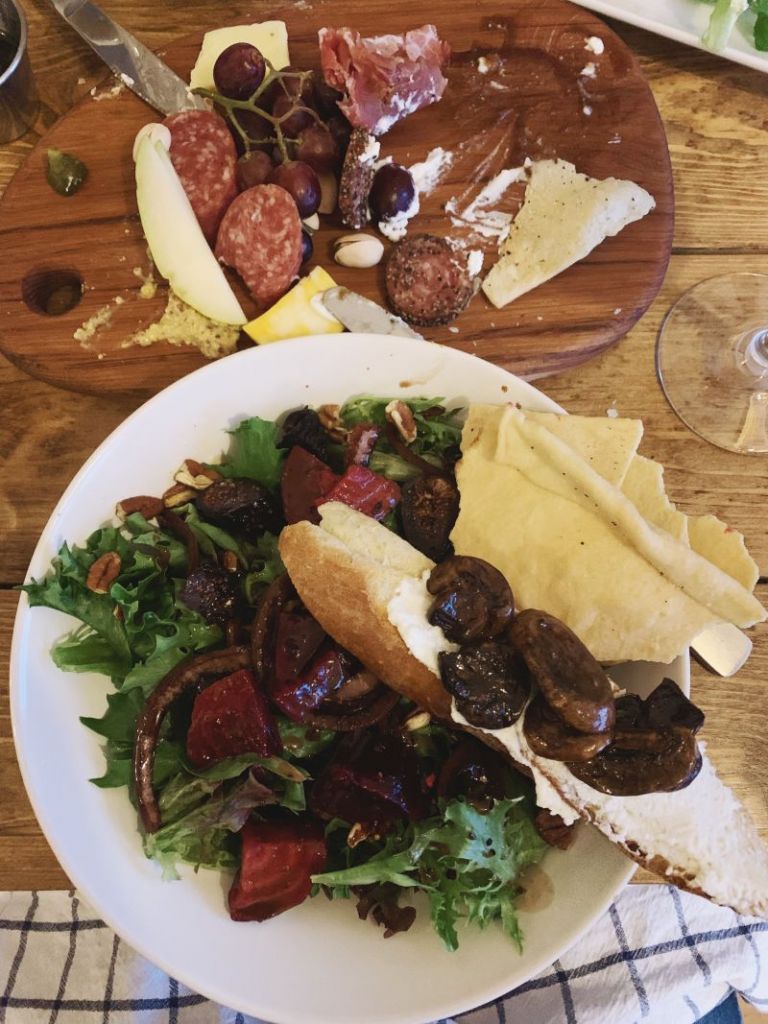 Favorite Things To Do With Kids
With my two daughters, 9 and 5 1/2, in tow, we often head to Columbia for girl dates. They love "walking around town" since we're used to always walking on grass and dirt here on the farm—ha!
First, we usually take a lap around the square to throw some coins in the fountain and peek inside store windows. Then we'll stop in Hattie Jane's Creamery. Get a waffle cone, and try more than one flavor. "The Mulekick" is made with beans from Muletown Coffee, and they always have creative dairy-free flavors. Last time, I got dairy-free Lavender Chocolate Chip—so good. They also have coffee and tea drinks—one matcha latté to go, please!
We always stop in Duck River Books, a delightful local bookshop where the owners are usually sitting at the front desk (made of a huge stack of books!) reading a book. They have both new and used titles, a little children's corner with twinkle lights, an area to read in leather chairs, and even a spiral staircase in the back. It definitely has that "quaint NYC bookstore" feel. The last time we dropped in, we picked up a Cobble Street Cousins book by Cynthia Rylant for my oldest, and my 5-year-old selected a Little Golden Book about ballerinas. I sipped my drink while browsing, and everyone was happy.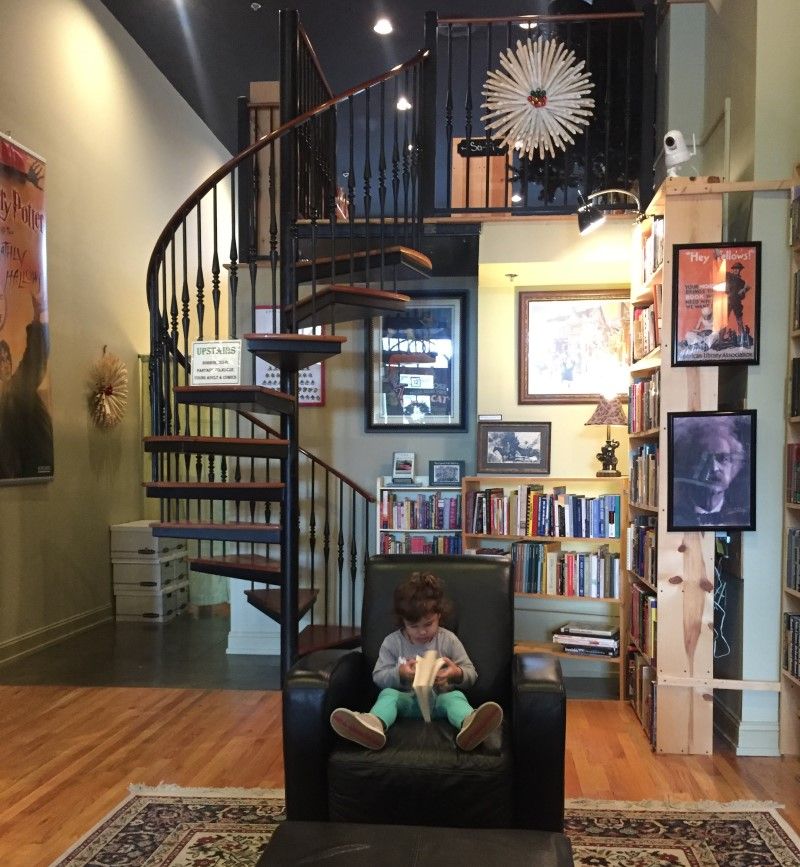 Sometimes we like to swing into Columbia Health Foods around the corner, a legit family-owned health food store like the ones I grew up going to with my mom in the 80s. They've got bulk bins, supplements, all the crunchy tools for growing your own sprouts on your kitchen table, essential oils, and health brands that were cool before they were mainstream. They also have prepared foods, a smoothie bar, and a kids' play area in the front of the store.
Finally, we would definitely make a visit to our favorite library—Maury County Public Library—just off the Columbia square. It's everything a small-town library should be. The staff recognizes you, there are lots of tables for reading or working, and the best part? The children's floor. The entire basement is transformed into an area just for children, including picture books and juvenile literature (one of my favorite genres) all in one place. They almost always have the exact book I'm looking for, including lots of rare and vintage titles.
Other Great Places To Take Kids: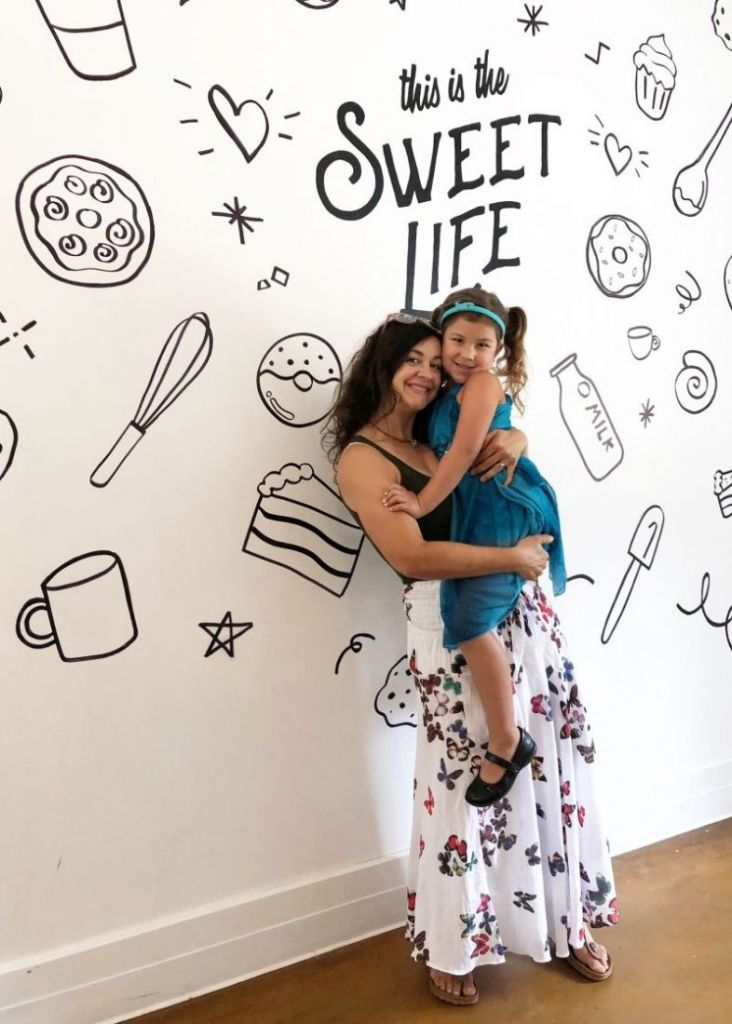 Solo Time In Town
When I do have solo time to myself, it's usually because I'm doing some writing, so I'll seek out quiet, inspiring spots where I can also soak up the character of Columbia and feel like I'm in a completely different environment from the farm. I'd grab my journal, my computer, and a drink, and sit on the peaceful back patio at Buckhead Coffeehouse.
Then I might browse some of my favorite shops: Needle & Grain is a lovely, bright store full of curated goods that are meaningful and unique. It's owned by a young couple, Susan and Bryson Leach, Columbia natives who deeply care about the growth of the town. They've contributed lots of murals and art to the area (like the "Dimple of the Universe" mural next to their shop) and are involved with all kinds of community-building activities.
I always find something I love here—from the perfectly-scented soy candle, to handmade mugs, to funky fabrics for making curtains, to a gift for a friend having a baby. At Christmastime, I took my oldest daughter with me to the shop, and with Susan Leach's help, she sneakily bought me an iron-patch for my backpack that says "Plant Lady." I love it.
Lily Jane always has something fun that you didn't know you needed, like alpaca socks, embroidered pillows, or a colorful, flowy sundress.
The Faded Farmhouse sells all the farmhouse-style home stuff you can imagine.
Enjoying A Morning or Afternoon Outdoors
Columbia's location on the meandering Duck River (considered one of the most bio-diverse rivers in the U.S.) provides so many great options for outdoor-lovers. It's not uncommon to see cars with kayaks strapped to their roofs, and thanks to two great outdoor-living stores in town—Ted's and Southern Exposure—you can grab some Chacos and join the folks canoeing and kayaking down the river starting at River Rat Canoe Rental.
Or put on your walking shoes and head to Riverwalk Park for a stroll along the Duck River. If it's a Saturday morning, stop by the Columbia Farmers Market to support some local farmers and artisans, pick up some fresh produce and homemade goodies. Then take a blanket and a picnic to Maury County Park and sprawl out under a giant maple tree.
---
This is honestly just scratching the surface of all the town has to offer, and there are so many places I haven't been yet! One thing is for sure though—I love this place. Columbia, Tennessee is growing quickly. (Better get yourself down here soon so you can say you "knew it when.")
p.s. Other highlights from our I Love This Place series: Asheville; Chattanooga; Beirut; Nozawa Onsen, Japan; Austin; & Georgetown.