A few years ago my husband and I began a new annual tradition: traveling with friends to attend an away football game for our college alma mater (Go Tigers!). We don't typically have a lot of time in the cities we visit – the main attraction is always the game itself – but we pack in as much as we can.
Last fall's game of choice took us to Louisville, KY, and I'll be honest: I wasn't that excited. Beyond the Kentucky Derby, what could be special about Louisville?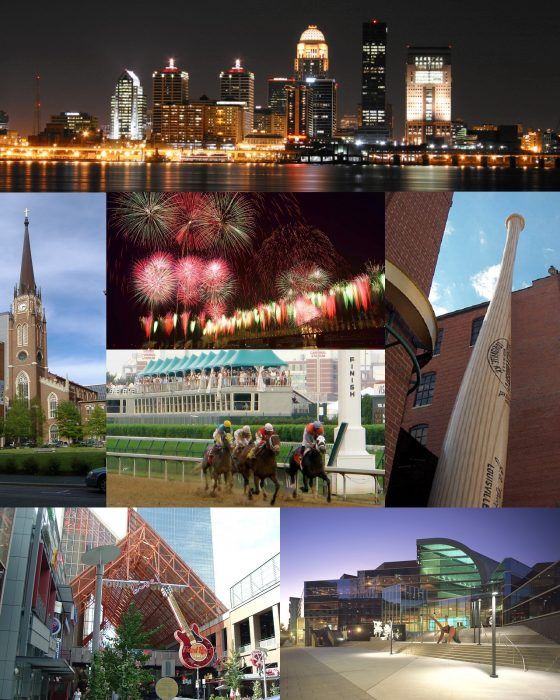 Well...I couldn't have been more off base (shame on me).  I was quickly reminded of what I already know but sometimes forget:
Every town tells a story worthy of learning.
So, before I share a few thoughts about this lovely city, may I remind you of an essential for making the most of any trip?
Do your homework in advance. Even learning a little about the places you plan to visit makes a big difference. Typically, I do this for vacations and other types of trips, but in this case, I was lax, fully relying on my husband and friends to investigate and plan. It was my loss. Had I planned better (and communicated my interests), we wouldn't have missed out on two things I would have loved to do (but which paves the way for a future return trip).
Louisville is Kentucky's largest city, located along the Ohio River on Indiana's border. It's a gateway to the Bluegrass Region where the landscape is dotted with horse farms and bourbon distilleries–which made me happy we were close enough to drive. The countryside is gorgeous.
Louisville is a place where memories are made. Here are my favorites: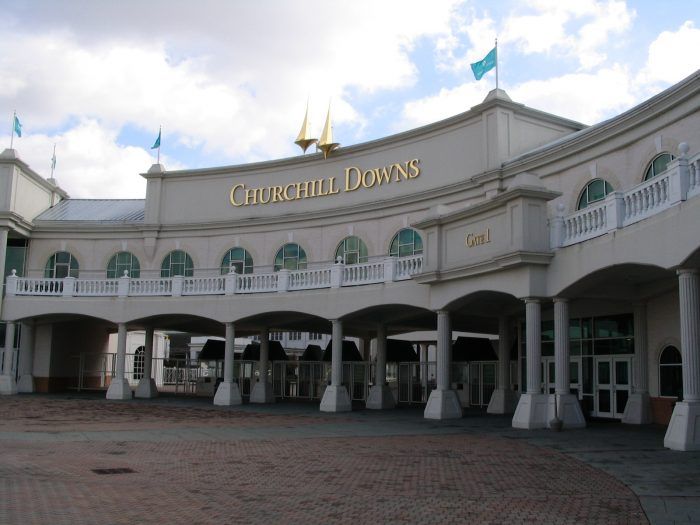 Churchill Downs
Home to the famed Kentucky Derby Thoroughbred horse race, this is a non-negotiable; you simply must go to Churchill Downs.
Mere mortals will never score a ticket to the Kentucky Derby itself (I don't want to even think about that ticket price), but be sure to go when "regulars" are racing. The horses are magnificent, and the jockeys are big in color though little in stature. Don't let their diminutive size fool you–these men are incredible athletes.
General admission starts at just $3, and it's special to walk the hallowed grounds brimming with history. Whether or not you're thirsty, a Mint Julep or the lesser known Oaks Lily, is in order. Sure, they're pricey, but you get to keep the commemorative glass and there's just something about drinking a long-held tradition.
While I'd never suggest high stakes gambling (there are those close to me in real life who've struggled with gambling addiction), you can even place bets for only a few dollars. But be sure not to chose winners based on the names alone; rumor has it you can lose all your money that way. Gambling isn't for everyone –  it's definitely not necessary to appreciate this place – but DO try on a hat in the Churchill Downs shop. Take advantage of the onsite museum and you'll come away with a greater appreciate for the sport.
Just don't go to Louisville and miss this treasure.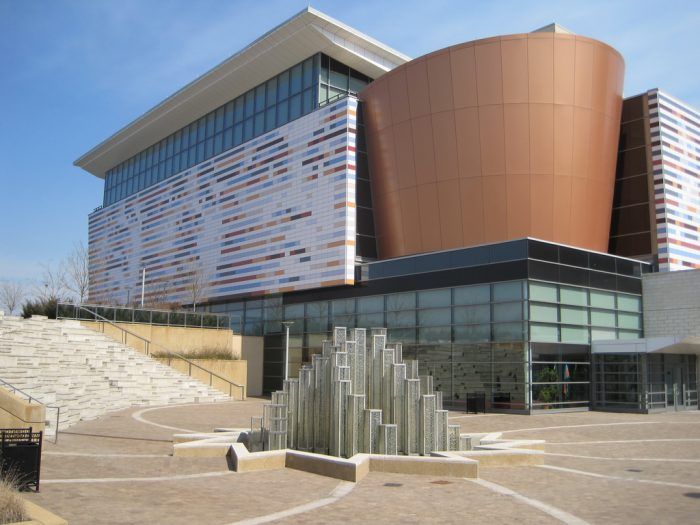 Muhammad Ali Center
From my childhood, I remember the pageantry and bravado of Muhammad Ali, but after visiting the Muhammad Ali Center I realized how little I knew about him.
Though often misunderstood and misrepresented by the media, Ali was not just a great man, he was a great American and national treasure.
Putting news stories into the context of the day, I understand better why he made the choices he did; I admire his ethic and reasoning, and his hard choices demonstrated an inner strength that complimented his outer.
He lived by six core principles – confidence, conviction, dedication, giving, respect, and spirituality – and I'd agree that "The Ali Center appeals to the heart, spirit, and imagination." No matter how long you spend there, you'll wish you had time for more.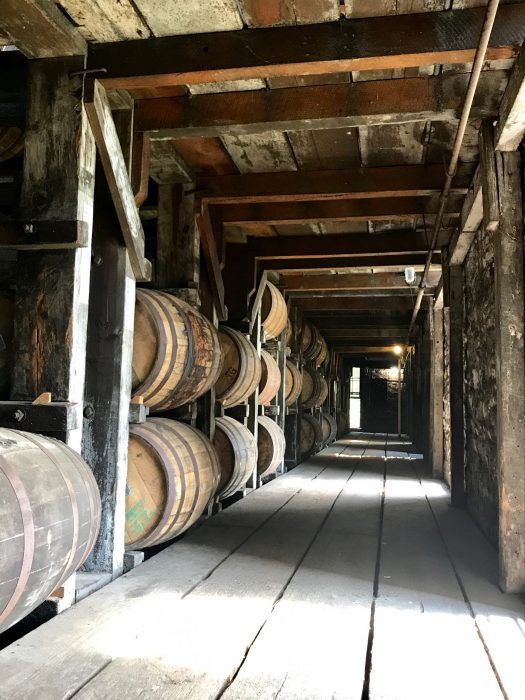 Buffalo Trace Distillery
Kentucky is famous for its bourbon – 95% of all bourbon is made within the state – and a distillery tour is as fascinating as it is fun.
We chose Buffalo Trace based on recommendations and the availability of walk-in tours (others required reservations, and with all those Clemson fans in town, they were full). Located in Frankfort, KY about an hour from Louisville, I'd highly recommend this choice. The grounds are beautiful, the tour is entertaining, and if you're interested, there's a free tasting at the end (including chocolate!).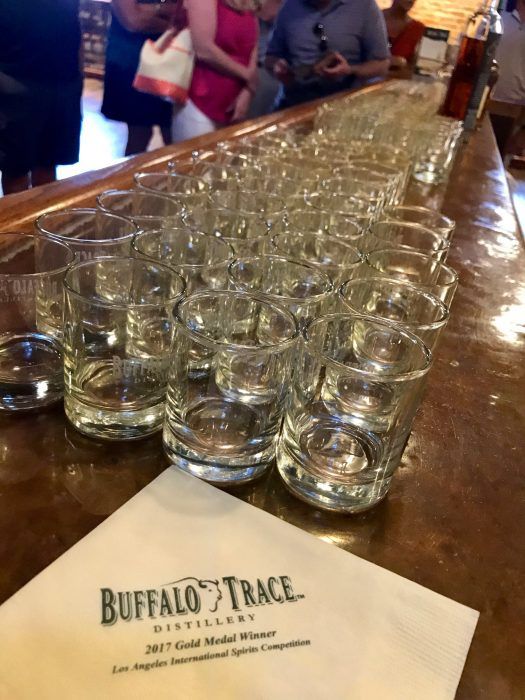 Fantastic dining
Ask Google or locals where to eat, and you'll consistently hear the same thing: Jeff Ruby's or Jack Fry's.
We were lucky enough to eat at both. I'll tell ya right up front: Jeff Ruby's is the most expensive meal I've ever had. I'm very thankful to report that it's also one of the best restaurant experiences and meals I've ever had. Not only is there a fun story about how we ended up there, but the entire night evolved into one fantastic turn after another.
Jack Fry's is a small venue with historic ties to gangsters, and you have to make reservations well in advance. We learned that the hard way, but ended up there for lunch instead, and in the process had a wonderful meal for a fraction of the price.
My Favorite Area
We found a very affordable rental in The Highlands right off of Baxter, a fantastic location because it's within walking distance of shopping, dining, and fun nightlife.
We didn't have time to check out any shops (see? another reason to return), but we enjoyed a stroll up and down Baxter and part of Bardston. Quills Coffee was our go-to every morning, and I'd highly recommend the very eclectic Ramsi's Café on the World for Sunday brunch, though I'm sure it's delicious anytime.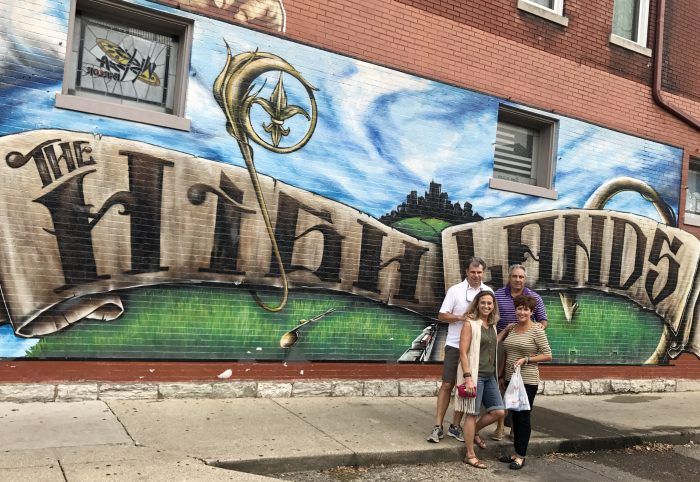 We discovered historic Cave Hill Cemetery, a 170-year-old, 296-acre Victorian era National Cemetery and arboretum right down the road. It's beautiful and very worth the time, but better planning would have been helpful because it's huge. Several famous people are buried here including Muhammad Ali and Colonel Harlan Sanders (yes, THE Colonel from Kentucky Fried Chicken).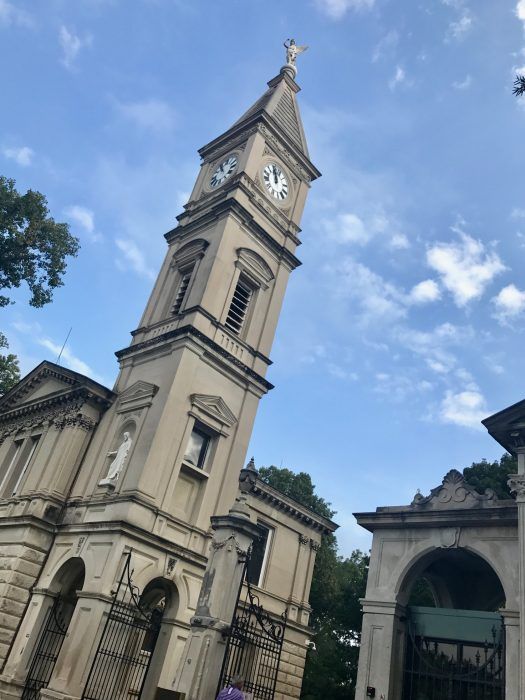 Two Must-See Things We Missed
Because we arrived the day after our friends had arrived, we missed two Louisville destinations that add to my reasons for wanting to return (Sally and Jeff had already been).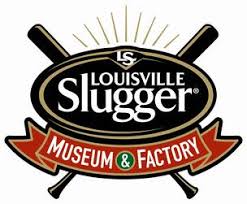 Louisville Slugger Museum and Factory
. Baseball is as American as apple pie, and the home of the infamous Louisville Slugger conjures the nostalgia of simpler times. They started manufacturing bats in 1884, and they're still going. Admission seemed a little pricey to me at first ($15 for adults), but it does include a mini-bat.
Louisville Waterfront Park. Any waterfront venue is usually a city gem, and I especially wanted to walk the Big Four Bridge that connects Louisville to Indiana. It's a two-mile walk over the Ohio River, long enough to count as exercise, while providing a unique view of the city.
p.s. – Other highlights in our I Love This Place series: Austin, Canmore (near Banff), Bavaria, Encinitas, San Diego, Chattanooga, Beirut, Little Rock, Chicago, and Nozawa Onsen (Japan).